When are we going to overcome the scarcity mindset?
This is a serious question. It arises from an idea that seems to be circulating that EV cars sales are going to be slowed because a shortage of lithium. How many times are we going to trod over the same ground?
People who espouse these ideas are repeatedly proven wrong. This is especially the case over the last 20 years as technology took centerstage in our progress. Basically, technology is now capable of solving our issues in a relatively short period of time.
Let us take a look at some of the areas where we were promised shortages.
Peak Oil
Remember when this was a thing? Or perhaps I should write "remember when this applied to running out of oil"?
There was a time when serious industry experts were predicting the world would run out of oil.
Here is a headline that appeared in the Guardian:

The article was from Dec 2013, a time when the price of oil was down slightly from the high of a year before and a great deal less than 2008. However, what took place after this?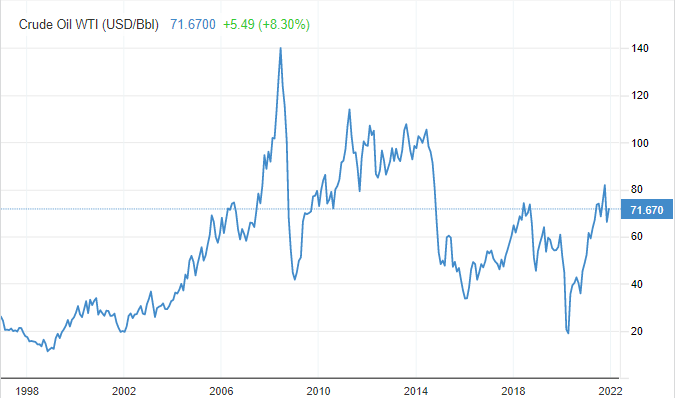 When the prediction was made, oil was at $100 per barrel. As we can see from the chart, within 6 months the price collapsed. Even after the recent run up which has people complaining, we are still 30% below where oil was at the end of 2013.
What happened? How could the forecast been so wrong?
The answer lies in the fact that horizontal drilling was taking off as the forecast was being made. This actually turned the United States from a major importer of oil to a next exporter.
Here we see clearly how things went after the prediction.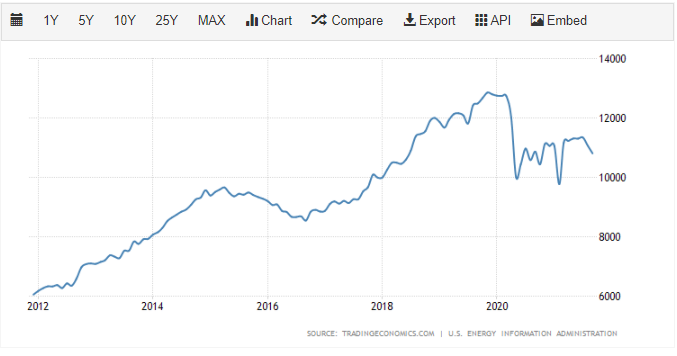 Even post COVID, we are still orders of magnitude higher than 8 years ago. We were sitting on 8 million BPD, now around 11 million which is down from the peak of just under 13 million.
Hence, the idea of running out of cheap oil was blow apart. Technology stepped in and drastically increased production. Also, over the last half decade, we had a number of major finds.
Food Production
Here is another area that where people were completely wrong about their forecasts. One of the biggest claims since the 1970s is the growth in population is going to cause more starvation. After all, the belief must be that our food production is peaked and more people equates to less food per person.
The reality is agriculture is one of the most advancing industries there is. We are seeing the amount of food produced globally explode. Anyone who believed the trend of more output was going to cease was sadly mistaken.
Of course, this is nothing new, it is present within all forecasts that omit taking technology into account.
Here is the undernourished in developed countries.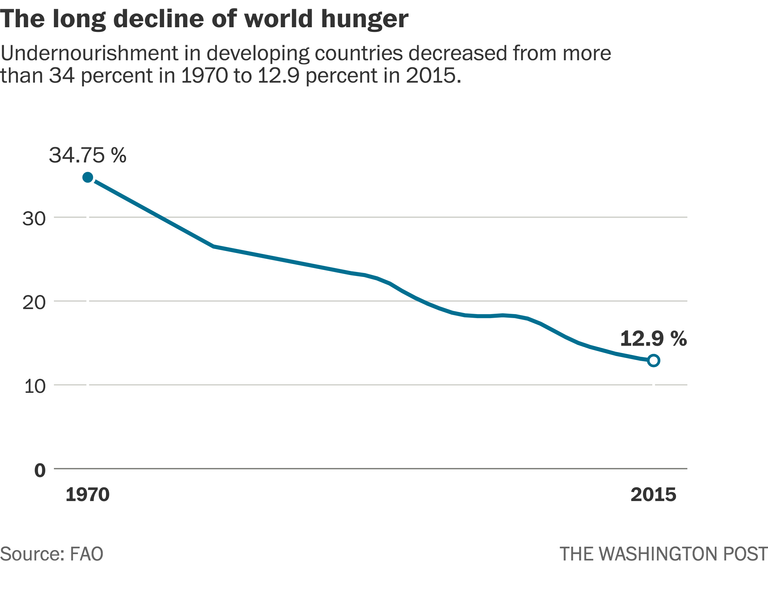 Source
Please note this is a chart in percentages. The population from 1970-2015 grew a great deal. Yet, in spite of that, the percentages went from 34% to 13%.
Of course, perhaps this had something to do with it.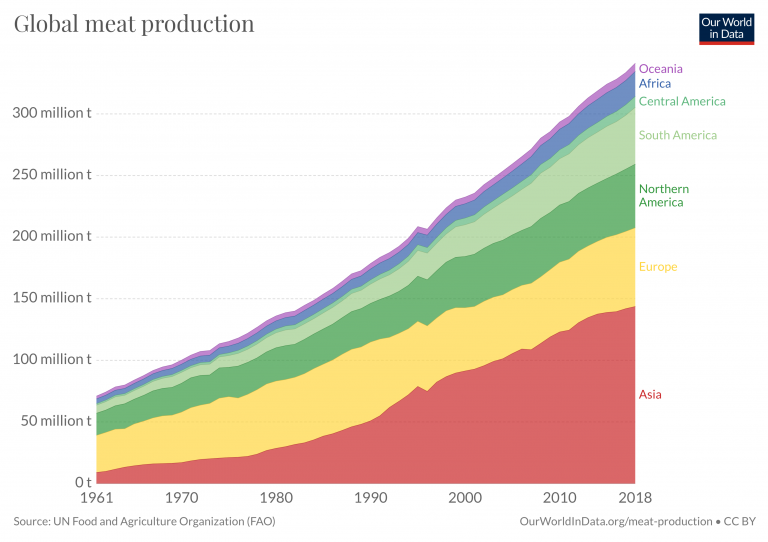 Source
In less than 50 years, the global meat production went up by 4X. That would certainly offset a great deal of population, since that went up less than 2-fold.
Lithium Prices
Now the latest is the fact that Lithium prices are skyrocketing that the EV move is going to be derailed. After all, look at the chart.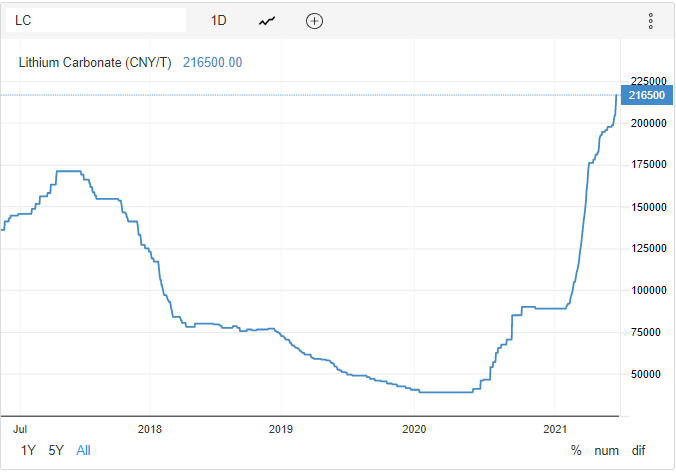 Of course, the presumption is that prices will keep going up forever. After all, ones it is in motion, it will always continue that way.
Oh the absurdity of it all. Notice how the charts shows there was a major drop in the price of Lithium, from 166 to 36. What was the cause of this? Did battery production nosedive over that time?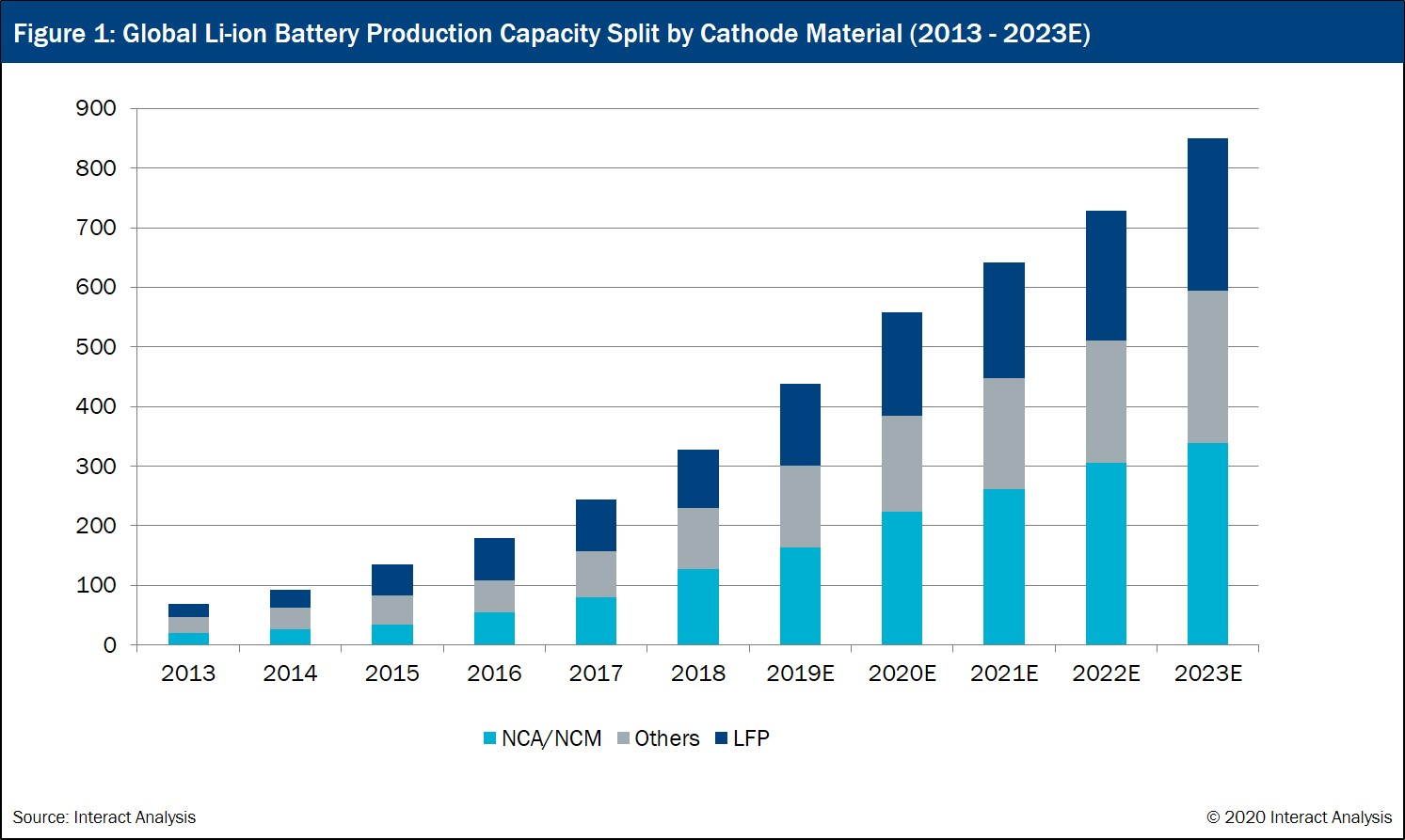 Source
The reality is that the production of Lithium batteries keep forging ahead. Yet the market price for the commodity dropped. This is markets being markets. Eventually, we will see something similar in the price from where we are now.
However, there is something more important. Many like to claim that the switch to EVs will stall because of the price going up, hence making batteries more expensive. This does not take into account technological advances.
Tesla, one of the leading battery consumers in the world, recently started to switch the batteries they use.
Lithium-iron-phosphate (LFP) batteries use an older, cheaper battery chemistry and are popular in China. Outside of China, EV batteries are predominately nickel-based — either nickel-manganese-cobalt or nickel-cobalt-aluminum. But beyond cost savings, LFP battery cells are attractive because they are not dependent on ultra-scarce raw materials like cobalt and nickel. Notably, Tesla CFO Zach Kirkhorn confirmed during an investor call Wednesday that the company has seen pricing impacts to nickel and aluminum.
Source
As we can see, even though they still use Lithium, switching to Iron is allowing them to move away from scarcer materials such as Nickel and Cobalt. This could more than offset the run up in the price if Lithium.
Of course, none of this covers improvements in the mining of Lithium and other advancements that industry makes. As there is a greater need for the material, producers are going to have to try and keep up with demand.
It is very likely there is a lot of money flowing into R&D to get Lithium out at a much faster pace as well as for less money. This is how companies operate. Lithium miners are going to try to get market share from others. A great way to do that is to lower the costs.
We see this same mindset applied all the time. Yet, whenever someone makes a statement of this nature, within 5 years technology changes the equation completely.
Remember, by its very nature, technology is deflationary. Hence, when there is enough money involved, such as with the Lithium industry, people are going to target it for disruption. This means technology is applied to radically alter some part of the process.
It is a simple fact that most overlook. The economics of technology are something that most do not seem to understand.
In the end, technology overcomes scarcity.
---
If you found this article informative, please give an upvote and rehive.

gif by @doze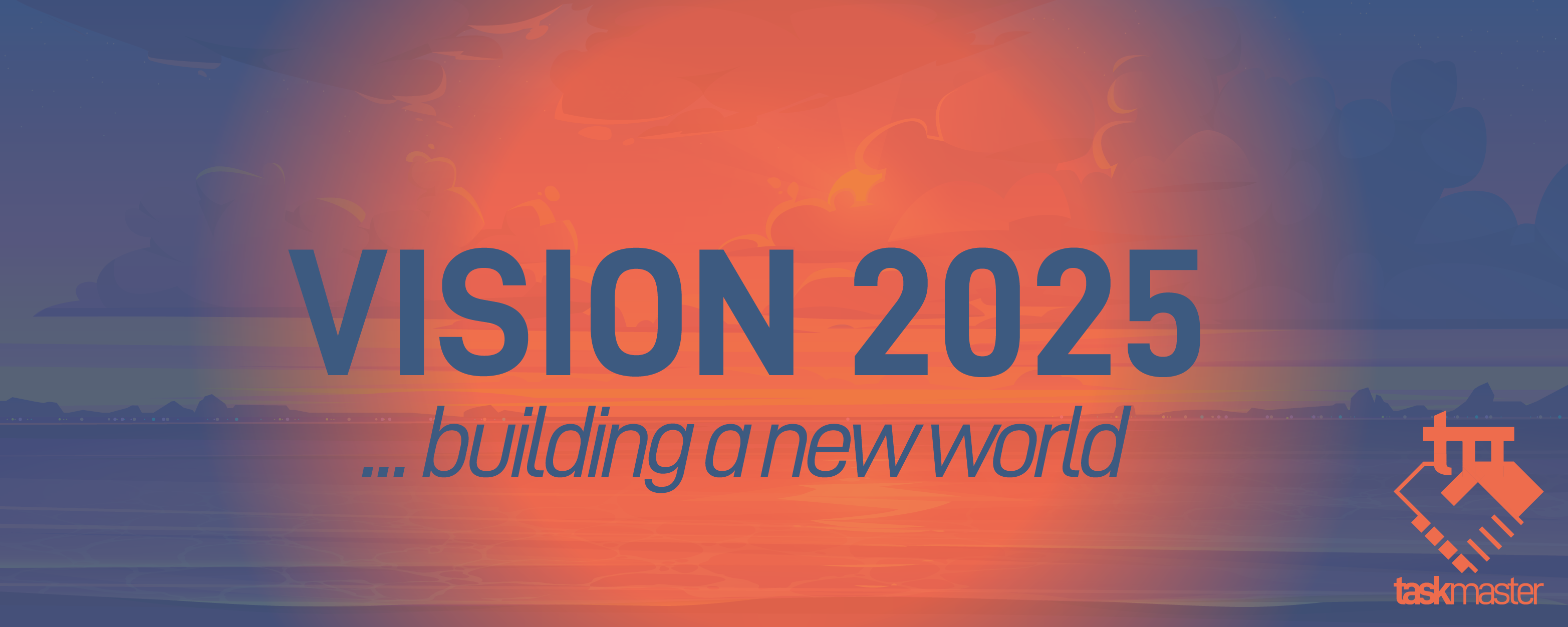 logo by @st8z
Posted Using LeoFinance Beta