One of the reason for my optimism regarding the future is understanding a little known "law" called Wright's Law. This is something that is not discussed with the frequency of Moore's Law yet tends to be more accurate and telling of the future.
So what is Wright's Law?
Basically it is the idea that, as more manufacturing takes place, the price will drop at a consistent pace associated with the learning curve.
Originally this was proposed in looking at airplane manufacturing. Wright discovered that for every doubling in production, the cost dropped by 15%.
What Theodore Wright uncovered was found to apply other industries also.
Wright's Law extends to other industries. In recent years researchers at the Santa Fe Risk Institute concluded that it can forecast the cost decline associated with any technology. In 2012 the researchers compared the forecast error rates between Moore's Law and Wright's Law across 62 technologies ranging from black and white TVs to photovoltaic cells, and from electric ovens to nuclear power. They concluded that Wright's Law outperformed Moore's Law consistently. Even in his research on transistors, Gordon Moore would have been served better by applying Wright's Law than creating Moore's Law as a forecasting tool, as shown below. Measured over the decade to 2015 (the latest data point available), a price forecast based on Wright's Law was 40% more accurate than one based on Moore's Law. Measured across the entire data series Wright's Law reduced the forecast error by 15% on average.
Source
Much of our innovation over the last 100 years can be attributed to our ability to produce things. Our level of production has increased exponentially, resulting in more detailed products. Electronics and finally computerization all resulted, which further helped to push things forward.
Here we see something that is vital to our manufacturing and production going forward: industrial robots. Notice the expected cost declines when applying Wright's Law.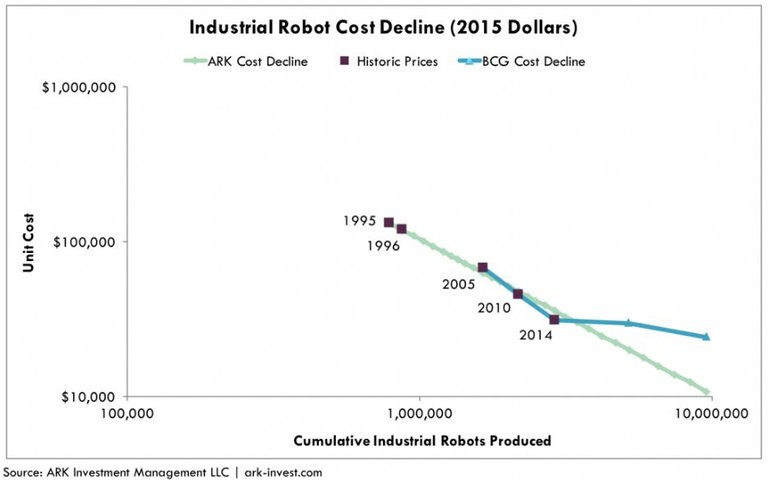 What gets really interesting is robotics coupled with AI accelerates the entire process. We see this moving forward to the point where much of what we deal with will be near zero marginal cost. This was something many predicted more than a decade ago.
Our physical world is being digitized. This is another vital factor. When the physical converts to bits, it is much easier to manipulate. In other words, everything along the china is accelerated, streamlined, and made more efficient.
Customization, localization and personalization are all suddenly the norm instead of distant mass manufacturing. Supply chains are radically altered as well as transportation networks. Instead of manufacture and distribute it is distribute then manufacture.
This is the epitome of 3D printing and, eventually, other technologies that will come about. It is far easier to transfer a digital scan as compared to a physical product.
It gets really exciting when we consider this law applies to solar cells, lithium ion batteries, robots, rockets, and anything else that we are developing which will reach mass production. In a few years, VR headsets will be much less simply because of the number of units which will be produced. The same is going to be true for electric vehicles.
As our physical products are tied to the digital world, mostly through applications of some type, we will see radical advancement. EVs are going to eventually change transportation by shifting from cars to rides. The same holds true with food production when we consider the construction of vertical, climate controlled farms. This will localize the growing of food, removing the transportation costs from the equation. It also allows for greater yields using less resources.
Think of everything in our world that is made. Then ponder the fact that with each iteration of production, the costs will decrease by an associate amount. While this will vary across industries, the trend is clear. Thus, all we are developing will be less expensive in the future.
Couple this with the fact that information technology advances at a rapid rate, enabling for more diverse networks handling more data, we can see how quickly the world can change. AI is going to completely alter software design, something that is already in place.
Ultimately, much of our manufacturing will be done without the use of humans. Of late, we are seeing a lot discussed about how technology is going to wipe out many jobs. This is a prime example of how it all ties in. Production costs drop as humans are replaced with automation. Obviously, we have decades of evidence as we saw this happen across the world.
Wright's Law is showing us that we are going to increasingly uncover less expensive ways to live. As production mounts, we will find that the unit costs drops, further helping demand. Those industries that are mature will find this ends up putting them out of business as the demand will not be there. However, for products that are tied to other industries, like lithium-ion batteries in electric vehicles as opposed to just smartphones.
With quantum computers, VR headsets, and advanced communication systems all on tap, Wright's Law is going to take on added importance going forward. It helps to explain how things will keep accelerating in spite of us embarking upon more difficult systems.
---
If you found this article informative, please give an upvote and rehive.

gif by @doze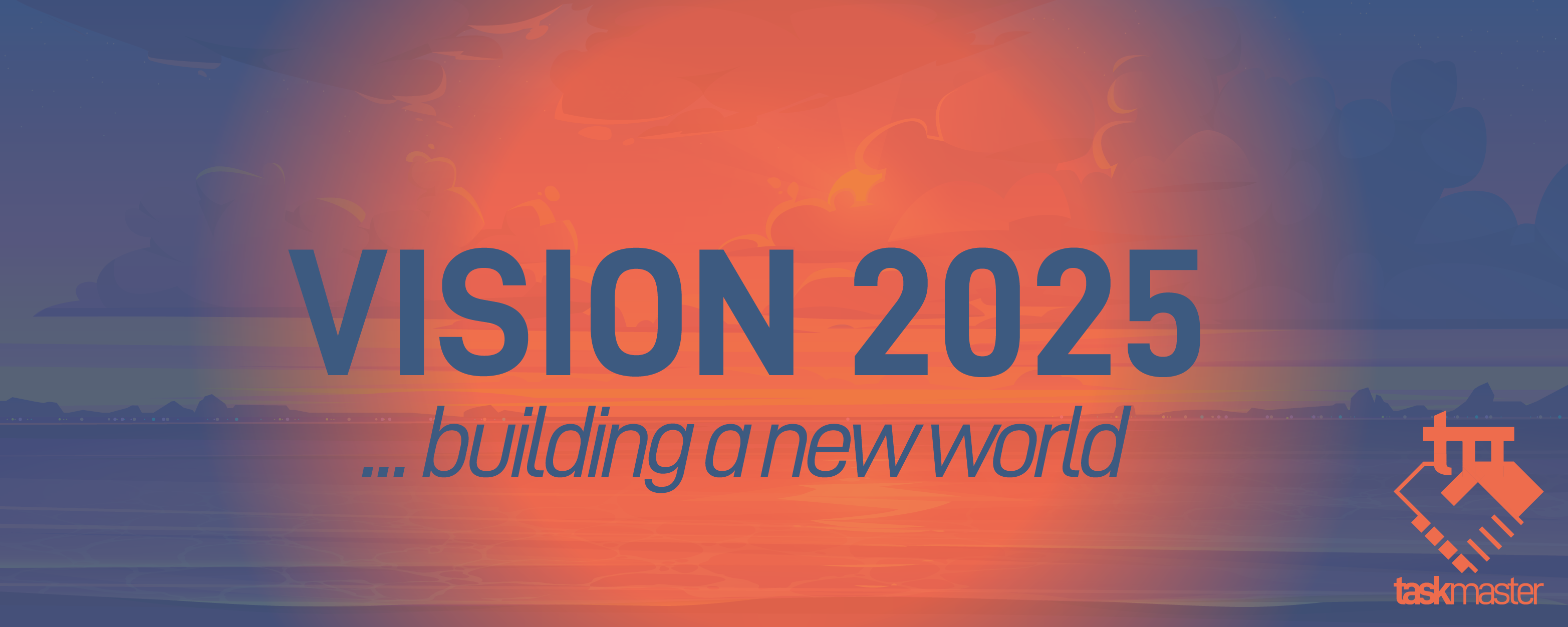 logo by @st8z
Posted Using LeoFinance Beta