Sometimes it is rather difficult to see what is happening with technology. Of course, other times it is clear as day.
We must remember that there are two components to technology in terms of implementation:
when the technology can perform what is needed
when humans actually embrace the technology
This is evident with video conferencing. The technology was around for more than a decade, improving as time went by. Yet, for the most part, it was not embraced.
The lockdowns last March started to change that. Suddenly everyone was using a service such as Zoom™. Millions of people were would not even text were engaging via this "new" medium.
Here we see an altering of society that, quite frankly, is permanent. Remote work is in keeping with technological advancement and larger trends that are in place. To resist this move is foolish.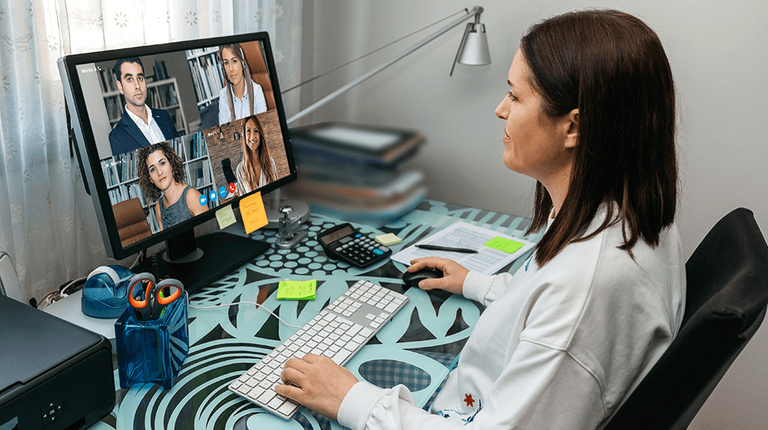 Source
Workers Are Not Returning
Kastle Systems is an organization that is helping companies to navigate through the "new normal.
Here is what their website says:
To provide some clarity on the issues facing American businesses, Kastle Systems has been studying keycard, fob and KastlePresence app access data from the 2,600 buildings and 41,000 businesses we secure across 47 states. We're analyzing the anonymized data to identify trends in how Americans are returning to the office.
It would appears they have a fairly good cross-section of the office environment. This is what their latest results show: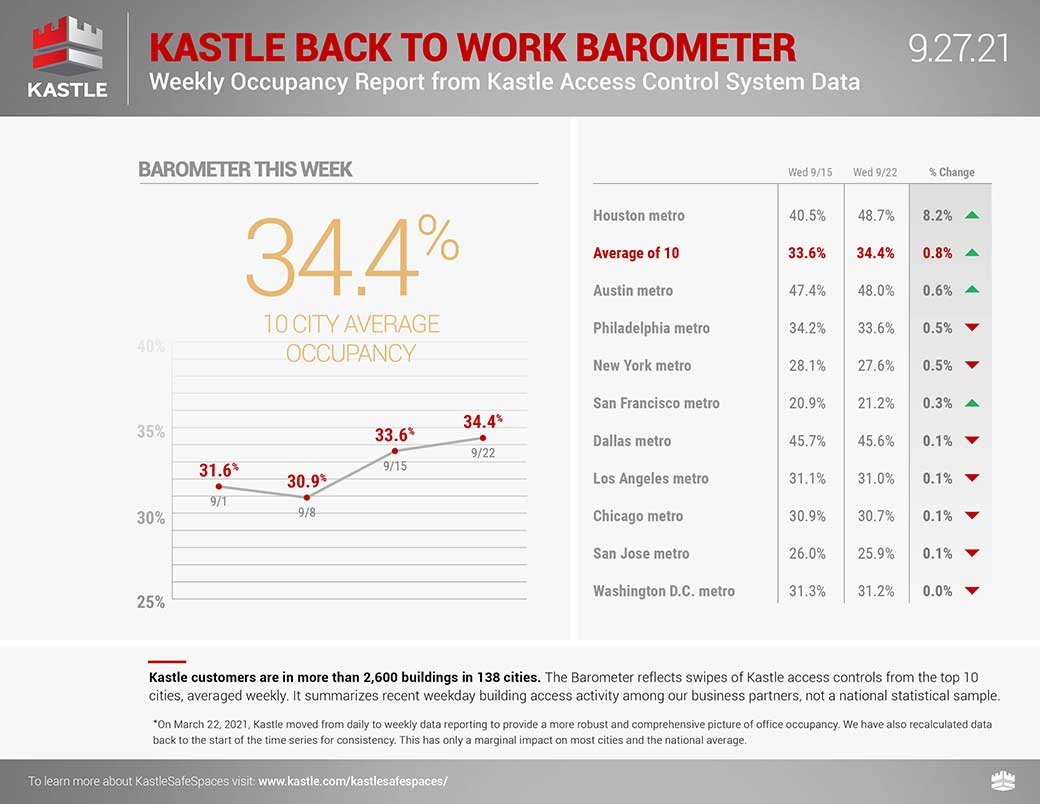 The average of the 10 markets they follow is barely 1/3 of the employees are back in the office. We can see the latest result, even with an increase over the past week, is only a tad over 34%.
That means nearly 2/3 of the workers are not in the office.
Welcome to the new normal.
CEOs Whining
It is a situation that is not going unnoticed by CEOs of some of the largest corporations. This even got the attention of CNBC's David Faber and Jim Cramer who discussed it on-air.
"I continue to hear a litany of frustration from those who run large organizations in terms of their inability to get people back in the office," Faber said Friday in an exchange with his "Squawk on the Street" co-host Cramer. "I had a lunch and a dinner last night," Faber said. "It's just a never-ending theme. Some of these CEOs are at their wits' end as how they deal with it. 'How do I get people back in.'"
Well David, the answer is "they are not". The CEOs better realize that remote work is here to stay. This is not some passing fad. Nor is it, contrary to Cramer's analysis, due mostly to COVID.
What we are seeing is the second part of from above: people are now changing how they operate by embracing the technology that is available.
Of course, for someone like Faber, this is impossible to see. In fact, look at this statement.
Faber questioned whether people unwilling to get vaccinated against Covid would take an antiviral pill. "It's Merck. They know how to do trials," Faber said to Cramer, who was nodding his head. "We wouldn't sit here and question it. But there will certainly be those who do, I'm sure."
Source
Don't question Merck? Yeah after all, Big Pharma is known for their honesty and never misleading the public. Typical of tied to Wall Street, defending anything corporations do.
Nevertheless, the people are speaking clearly on this even if the likes of Cramer, Faber, and CEOs are completely clueless. They evaluated how much they liked commuting, office politics, and basically missing the lives of their kids to be dedicated to an entity that would toss them out the second it could.
But then again, Cramer only woke up to Tesla and the transition to EVs a couple years ago so expecting him to be forward thinking is probably not wise.
More Tools Coming
Whether you think Facebook is scum or not is really not relevant. It is important to recognize what they are trying to do and what it will provide.
One of the latest initiatives from the company set up virtual meeting rooms on their Horizons platform. This will allow for engagement in a manner similar to what happens in-person along with business tools usually found in such environments.
Source
This is just one step in the move to assist the remote worker and the managers responsible for oversight.
It is not a situation that is going to apply only to Facebook. Microsoft, Salesforce, and a host of other companies are looking at adding tools to their software which will aid in the remote work era.
In fact, we are going to see most of the developers of ECMs expanding the tools in their offerings to ensure that they are servicing their customers as needed.
All of this means that the ability to engage in remote work is only going to expand. With better tools, monitoring, and continued digitization, we will see more jobs filled in this manner. We are at the peak for jobs that have to be done in person. With each passing week, the ones that can be done remotely grows.
Ultimately, this is a done deal: remote work is here to stay.
---
If you found this article informative, please give an upvote and rehive.

gif by @doze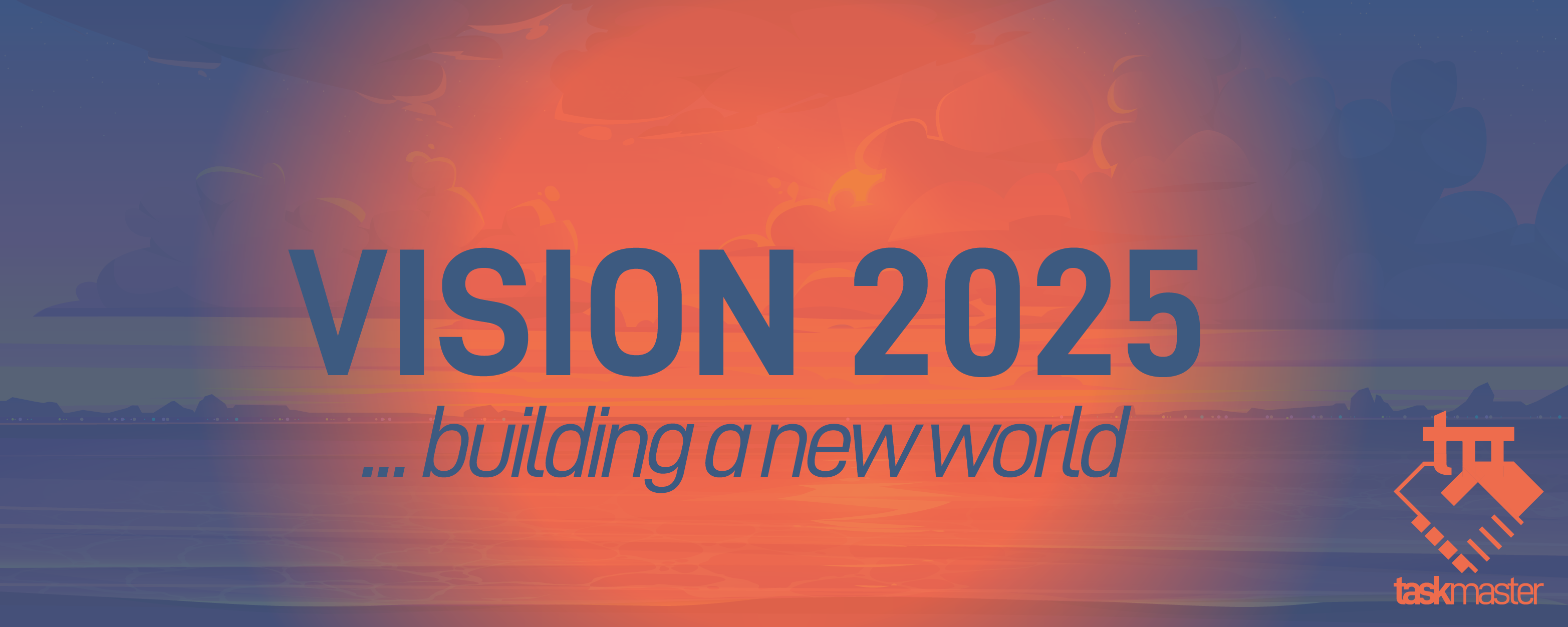 logo by @st8z
Posted Using LeoFinance Beta