We are in an exponential age. This is a phrase that gets overused a bit yet it is accurate. It is also a period of accelerating technological development. Again, this is an idea that loses its impact due to oversaturation. Nevertheless, it is still valid.
In this article we are going to see exactly how things are unfolding and the pace. By the end, the hope is everyone will be excited about what is taking place.
For years, we covered the Age of Abundance. This is something that is bearing down on us full tilt. The era of scarcity is quickly evaporating. The next couple decades are going to see the complete transformation of most parts of society.
Basically, we never saw anything like this in the history of the world, at least not to this degree.
A Few Percent Growth Per Year
Most of us are unaware of what is really taking place since growth rates are rather slow. This is especially true from an economic perspective. For many, the headline figures do not mean much since they are not big enough.
For example, the US growth in GDP over the last couple decades is a few percent per year. This equates to some big numbers yet means very little to each person. Even if we take this to wages, the result is the same.
After all, what does a few percentage added to one's paycheck really mean? If one is making millions, it is a decent sized number yet has little impact. It is equally true for the middle class worker.
That said, over time, we can see massive changes. When looking at the growth in global GDP, over a long period of time, we see a radical difference. Look at what took place over the last 200 years.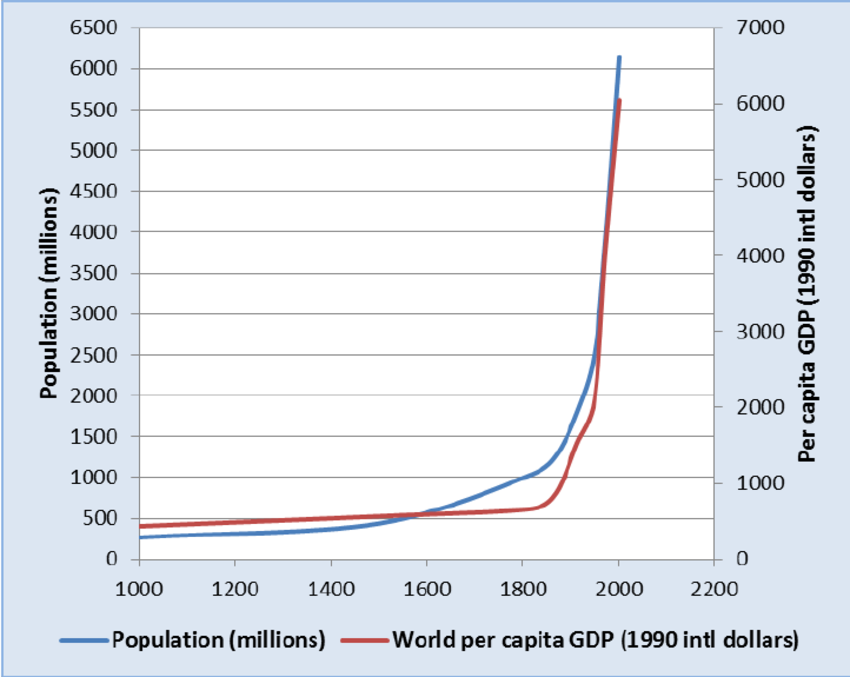 Source
For much of human history, the growth rate for humanity was miniscule. It was far less than one percent for centuries. Yet, technological innovation, starting mostly in the 1800s, sent this on a much different trajectory.
As we advance technologically while also having a population basis large enough to have a major impact, we see the chart go parabolic. It is no surprise that we see such start difference between today and the late 1800s. Compare that with prior centuries where life did not change much over hundreds of years.
Notice also how the population was trailing technology yet caught up during the last century. Yet, of late, the chart is showing how technology is starting to outpace the population, and at an increasing rate.
This is a vital point to what is ongoing.
Massive Technological Expansion
Here is an idea that many are aware of yet cannot grasp the exact implications. It is something we realize is taking place around us but is hard to quantify.
Perhaps we can clarify things a bit by looking at how technology is growing. A simple way might be looking at investment in it. After all, more money in means more technology coming out.
This is a chart of High Tech Spending In GDP: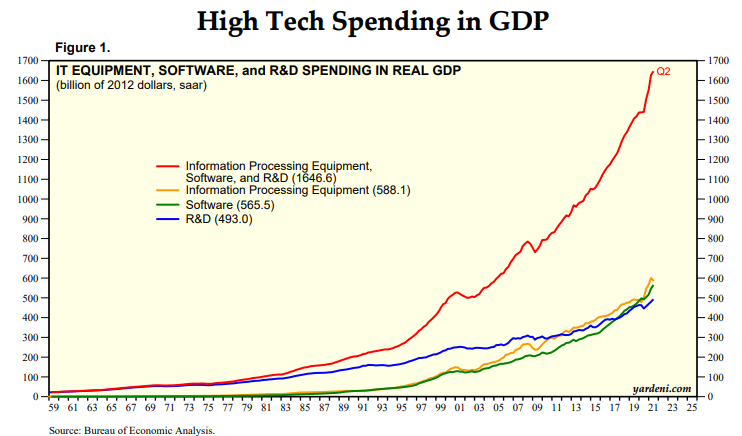 Once again we see a chart that is exponential. This is the theme for the era we live in.
Notice how the spending first hit the greatest acceleration rate during the "Internet Era". From about 1996-2000, we see the slope the steepest, until recently. After the DotCom pop, things slowed a bit only to reach the same point in the past 5 years.
One thing that is noticeable is the trend went almost vertical since COVID. It is likely this will settle down a bit since we know IT spending went through the roof as companies adjusted to the circumstances. However, it is vital to remember the benefits from that investment do not go away.
This chart helps to quantify what we saw over the last 25 years. Most of us are mindful of the fact that it was the greatest advancement in technology in human history. Here we make a case as to the reason and why it is going to continue.
The fact that we are seeing the investment accelerating means that we can expect more technological advancement to roll out.
Of course, considering topics such as the space race, electric vehicles, mixed reality, satellite Internet, and battery technology, this should come as no surprise when viewed through this lens.
No Impact From Cryptocurrency
All of this is taking place without much impact from cryptocurrency so far. Being in the early stages, we see a great deal of development yet the power that is going to be unleashed is still in front of us.
What this means is that, today, we see development funded by Venture Capital money. Naturally, this is of great help, from the advancement standpoint, since it does generate more applications. However, this is still operating under the old model.
Cryptocurrency has the ability to radically change how all of this takes place. While funding is growing at an exponential rate, what happens when cryptocurrency is used as the funding mechanism for the advancement of technology?
At present, we see a lot of development occurring, for lack of a better way of phrasing it, in fiat. Money that is out there is diverted to projects, something that took place for decades.
We can see this altered by cryptocurrency. What happens when projects tokenize as a means of funding their development or research? How will all this change when we enter an era where cryptocurrency is created to fuel technological advancement in a particular area?
Consider this as opposed to simply engaging in yield farming, which appears the main use case for cryptocurrency at the moment.
That does not mean the present flow of capital is going to dry up. That will likely continue. Nevertheless, consider what will occur when hundreds of billions of dollars (or perhaps trillions) in cryptocurrency enters the technological funding game.
How much more technology will we see rolling out?
In short, cryptocurrency is going to equate to more technological advancement. This will accelerate the trend that is already in place. We know what happened over the last 25 years, which was an appetizer.
The next couple decades will see much greater advancement and cryptocurrency will likely be at the center of it.
---
If you found this article informative, please give an upvote and rehive.

gif by @doze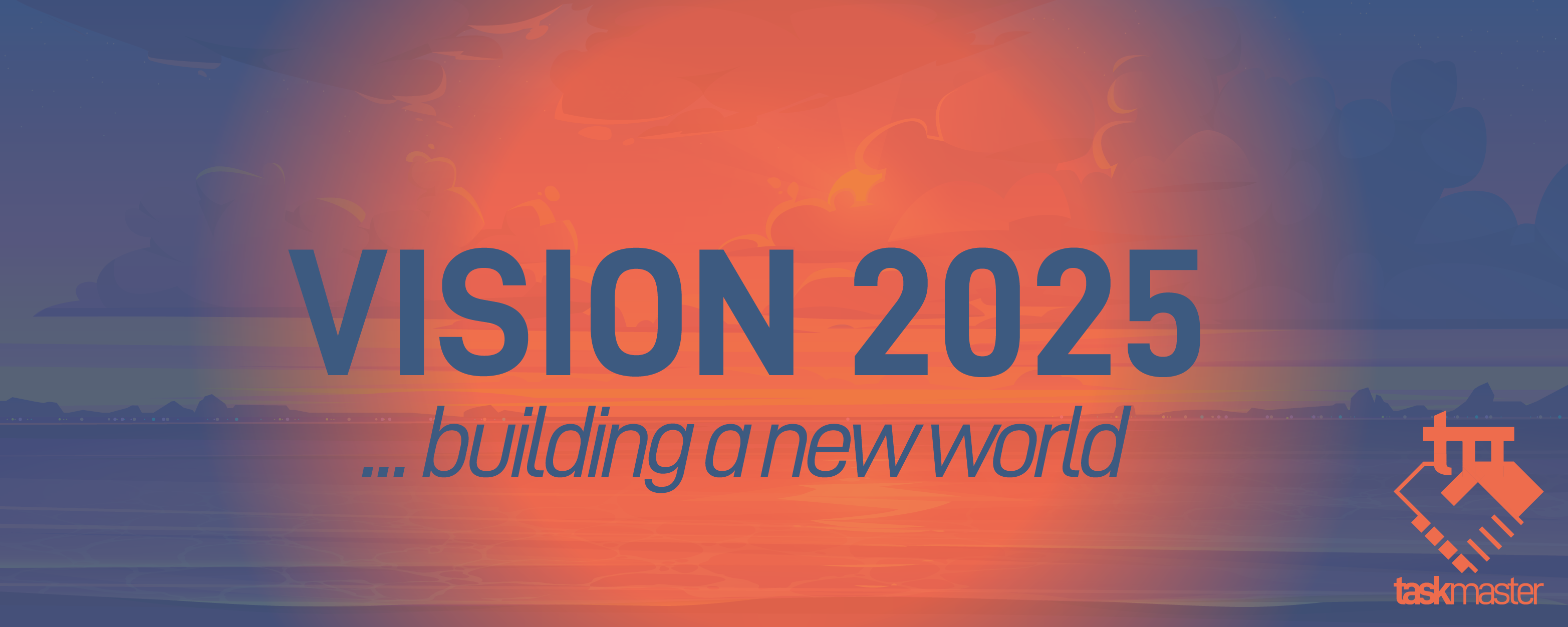 logo by @st8z
Posted Using LeoFinance Beta