After a couple very long days of work, only to come home and spend til near midnight each evening ripping the garden apart after the contractors decided to come in early (better than late) to start work, I am knackered. My body is aching and my Hive outlet for maintaining sanity has been on the backburner for the most part. With so many hours owing from work, I decided to indulge myself a little and write for a few hours and head to work late.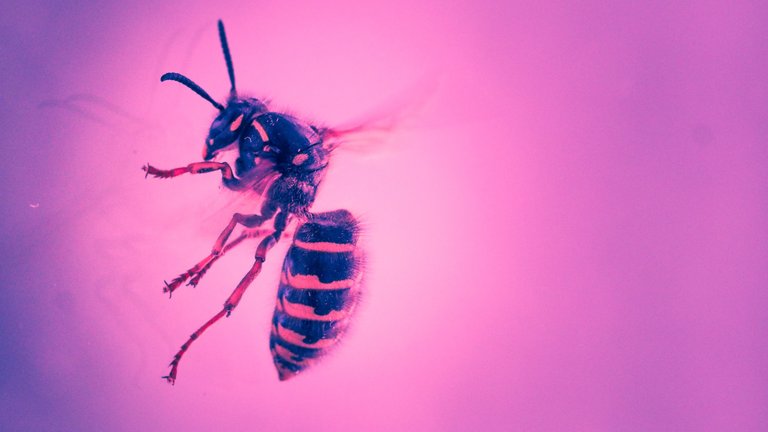 There was a Twitter call to action by @theycallmedan to get Hive listed on Uphold. When I go to support these kinds of things I will often scan the comments to see what the general feel is and if these Twitter polls mean anything, Hive should be listed everywhere, as there is a mass of community support behind it. However, there is more to it than that.
What I do like seeing however are tweets like this one:

This is probably the most important component of Twitter campaigns, visibility. Like us at Hive, people participate in these campaigns to shill their favorite coins to get listed in the hopes to make some gains - both from a monetary and community perspective And like me at least, some people like this person will read the comments too.
From the monetary perspective, coins are what coins are, but from a community perspective, there is currently none stronger than Hive. While most people in crypto are traders and therefore focused on the financials, mass adoption of the industry and all of the benefits that will bring will rely on being able to generate value for people and their communities.
If we think about the dotcom era two decades ago, we can learn a lot from the survivors, the Amazons, the eBays and the Googles - They survived because they were able to not only offer, but deliver value to their customers. While the customer might not always actually be right, when it comes to supply and demand, customer is king. In regards to a lot of the current crop of cryptocurrencies and blockchains, most have very little substance to them and their customers are speculators looking to buy and sell for profits, on ideas that are often no more than promiseware for the future, with most likely becoming vaporware - much like many of the "victims" of the dotcom bubble - that essentially ran pump and dump schemes on investors who didn't know much about what they were buying.
As I have said before, Hive suffers a visibility problem, but it isn't only through a lack of visibility, it is also due to "too much" visibility. Hive is one of the most transparent crypto projects out there, because unlike most of the rest, we can see and interact directly with the customers, many of whom are like me - exposed. We know what people hold, we know what they do, we know what they think and we can read about all of their loves and complaints.
If you are buying a new TV or headphones, a game or car, do you read the reviews and how much influence do they have on you? Most likely, you will be influenced and because loss weighs twice
as heavy as gain, the negative reviews are likely more influential than the positive. We likely suspect that the positive reviews are people who have a bias because they already bought, the negative are less biased because they bought and still didn't like.
One of the issues on Hive is that it can be earned in a innovative, but imperfect system and those that don't earn are often the ones who are the most negative about the future - they are also the ones that are least likely to buy. Whereas those who buy are positive about the future and probably more likely to earn - because people tend to support (add value) to what they consider is value adding to their investment.
The negative voices on Hive are loud, but often have very little skin in the game behind them, the positive voices tend to have a lot of skin. To an outsider that doesn't understand or have visibility on the staking system or stakeholder history, these two sides of the normal distribution appear to both have an equal say, but the negative weighs twice as heavy.
However, the positive is actually far more valuable for a potential investor to pay attention to in regards to whether they should invest or not, because often it is an indicator of confidence in the future as these people tend to have skin in the game. For many of the negative positions, they have nothing to lose, but often because they are not earning what they believe themselves to be worth, they are bitter about their experience. They wanted gain, but failed or like many from the early days, got supported heavily, but lost their support over time and had their expectations broken and their entitlement issues kicked into gear.
There are a wide range of users on Hive from all over the world and from all walks of life, but the general position of many who are not investors is that they want to earn. However, wanting to earn and earning are two different things - and not everyone is going to earn what they want as there is a large variation in factors like skill, knowledge and personality that come into play. This means that there is a range of earning outcomes, with most who put in some effort getting a little all the way up to the few who get a lot - with many of those who get a lot putting in a different set of abilities as well as a greater level of investment, both through content and direct investment.
For the investors who also want to earn a return, they can be less concerned about the 7-day payout window, as they are likely looking far longer into the future to a point where the tokens they have bought are worth more than their cost. Their investment into HIVE is an indicator of their confidence level and if they have done their due diligence, they have seen the negative reviews and understood that for the most part, they are coming from people who never bought the product and therefore, never actually used it to its potential -
kind of like taking a Lamborghini for a test drive around a school zone and then making an opinionated review about the performance of the engine as if an experienced expert.
But again, to the outsider who is doing their research, it is impossible to tell whether a review is coming from someone knowledgeable and experienced, someone shilling for profit or, someone bitter because they were caught plagiarizing and their account was burned to the ground with downvotes. Yes - these kinds of people talk about their experience on Hive too, and an outsider doesn't know the history or understand the mechanics.
Bitcoin is different, you buy it, you have a wallet, there is mostly equality in user experience of the BTC blockchain. What people should remember is that like products themselves, not every account is built in the same way on Hive. On Hive, you could take a pathway like I have for 4 years to build an account based on my skills and experience, investing some of my disposable income, developing relationships, exploring the space to understand and being very open in the process. Or one can go to the other extreme and try and scam and spam - we both want gains - but the way to those gains taken is very, very different. Yet, we can both write reviews, we can both comment on Twitter, we can both be considered "knowledgeable" by outsiders to the point it will influence opinions and decisions - the negative gets weighted higher -especially by people who are yet to see the other side.
I replied to the Tweet mentioned above and added a link to my own account, rather than a general link, which I would normally do.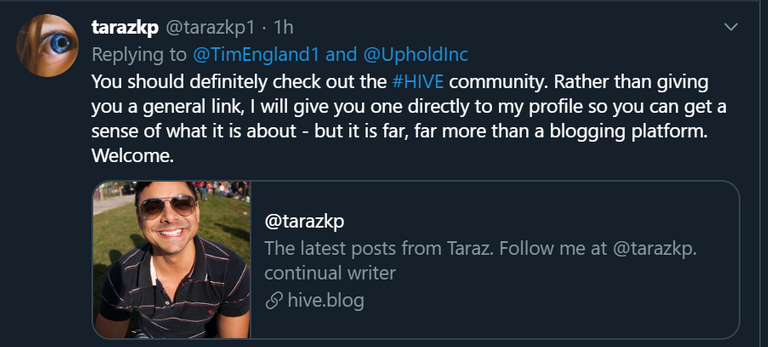 I don't like shilling my own account and in 4 years, I haven't dropped posts in discords or chats in the hope for votes - I like the idea of having my journey on chain. I want someone who hasn't heard of Hive and is coming to have a look for the first time to see some of the potential of the community through a positive path on the blockchain and to come in through a gateway that will introduce them to parts of the community that are active, invested and working toward improvement.
Not everything on Hive is great and there is a lot of work to be done, but this isn't promiseware and it isn't vaporware, it is a fully-fledged, functioning and innovative blockchain, with a working and engaged community and a growing ecosystem of applications that are built on the Hive infrastructure and integrated with a tokenized economy that can support a wide range of usecases such as blogging, gaming and financial services. But most importantly, Hive is a place that is looking to support the community - off and on the blockchain - now and in the future.
As I see it, what is going to take Hive mainstream is also what is going to take the entire crypto industry to the masses, one conversion at a time. One person making a decision to move away from the traditional economies and into where economies will be - community owned and operated economies.
It doesn't matter which crypto or blockchain one chooses to invest into, Hive can become a conversation hub, a network that can give a home platform to the homeless crypto projects and empower them to further support the industry as a whole - plus, give them an open and normie-friendly gateway to their own projects. To take crypto and blockchain to the masses, it is imperative to support crypto projects that offer service for the masses - not just buy some crypto coin and hope someone will pump the price up so as to sell back into fiat.
Collecting projects under one roof can benefit all, not just Hive projects. But Hive applications will benefit also, as they offer more than just tokens, they offer a place to use those tokens in various ways, as well as earn and be entertained through a growing assortment of games, content and activities. This intertwines projects and creates (I hate this word) synergies and compounding advantages that will generate value that projects won't be able to generate if working completely independently.
I think it would be a great application of Communities for this purpose that gives crypto projects a collected home where developers can broadcast their updates, people can share their project experience and users of whatever the project offers will have shareable links that can be used to support their favorites on other social platforms. I think that a large part of any projects future value will be driven by the narrative that surrounds it and most don't have much of a story at all.
On Hive there are many paths - and anyone can build their legend.
Taraz
[ Gen1: Hive ]
Posted Using LeoFinance