I am at the hospital to have my infusion treatment, but with so much going on at the house this week, I am not going to get much of the needed rest to manage the immediate kick in the head it gives. Illness is one of those things that none of us want, yet most of us will endure and the older we get, the more prevalent and restrictive it becomes - it is kind of like when as a youth I could drink heavily and the "hangover" was being a bit tired, whereas now it requires four days of recovery.
I have been pretty well physically smashed since I was 16 years of age, so I am used to the pains, but they don't lessen with time - they worsen. What does improve with age is the ability to cope with pain - well at least this has been the case for me. I think that part of this effect is due to maturing of understanding through experience and the lesson that even under stress, pain and less than ideal conditions, a lot can be accomplished.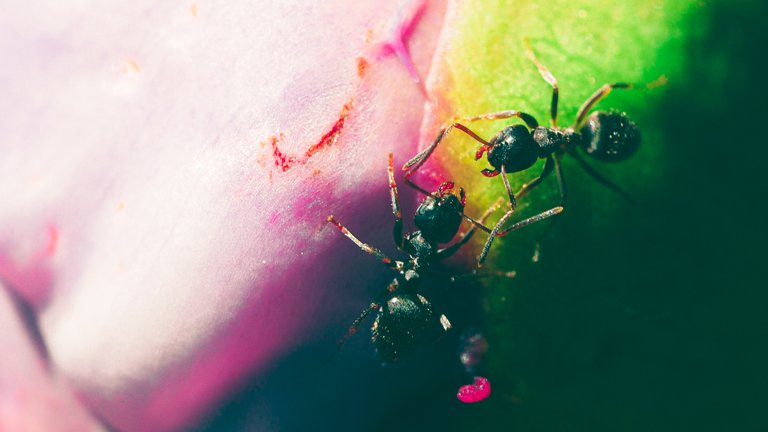 I often spend a lot of time linking life to Hive, Hive to life, as I believe that Hive is a good microcosm representation of much of life in general. While it might seem far removed from reality at times, I think that the behaviors and reactions here are quite an honest indication of what goes through personal lives in the walking world, with many people potentially amplified in response (as is the way of the internet) but still being themselves, perhaps more so, as the normal checks and balances are largely removed.
I was talking about how a lot of people won't even consider crypto as a legitimate option because it is not supported by traditional institutions, which is a common mentality for many things. I remember when I was 13 and started rollerblading, my friend and I almost got into a fight with some older kids on rollerskates, because they thought it was wrong, impure in some way. These kids were "institutions" in the small town and popular. What it was that they had spent time perfecting their skill and now, their value was being eroded by innovation - and they couldn't keep up - literally as well as metaphorically. They feared their demise - and they could see the writing on the wall. Rather than adapting early, they looked to retain power through oppression. When was the last time you saw soomeone on rollerskates - that wasn't a hipster?
What people in crypto are doing now is starting a trend like rollerblading, snowboarding, small engine cars, dance music, digital photography, internet chatting and SMS - except rather than making products obsolete, we are making the entire economic system obsolete, the infrastructure system that lays beneath the surface of all other economic interactions, the transactions of supply and demand.
The institutions and governments have productized the economy and we are the customers who keep buying rollerskates, even though there are much better options out there that give us more speed, flexibility and options. Not only that, because the productization is at the infrastructure layer, we don't necessarily opt directly into the purchase, we do so through the consumer purchase decisions me make on the surface - we support them nonetheless.
Getting into crypto is a step toward structural change at the economic infrastructure level and while it is far from perfect, more participants means that it can develop at a faster rate and, the more in early, the more who will benefit at a greater level. Getting in is a hedge bet against the management of the current system, a system that has managed to support the very few being able to get extreme wealth by extracting from the very many.
While in its infancy the space looks quite infantile, this is the way industries mature and innovate, a slow progression that advances infrastructure and product development to be more effective at capturing the market. As more participants are pulled into the mix, more development happens, more goods and service businesses startup and then, it becomes an unstoppable force.
If you look at any of the industries around today, they are not single industries at all, they are an ecosystem, a collection of industries that support each other to generate wealth across them all. The problem is that the same small slice of organizations and people own the largest slice of all industries. Crypto is different however, as it can literally be created and owned by anyone. Whether"anyone" gets support is however an issue as, most will still rely on the familiar few to give them a buy signal.
One of my friends the other day was talking about how investment funds get "buy signals" from various sources and then a little later commented how Bitcoin can't ever be worth 40,000 dollars. My reply is, what happens when the investment funds get a buy signal and they decide to put in 5% of their managed fund?
The largest in the world is worth about ~6 trillion dollars, which is a full 35x greater than the current BTC market capitalization. This means that if that one fund put 5% into bitcoin, it would have to invest 300 billion dollars into crypto, which would technically triple the value from today. However, with large amounts of Bitcoin locked away and lost (~20%) and some very large holders out there, how much Bitcoin is actually available for them to buy? Then, what happens to the alts that surround Bitcoin, what happens to all the people who say, "Why take 3 or 400% increase when I can get into HIVE and take 2000%?" - that would be a price of 4 dollars from today, definitely not outrageous.
At some point this is what I see happening as investment funds will continue to struggle to get the gains necessary for their client's ROI and will look for other ways to generate income - the new economies being created being the only real candidates - as there just won't be enough generated by the already established industries - as no one has enough money to buy from them due to the terrible distribution facilitated by a broken system. They are going to have to take some risks and in so doing, bring stabilization through participation to the crypto space, making it less risky.
At least, this is my thinking and where I am hedging part of my bets as I think that crypto brings in a "bang for the buck" factor that very few investments can and, it can be actively invested into and a position extended through participation also, which is a very unique factor. While there are plenty of people who are going to slow on the uptake, the same happens for all industries, but with technology advancements, the uptake and spread is quickening and at some point, crypto participation will just be the norm, like using a mobile phone, the internet or using a car. The institutional thinkers and supporters are going to get increasingly pressured to shift their focus of energy and eventually, they will have moved over as if it was their idea.
Well, my treatment is coming to an end and I will have to head home to continue my work day with a headache, but I think that where we are headed is in the right direction, even if it isn't going as fast as we want or expect, but that is the case with everything we anticipate and look forward to - it always feels like a long journey when looking forward.
Taraz
[ Gen1: Hive ]
Posted Using LeoFinance