As mentioned in a previous post, we are phasing out the @nostem4u anti-abuse account. As such, we are powering down the 1M STEM tokens, and sending them to null.

Half of the tokens have been powered down, with the last half finishing in about 2 weeks.
I never liked thPreviously we burned 500,000 STEM tokens off @nostem4u. We just burned another 500,000+ STEM tokens to completely eliminate the 1M STEM tokens allocated to the @nostem4u anti-abuse account.
The anti-abuse @nostem4u account was it was a brute force tool. When created, the stake was set high enough to handle any situation and most of the time only a 1-5% vote w10% of the initial supply, and the sell wall was another 20%. Most of the sell wall (2M out of 2.5M) has nbeedn burned, to adjust any rewards on STEMGeeks.
@nostem4u was not used frequently as the curators have been doing a good job rewarding on topic content and ensuring off-topic and spam has not been rewarded, I am very proud of this. Post level muting allows me to deal with any situation where an account level mute isn't warranted but a post is off-topic and doesn't belong.
Burning @nostem4u stake from the ecosystem removes more than 25% of the STEM tokens from existence.
In two weeks the last 500K will finish powering down and will provide an update when that happens.here is still 500K that has not been issued or burned of the original sell wall supply.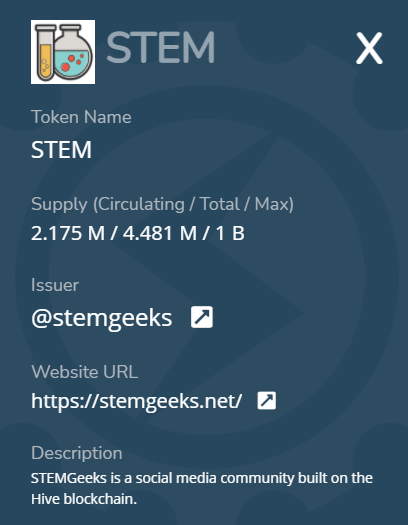 STEM has just over 2M tokens in circulation, with over 2.3M STEM tokens burned from the initial supply and weekly reward pool. Before burning, STEMGeeks is already a low inflation token with the lowest inflation and highest burn of other tribe tokens.
We are working on some unique ways to reward the most loyal members of the STEMGeeks community which will announce soon. As always, if you have ideas, please let us know in our Discord.