After asking the community if they want linear rewards, it is clear the majority would prefer linear rewards.
Effectively immediately, STEMGeeks will distribute linear curation rewards.
All votes on STEMGeeks are split between a 50% author and 50% curator reward pool. Under the current system, there are curators earning as much as 195% APR on curation rewards alone (this isn't even factoring compounding which makes it much more).
That means they are more than tripling their STEM tokens in 12 months. The majority of users are doing much less. This is partly because of voting time isn't as optimized but also not voting 100% on STEM content. Unless you have a dedicated account for your STEMGeeks voting, it is hard to optimize your curation rewards. Those that do though, are making 30-90% APY and in some cases even more.
A change to linear rewards will even the playing field for all curators. Regardless if you vote 1 second after a post was created or 6 days, you will earn the same portion of curation rewards. Basically everyone will earn 50% of their vote back in curation rewards regardless when you vote.
How much can you make with linear rewards?
Let's look at the @stemcuration account.
@stemcuration has 177K STEM Power for curation.
@stemcuration has a 96.44 STEM Vote.
10 votes a day is 964.4 STEM
With linear rewards, half of 964.4 is 482.2/day in curation rewards
482.2 STEM/day is around 176,003 STEM/ year.
When you factor in compounding, you are looking at around 179% APR.
494,000 STEM after 1 year - 177,000 Starting STEM Power = 317,000 STEM
317,000 STEM / 177,000 Starting Stem = 1.79x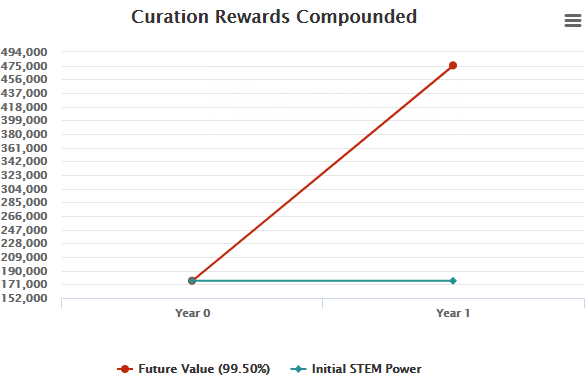 This is a larger account, and a smaller account maybe around 80% APR from my calculations. You can follow the same math to figure out your account.
The only thing that affects APR now is how much stake is voting and how far up the curve a post gets. Larger votes will benefit from the author reward curve slightly more than smaller votes.
This system eliminates the incentive to curation snipe and gives everyone a fair chance at curation rewards. Linear rewards has some benefits, but it isn't perfect and does come with some drawbacks as well.
The previous system tries to encourage users to find content they believe will be rewarded well, basically content people like. As we have all experienced, this isn't how it works in reality.
That being said, there is still a curve on STEMGeeks meaning as a post receives more votes, those votes become worth more. This forces the reward pool to gravitate (slightly) to popular posts and discourages micro payouts to low quality posts.
I will be monitoring the situation and as long as everyone is happy with how things go, I will leave it alone. I can always go back to a curation curve if the community disagrees with the change. As far as I have seen though, almost everyone has been happy with the proposal.
Anyway, linear rewards are live and effective immediately.