The other day I was talking to Gerber from DCity, and we talked about the STEM event tokens. I asked if he would be willing to burn them as we originally talked about, and low and behold 75,000 STEM burned.

This is equivalent to almost 6 weeks of posting and curation rewards and represents a pretty significant amount of STEM.
If you look at the distribution of STEM, you start to realize how few STEM tokens are available to earn, purchase, and trade. With less than 7% inflation, and massive burns, there is a very limited supply.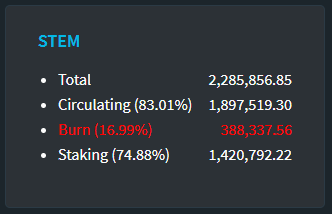 Out of the 2,285,856 STEM tokens in our supply, 388,337 have been burned leaving only 1,897,519 tokens in circulation.
302,000 of those are on the STEMGeek's Team Curation account @stemcuration where all liquid curation rewards have been burned since day 1. These tokens are from the STEMGeek's team supply. All rewards earned by @stemgeeks community account are burned.
Posted Using LeoFinance Beta