We did a little house cleaning and burned some tokens. As promised, we have been burning all author rewards on STEMGeeks account and our liquid curation rewards on STEMCuration.
We also reduced the sell well by around 10% by burning off some STEM tokens.
100,000 STEM burned off the sell wall.

We have issued and burned a lot of tokens, drastically reducing the supply.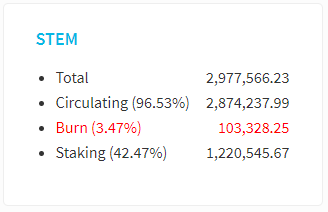 As of right now 42.47% of all issues STEM tokens are staked.
I have been giving it some thought to create a wrapped STEM token similar to what LEO is doing. What do you guys think?
Posted Using LeoFinance