As promised, we have been burning all author rewards on STEMGeeks account and our liquid curation rewards on STEMCuration.
We also reduced the sell well by around 10% by burning off some STEM tokens.
97,300 STEM burned off the sell wall.

With the recent change on the reward pool, we have been burning a lot of STEM tokens that would normally go to authors not part of the STEM community.
You can check out the @stemburn account to see the progress of these burns.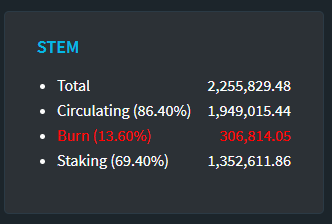 As of right now 69.40% of all issues STEM tokens are staked, a big jump from the 44% on the last update.
I put a lot of thought into the tokenomics of STEM before creating STEMGeeks and we have very low inflation and the reward pool is very well distributed with good content getting rewards where spam and off-topic content does not.
We currently have four official STEMGeeks curators, we are looking for one more if you think you have what it takes, drop your name in our Discord.
Posted Using LeoFinance Beta