Indian wedding has always been a topic to talk. So many rituals, vows, events etx mark the special ocassion in couples life. People can go to any level to make it memorable for life time. However, such ocassion still can be special through simple way. Like it was done by one of the couple of Pune, who took it to another level and termed it as India's or World first Blochain Wedding.
It would be wrong to say that, Indian ever underestimated the power the Blockchain technology. The crypto is the gift of blockchain so does many other things. Even when it comes to crypto adoption in our country, the government has always made a stand to support blockchain as a technology. Blockchain technology is one of the fast spreading things that is happening around, like internet swarms the world few decades ago blockchain doing it currently.
The reason for its so much advancement and liking is because of the the nature the technology on which everything is built around. Blockchain is based upon open source module which provide transparency and also every transaction is easily traceable.
The onset of pandemic has introduced all of us with the concept of MetaVerse and NFT. In today's time when everything is getting digital, Recently, an Indian couple throws up their wedding party on Metaverse and now India witness their first Blockchain wedding, which has already creating a lot of buzz over internet.
Indian Pune couple Anil Narasipuram and Shruti Nair took their wedding to next blockchain level through Ethereum Smart Contracts. The wedding commitment to each other were made through their engagement rings in the form of NFT which is minted through OpenSea.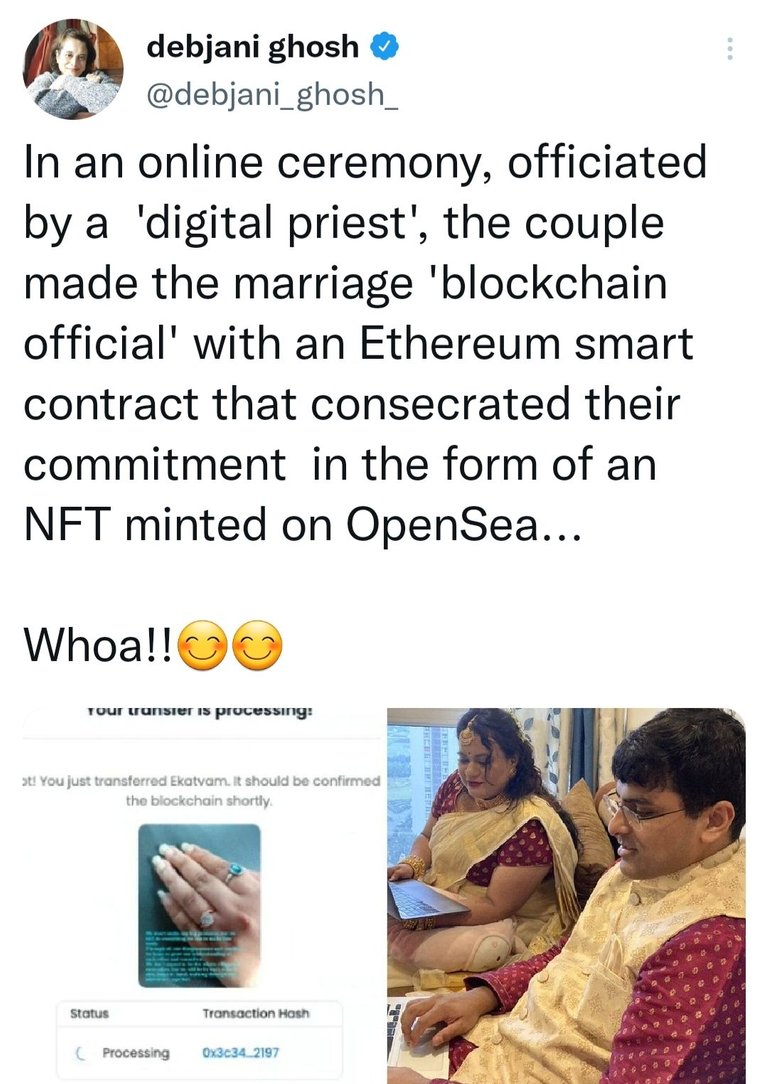 (Source-Twitter)
The couple first did the physical courtship marriage and then immortalize their union through blockchain. And documented it using social media (Twitter/Linkedin)
What this wedding did is to give NFT a new dimension. NFT has already proven its prowess. NFT is not only about artist creation but NFT can be used by different business for creating their product certification. This will prevent the business from different scams and also to keep records secure.
Blockchain can easily be an answer to all the inefficiencies of the centralsed system in existence. Through blockchain every sectors of the economy can easily be streamlined. Any business may improves its process and take them to new heights.
In reality, the change has already begun to happen and it take a little to take note of the new system. Hope to see many more things happening sooner.
Peace
Posted Using LeoFinance Beta