The craze for crypto is getting stronger day by day. And everyone like to get into crypto deep ocean for building wealth. At the same time almost everyday new coin launches and new genre comes into picture. Technology and its advancement has always been talk lately and the number of different altcoins that are up with all new projects and new technology.
This meme is just an example of how, the the different generation comes along over the year.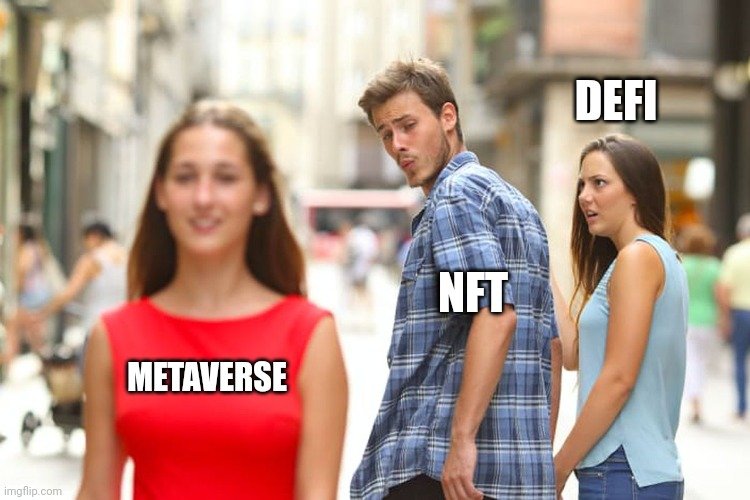 DEFI : I remember, when I started to take interest on crypto stuffs, #defi technology were at it peak. *Decentralised Finance as the name goes by, People started to take on the #defi projects and invest on defi coins to get good return. #uni #1inch are some of the good example of #defi token. No doubt many get benefitted with this generation pocketed a lot of money.

NFT : It won't take much time, for people to change their taste, and soon the launch NFT started taking more attraction. Non Fungible Token as the name goes started booming and people started investing on this new tokenomics. We already noticed sharp prices changes in #mana #enj #sand nft token.

Metaverse : Now as the time move ahead so does the Facebook who changed its name to Meta, crypto world too started looking in New direction. The world of metaverae started to garner more attention and soon, we get to see shift of preference to this new generafion vertical of crypto token. Since the name changed by Facebook, already few of the token likes of #atlas #polish started to show some upward movement. In coming days, we won't be surprised to see #boson #rari #tvk #boa taking some unusual price movement.
Well, this is how things goes on, and we need to move along with the changes that are coming our way. Hopefully we soon started accumulating more of metaverae backed crypto in our wallet to book more profit.
The meme is made free with www.imgflip.com. check out actual meme.
Peace
Posted Using LeoFinance Beta