Dear Hivers,
The world outside is not stopping. There's a company out there that has received over $900,000 funding…
And this company has launched a new service enabling you to start your own decentralized blog. You don't have to do anything.
Simply click here. And There. And you are done.
Unstoppable Domains is the funded company which revealed this unique concept. They will help you run your own decentralized blog for a fraction of a cost.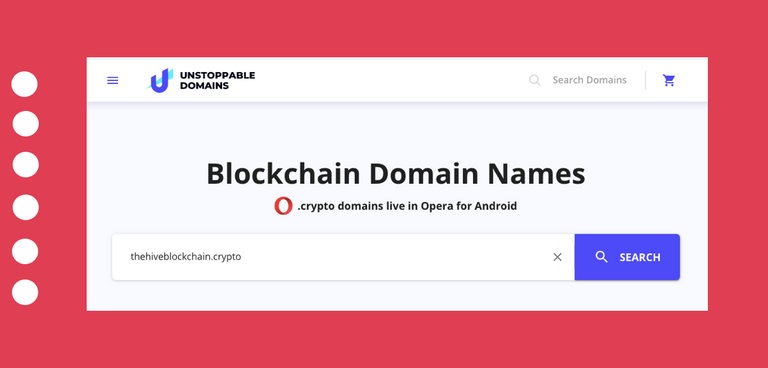 Only for $40, you can run your own decentralized blog. You get your domain name — with a .crypto extension. And you don't have to pay every year renewal fees.
In short: You simply pay once — and get a lifetime ownership of your decentralized blog. Everything is hosted on the blockchain network. It's pretty big when you think about it.
Even some of the big players like Tim Draper and other influencers and YouTubers are moving to this: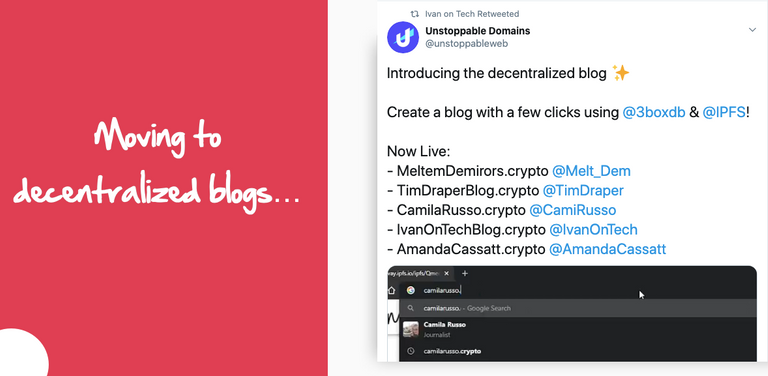 Here's how it works:
Step 1: Search for a .crypto domain name
Step 2: Once found, buy this domain name (for $40)
Step 3: Connect it with your wallet (Metamask)
Step 4: Design your blog
Step 5: Start publishing content
Here's an example of the first ever post published: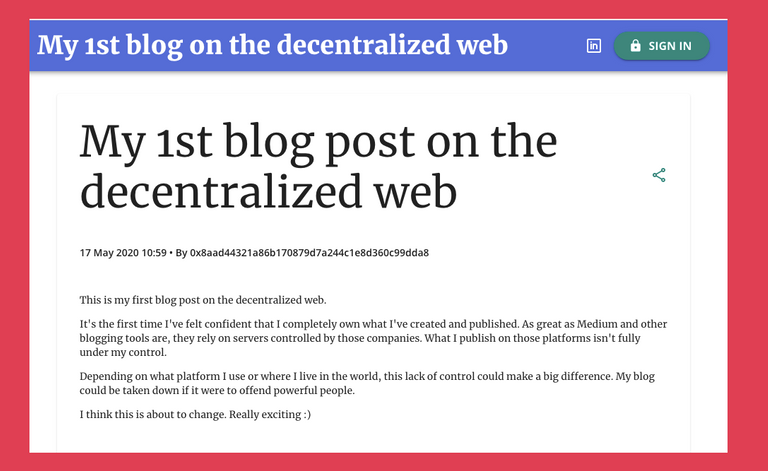 Because of the decentralized nature, all the bells and whistles — all the advantages — are yours. No one can suspend your blog or hack your content.
Even Hive.blog is a decentralized blogging platform and offers exactly the same experience.
When you think about it, are these decentralized blogs a threat to Hive? Perhaps. I don't know. They are quickly gaining ground though.
For now, they are missing some key ingredients which I wish to share:
#1: First, the community angle. There is no community with your own decentralized blog. There is no built-in audience. And so you have to start from scratch.
#2: As you think it, every blog is disconnected. You can't jump from one blog to another. Unlike on Hive — where each profile is like your own blog.
#3: Finally, decentralized blogs are tokenless. So there are no rewards for posting. Both the publishers and the readers won't get paid.
With that being said, even @Engrave offers a custom domain name through dblog.org — this is Hive's own blogging platform where you can sign in through Hivesigner. And then, once you are in, you can get a free subdomain — or get yourself a custom domain name.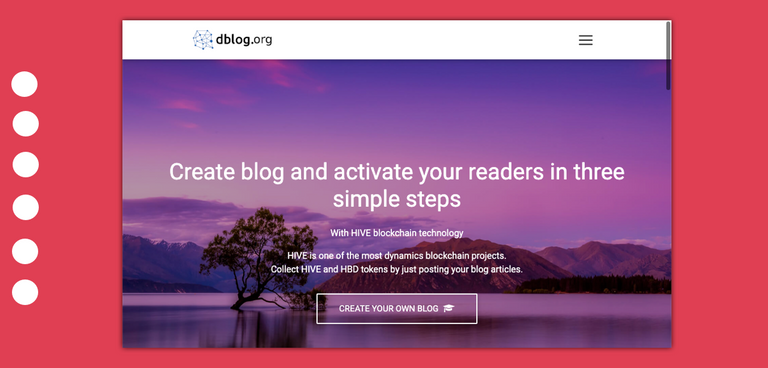 There are also a couple of templates to pick from. I still feel there is a room for improvement though. In fact, this "decentralized blogging" also represents a massive opportunity for the Hive blockchain.
That being said, the concept of running your own blog with absolute control will be the future. Think of someone who wants to leak documents, or share confidential information, and there is absolutely zero censorship around it.
There is no concept of voting. No concept of verifying information. No plagiarism check. And purely uncontrolled censorship-resistant platform.
Goes without saying that decentralized blogs are taking over this year — and they will be taking over fast.
Cheers,
Sid
---
Liked this article? Feel free to comment and upvote and reblog.