It's been a busy two weeks for me. After a bunch of interviews last week, then that indeterminant haze of busy-ness that always falls over you when you move from one apartment to another, then a dizzying flood of announcements related to I guess what is becoming "My DeFi Career."
A Busy July So Far
First, FinNexus, the project I've been advising since November, launched its first customer-facing platform - FNX Options. You can find interact with the suite of smart contracts here. Within a few days, we'd already attracted over $130,000 in Total Value Locked (TVL) in the smart contracts. For a public beta trial, we all were pretty amped. That's pretty impressive! The launch of FNX Options definitely exceeded my expectations, which turned out to be a theme for the week.
Second, my new apartment is fantastic. Wood floors, bigger kitchen, nice views of the Shanghai Oriental Pearl Tower, good feng shui as they say in these parts. It even has a soft bed!
Third, I signed on as an advisor with a couple of my best buds in the business to help promote their promising new project called MantraDAO, a community-run DeFi DAO built on Polkadot Substrate technology. They're raising funds now, so go definitely go check them out!

Finally, I got introduced to the crypto community in my new role as Director of Growth & Strategy at Wanchain. On Thursday that press release came down. On Friday my newly promoted colleague and long-time (in crypto years) friend Noah Maizels got to unleash our first collaboration on WAN strategy. Now, of course, the vision comes from the incredibly capable team of Jack Lu, Li Ni and Weijia Zhang at the top. We just get to frame it for the global audience. But oh what a pivot we got to talk about!
Wanchain Will Provide Critical Cross-Chain DeFi Infrastructure
I'm not sure we expected it. But the community responded very well to the new direction we announced. You can see by the reaction after we tweeted out the Medium post in the chart below: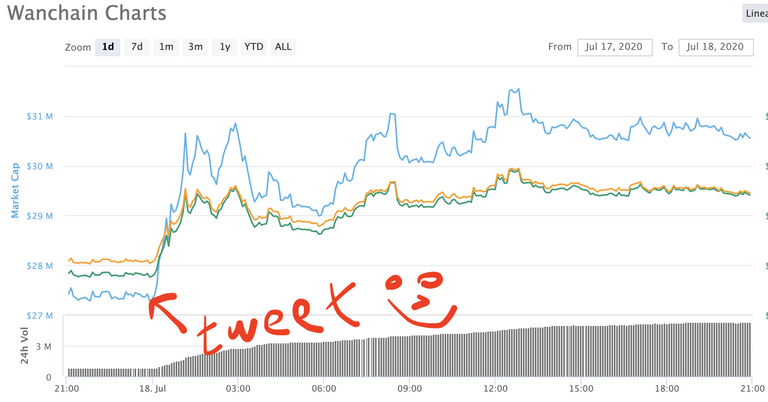 So why're we so positive about what we announced? Let's do a recap:
Some of the native WAN coin supply will move to Ethereum as a brand-spanking new ERC20 WAN token. Bringing WAN liquidity will highlight Wanchain's unique cross-chain bridge mechanism, which will be coming out in Wanchain 5.0 in the fall. An added bonus is that with ERC20 WAN tokens on Ethereum again, WAN can be used in all the great DeFi platforms. Uniswap and Balancer are obvious first choices, but WAN could also be used as collateral on lending platforms in the future.

Wanchain announced that it will be joining the "wrapped BTC" business with its new wanBTC product. We spent most of the press release talking about this amazing opportunity. Right now, according to the website BTConEthereum.com, less than 0.1% of the total market cap value of BTC is on Ethereum. And that's split among 5 or 6 companies. As first mover, WBTC dominates but nobody is happy with their centralized KYC solution for onboarding BTC onto Ethereum. Therefore, we feel like there is an opportunity to disrupt this business. So we're goin' in! It is not unreasonable to expect a 100-fold increase in the number of bitcoins wrapped on Ethereum. That number does not include any potential increase in the value of BTC itself. 🚀

Wanchain will facilitate not only the cross-chain transfer of wanBTC, but also other wanTokens. Like it or not, there is still a whole lot of economic bandwidth locked up in legacy chains. The same decentralized bridge technology that Wanchain will use to bring WAN and BTC to Ethereum can be used to tokenize other non-native assets on Ethereum. ETC and LTC combined, for example, represent about $3.5 billion of economic bandwidth that currently cannot participate in the DeFi protocols that have recently brought the cryptocurrency market back to life. In fact, there's not much of a use case for these top coins except that tired old trope: HODL!

To highlight the possibilities of true cross-chain DeFi, Wanchain will be developing a series of dual Dapps. What this means is that from a single webpage, users can access the same dapp on two different chains. Never miss an arbitrage opportunity. Take advantage of cheap gas. The benefits are legion. Many users will probably figure out ways to benefit from this flexibility that we haven't even imagined yet. It's a totally cool and new idea that should highlight the value of Wanchain's cross-chain technology as well as its public blockchain.
Conclusion
That's how Noah and I started our first official day as Wanchain directors. From my perspective, it was quite a debut and a fitting end to a busy couple weeks for me. Now it's back to work to start fulfilling this new cross-chain DeFi vision that we've laid out.
To be honest, it's not even really anything new for WAN. Wanchain was founded on the principle of providing the infrastructure that connects the decentralized financial world. It's even been written on the website for more than a year! Check it out:

We just never officially called it DeFi before. But that's exactly what WAN has been all about since Day 1.
Posted Using LeoFinance