In one of the most anticipated events after one of the most anticipated blockchain upgrades in recent memory (Terra's Columbus-5 upgrade), the LUNAtic community entered the strange and fantastical NFT Land. Having recently completed their mint of "10,921 randomly generated Punks minted into the Terraverse" a few days prior, the first major pfp avator NFT project on the red-hot Terra blockchain, Galactic Punks, made its debut on the secondary market.
On Terra, where everything is a work in progress but user experience is tantamount, the Open Sea equivalent is Random Earth. Because RE is a fresh, young project itself, the features you'd expect from a robust NFT marketplace (NFT transfer, bidding, auctions, multiple collections, etc.) have not been rolled out. Currently, there is one collection, GP, and one thing you can do with them - trade them peer-to-peer. Nevertheless, that single functionality seemed to be enough for the rabid LUNA fanbase as mint flippers happily accepted 10, 15, and even 20x returns in the first 2 hours of marketplace operations for even the most basic jpegs in this genesis collection.
As of writing, those boffo returns had escalated to 28x the mint price of 3 $LUNA for floor GPs just a few days prior. At 84 $LUNA, you can become a member of the GalacticDAO here. There are even rumors of a governance token airdrop to GP NFT holders!
If you've never heard of Galactic Punks, you can check out our primer we at Fomocraft made prior to the mint: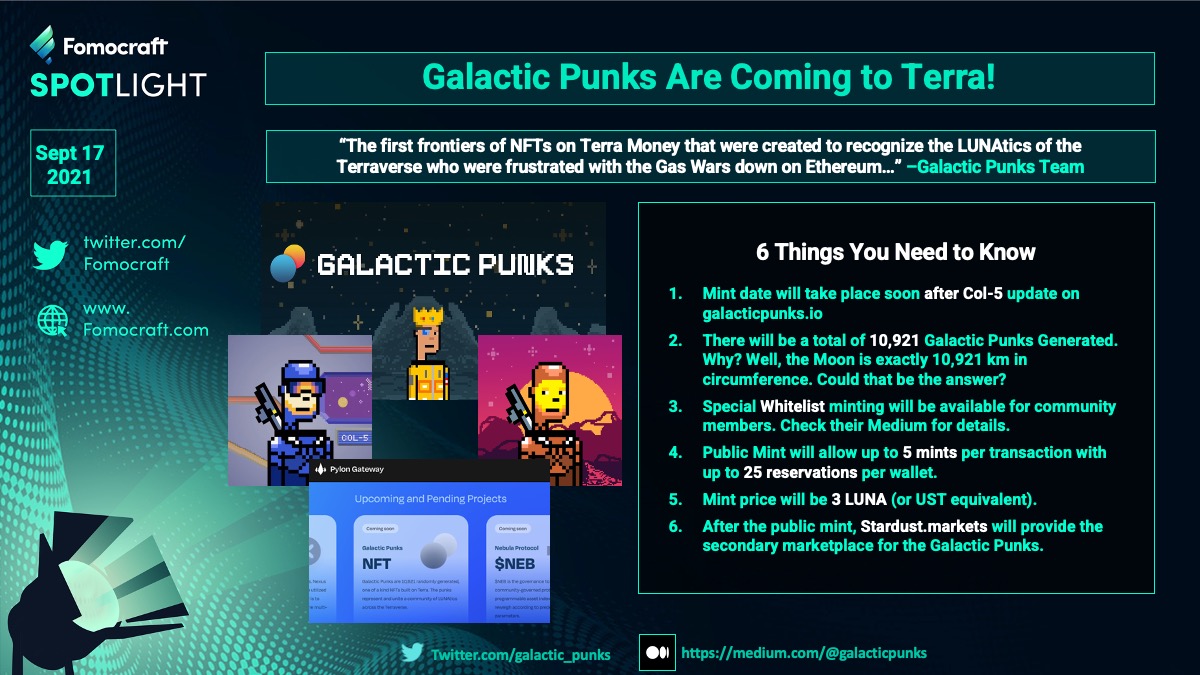 Like and interact with the original tweet here.
What's Next for Galactic Punks?
For starters, there'll be a Spaceship NFT dropped to every Galactic Punk NFT holder. There's also the aforementioned DAO, which may or may not be governed by airdropped governance tokens. As well as the story contests and swag drops we've seen in other NFT communities.
We expect a slowly rising floor for this collection from its current level of approx. 1 ETH to AT LEAST the 3 ETH level, some time before the end of the year (not financial advice). The reason for this prediction is quite simply that in crypto, community is everything. And if there's anything we've learned from the Fomocraft Research division this past month it's that the larger crypto community loves them some LUNA. Our Terra research infographics receive the most engagement by far! Take a look at this tweet with almost 700 likes as an example.
With over 60 NFT projects expected to come to Terra within the next year, this is a trend that looks to have some staying power. As we saw with Solana, the introduction of NFTs to a compelling Ethereum alternative has the potential to supercharge not only the native coin on the blockchain, but also its ecosystem tokens as well. While there is an inevitable "sell the news" swoon after such a monumental event as a major blockchain upgrade or project debut, we expect that to be only in the short-term as Terraform Labs has consistently been able to deliver on its lofty goals for years, not only with the UST stablecoin but also Mirror Protocol (MIR), Anchor Protocol (ANC), Pylon Protocol (MINE) and others. In fact, this summer they were able to raise an additional $150M to help fund ecosystem projects.
About Fomocraft
Fomocraft is a highly sought-after startup marketing and strategy consulting firm that specializes in the Blitz Launch of crypto startups. On occasions, early-stage startups are considered for incubation or acceleration when the founding team and the business strategy demonstrate potential and certain qualities that Fomocraft looks for and time is available.
Posted Using LeoFinance Beta