Since this summer, I've been involved in some capacity or another with one of the more interesting DeFi projects I've seen out "in the wild." At first, it was just as a friend looking over the whitepaper. Then it was as an advisor helping out on the strategy for positioning the project within this blockchain space that we all know and love. Now I'm technically still an advisor, but I feel like I'm part of the crew. We're fighting the good fight to bring a couple great products to market this year. I thought I'd take the time today to post a little bit about those DeFi products by way of formal introduction.
FinNexus is the combination of the words 'Finance' and 'Nexus,' so the project started off with the idea that Finnexus would become a hub for connecting different decentralized ledgers to each other and their users, and also a way for connecting those users with traditional finance applications. We felt that the industry needed a solution that is not only interoperable between these new, fascinating blockchain worlds, but also between these blockchains and the legacy finance systems that still dominate 95% of the usage in the traditional finance industry.
What I've seen out there is that we have some great projects that do one or the other, but not both. For instance, an early investor in FinNexus is Wanchain, which is known for its interoperability between blockchains. Another interesting project that has been making a lot of waves lately is Unibright. What they're doing with the Baseline Protocol - in tandem with Microsoft, EY and Consensys - is kind of the other side of that coin. They're not connecting blockchains together. Their vision is to connect legacy systems like old-school enterprise resource planning (ERP) systems like SAP into public blockchains i.e. Ethereum. That's a $130 billion company right there! That's significantly more than half the global crypto market these days. In other words, the enterprise market is huge. It's quite an opportunity when you think about starting to thread it through with blockchain technology.
It's unclear to me, though, if there are any projects where the vision includes making sure to have BOTH cross-blockchain interoperability AND multiple software platforms-to-blockchain plug-and-play functionality. That's what FinNexus is building right now. We think it's an interesting take on exactly what the blockchain industry needs right now.
FinNexus will be a crypto supermarket, where users can stumble around curiously looking for different unique products that they could either invest in themselves or incorporate into their own products. Technically, this variety of products will be driven by different FinNexus protocols.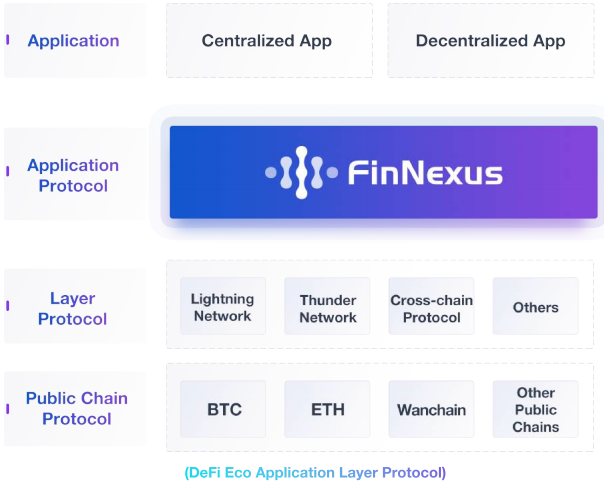 This graphic is the big picture vision of exactly where FinNexus protocol layers fit within the current landscape of the blockchain industry. As far as product releases go, first, FinNexus will soon launch tokenization products on XRP Ledger. These same type of assets will also be issued on Wanchain. These will be tokens that are backed by real-world cash flows. They will offer fair and robust financial returns for token holders. The first product to be released with their technology is rumored to offer an approximately 10% annualized yield. So you YOLO risk-adjusted yield chasers take note!
These initial asset-backed tokens are borne out of the Wanchain philosophy, where FinNexus co-founder Boris Yang was a technical co-founder, of first building out robust cross-chain protocols and then building a product suite on top of that.
Recently, all of us in the DeFi space have been intrigued by all the attention being paid to the decentralized options space. I wrote about these projects last week in a post titled "Up Big? Afraid Crypto is Going to Crash? Here's a First Look At the Decentralized Insurance & Options Market". Opyn is a very cool project. I haven't personally put any of my tokens in there yet, but I'm definitely thinking about it. But the problem is currently that opyn is only on Ethereum. And you can only hedge ETH. And you can only use USDC as collateral. That just throws up a couple more roadblocks to using the platform that I just wish weren't there.
Hegic is also pretty cool, but their team is anonymous, which raises some flags for me and they haven't actively managed this very valid criticism as well as the Thorchain team has. Plus, last week, as soon as Hegic released their smart contract, they ran into some issues with what they called a "typo." That's not a good look in the world of short-tempered once-bitten twice-shy crypto investors.
Nevertheless, I have high hopes for all three of those projects mentioned above and look forward to their further innovation, naysayers be damned! However, FinNexus (FNX) has something that the devs have been working on in this same general direction. They won't tell me exactly about how it works yet, but they say it's something new in the fully decentralized options space. They expect to be able to put it out within the year. In fact, we were doing our weekly chat in the FinNexus telegram group and CFO Ryan Tian said they might be able to get a version of it up and running before the end of the 2nd quarter!
If that news proves to be true, and the product is as cool as the devs have been saying, then, whenever it is launched, users should be able to use the FinNexus platform to hedge, speculate, and insure cross-chain digital assets. Not just Ethereum and Bitcoin. But also any public chain that can be plugged into the Wanchain infrastructure. Currently, that list also includes EOS in addition to Bitcoin and Ethereum. But the plans are for more chains to be constantly added. Obviously, XRP is first in line. if you've been following my Twitter, you know I'm a big fan of Thorchain, as I just namedropped them above. They are basically a cross-chain Uniswap. But for me, right now, the crypto industry desperately needs even more high-quality cross-chain tooling. FNX could play a critical role in that regard.
At the core of finance are the assets and users who have to trust in the financial system to store and leverage their value to take care of their everyday needs, intermediate goals, and long-term desires. That's a hefty responsibility. Decentralized finance, or DeFi, has come along and wants to take that mantle. That's quite a responsibility. And it is trying to do that with like 1/1000th of the developer power than the established fintech that backs traditional finance. So of course, we'll see things like the Lendf.me hack and back and the Hegic "typo". That kinda stuff is bound to happen at such an early stage of this breakthrough industry. As a blockchain researcher, I can only caution you to do your own research and never put in any money that you cannot afford to lose. But, in my heart of hearts, I feel like DeFi is gonna make it. And when it does, watch out! It's gonna change the world.
Look out for more from FinNexus soon. Just before the pandemic began in earnest, and then the cryptoverse was hit with Black Thursday, they announced their intention to list on Bitrue, an up-and-coming XRP-based centralized exchange. Today, FinNexus & Bitrue announced that the date will be May 11.
Stay tuned!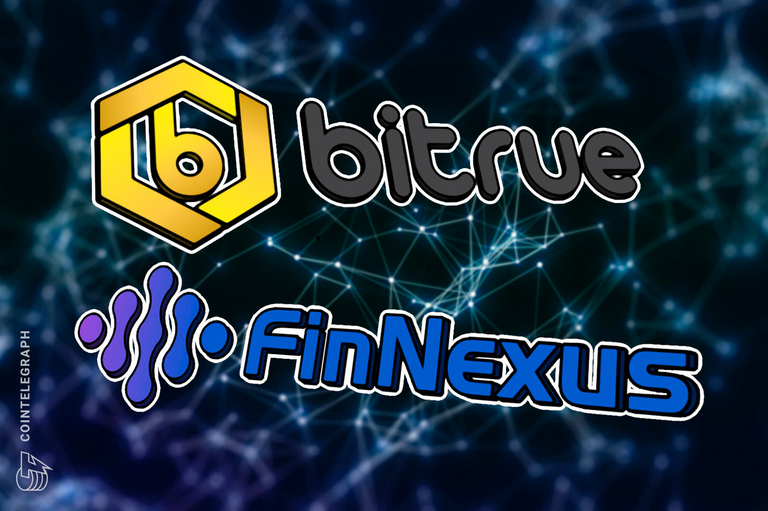 Posted Using LeoFinance