My investments in Leo is down by more than 60%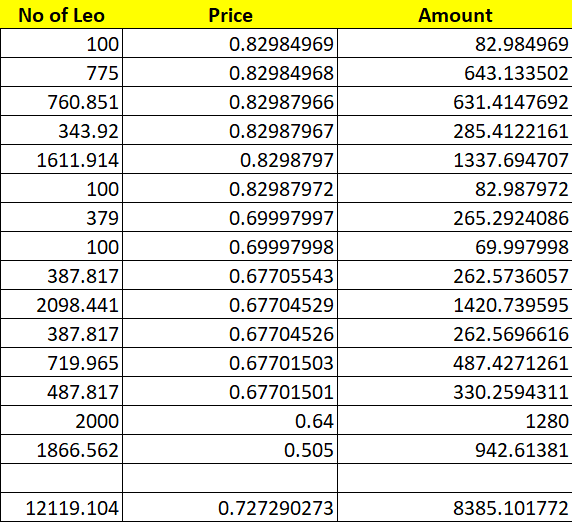 When LeoFinance started, it was early opportunity and for some reason, I was not part of getting a decent amount of Leo. Those were early days and many have benefited being rich out of it. I always wished that I should have invested in Leo, and looking for opportunities. So when the Leo price dropped below 1 hive, I thought, this could be the bottom and bought a decent amount. I started keeping track of the amount of Leo bought in each price to be able to see the value of my investment in future. But the bottom actually was a upside down. If you see the table, then I started buying at around 0.82. After buying more than 12k, the price even declined further. I literally gave up keeping record and then bought another 4k or so taking my total Leo to more than 16k. But since then, I see its further dipping to a price, which has made me more than 60 % down. Call it frustration or what , at sometimes it makes me angry. Sometimes, I feel, I should go and buy all the Leo at the bottom with all my hive I have. But I know, I alone cannot change the price move.
Can someone tell me what is making the price of Leo decline so much ?
When Cubdefi started, I tried, and felt the process to be a bit complex and gave up. Then again when we heard about the success story, I could not resist. With much hand holding from @gungunkrishu I bought 100$ of CUB at a price of around 3$. That time the hype was so much that, I even transferred 5k$ to binance to buy more CUB. Thank GOD, I did not buy for some reason ( because of my firewall blocking 😀, call it LUCK). And today CUB is down to half a dollar. Recently I hear a lot about lot of development around Cubdefi and its benefits.
But hey, why all this cannot help the Leo price ? My understanding was that the Leofinance team always wanted to provide more opportunities in defi and the benefit of all that would help the Leo platform more attractive. So much so that, Leofinance would be a leading platform in finance content in the world one day. But I don't feel that is happening, do you ?
I would love to hear back your opinion about why Leo is declining. I am not very keen to go into the details of all the technicality, but as a lay man, what made Leo fail ? Or it's in the process of rebirth ?
And if someone kind enough to give me how to fetch details about the price of all my leo purchase , it will make me learn something. Probably @dalz ?
Posted Using LeoFinance Beta