UPI payment enabled for common man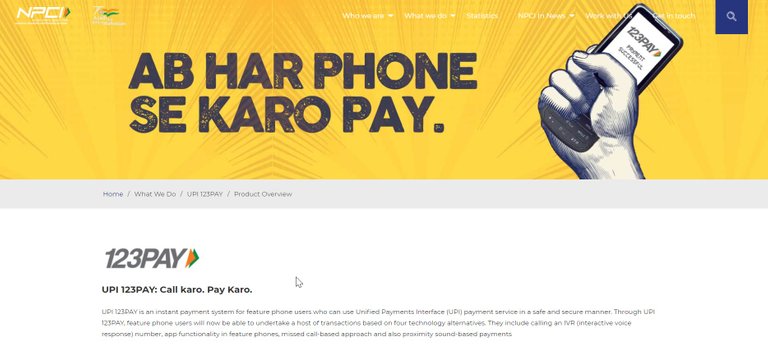 Recently the RBI (Reserve Bank of India) launched UPI123Pay - an instant payment system using UPI that can be used by common man who do not use a smart phone. It will help around 40 crore ( 400 Million) people who were earlier not able to utilize the digital payment facility. UPI payments have changed our life - Covid certainly needed it and fortunately the system was in place for us to be able to pay in a contact less way. These new initiatives are taken to accelerate digital adoption that will help NPCI (National Payment Corporation of India) to achieve its dream of more than a billion UPI transactions daily. Currently its little over 4.5 billion per month. You can see the full statistics here - https://www.npci.org.in/what-we-do/upi/product-statistics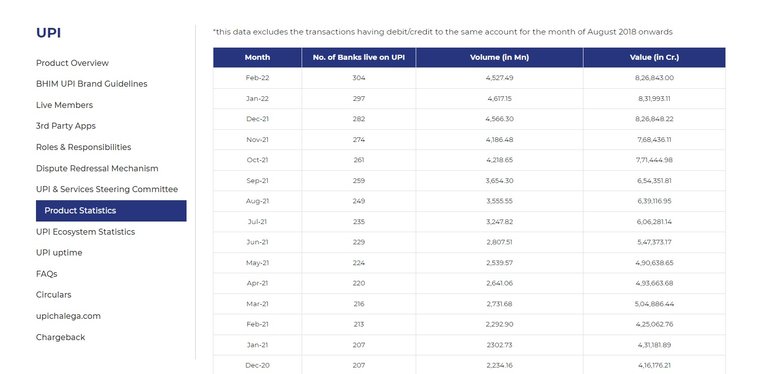 Look at the value, its 8268 billion ₹ - quite a growing figure doubled compared to last February. And imagine how much these new users would add to this - this new payment facility does not need internet as well. The NPCI shared a video to educate people about this new method of payment - I believe, the language is purposely kept as Hindi so that these common people can understand and get motivated. And English is not mandatory to use this feature, because there are multiple ways one can use this new payment method, the IVR being available in multiple regional languages.
There are 4 solutions that are released to support this new payment method, The user has to register for UPI payments and create a UPI pin before doing the actual payment using one of these solution. :

Using a pre-defined IVR number

UPI payment through pre-defined IVR numbers (080 4516 3666 & 080 4516 3581 & 6366 200 200) would require users to initiate a secured call from their feature phones to a predetermined number and complete UPI on-boarding formalities to be able to start making financial transactions without internet connection. With the IVR providing multiple language options, customers can avail this service in their preferred languages. IDFC First Bank, City Union Bank & NSDL Payments bank have gone live on IVR payments. Solutions are supported by Ultracash & Tonetag.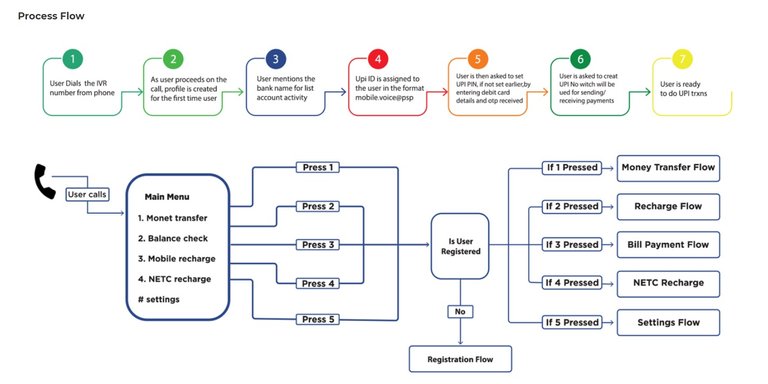 Missed Call Pay

Missed call-based approach will allow feature phone users to access their bank account and perform routine transactions such as receiving or transferring funds, regular purchases, bill payments, etc., by giving a missed call on the number displayed at the merchant's place. At the time of billing, the merchant will create a token with the customer's mobile number and the bill amount of his purchase. Customer can then give a missed call on the number prescribed by the merchant and immediately the customer will receive an incoming call from 08071 800 800 asking to authenticate the transaction by entering UPI PIN. This solution is developed by MissCallPay with Bank of India as the supporting bank.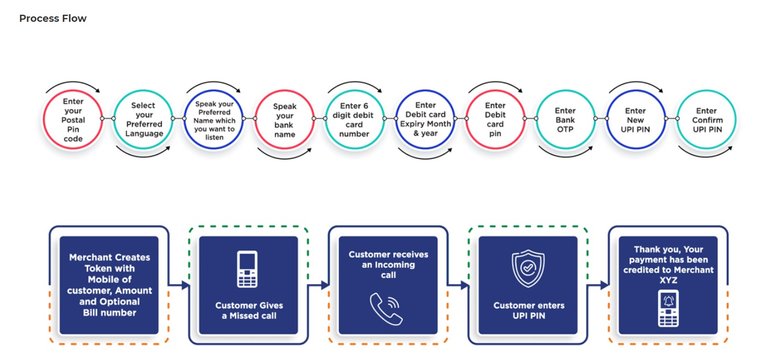 Payment functionality implemented by OEM

Digital solution is the UPI app app on feature phone which is developed by Gupshup with Airtel Payments Bank. In this type, the interested solution providers will need to partner with the feature phone mobile manufacturers (OEM) to enable a native payment app developed in embedded C language (or as supported). This UPI app look and feel is similar to smart phone based app, however with certain limitations of the feature phone. Currently it can offer majority UPI functionality except Scan and Pay, which work in progress.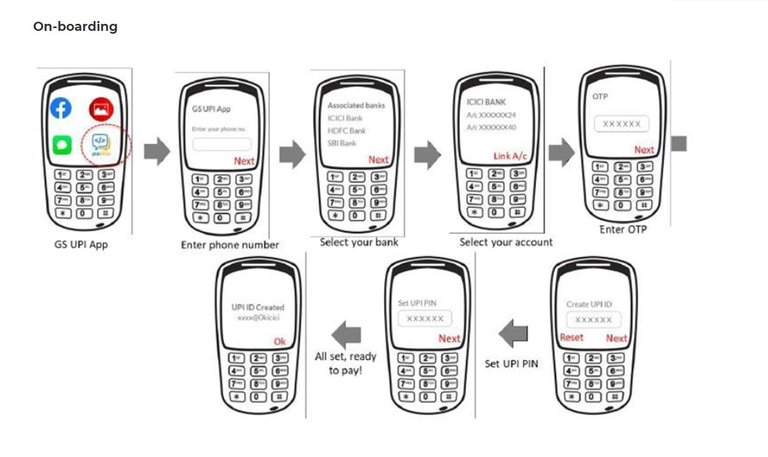 Proximity sound based technology and Voice Based Payments

This solution is the proximity sound-based payments which has been created in collaboration with Tonetag and supported by NSDL Payments Bank. The technology uses sound waves to enable contactless, offline, and proximity data communication on any device. User can tap any phone and make UPI payments to merchants using ToneTag's VoiceSe payment solution. User calls the IVR number 6366 200 200 and chooses Pay to Merchant option. They tap their mobile phone on merchant device (POD), and press # once the POD emits the unique tone. The user then enters the amount to pay, followed by their UPI PIN to complete the transaction. The POD acknowledges the transaction status and the user receives a confirmation through the IVR call.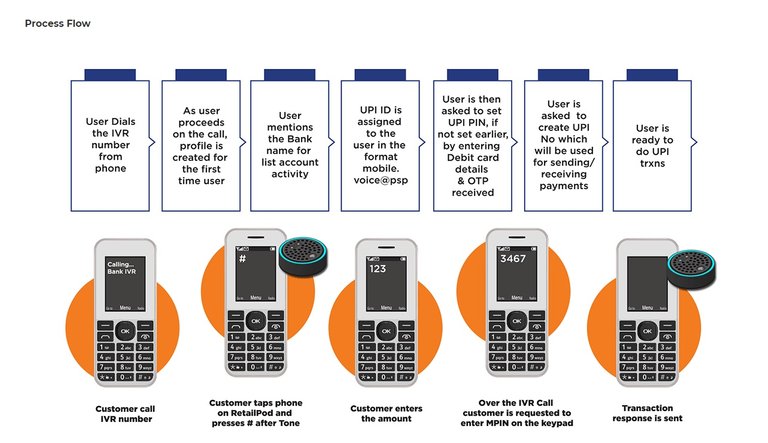 And there is a dedicated FAQ available here : https://www.npci.org.in/what-we-do/upi-123pay/faqs
You can see already several banks have gone live using one or more of these technologies. But why I am writing this ? I wanted to create a single post that would have all the information at a high level at one place and corresponding links so that I can share it as this brings us plethora of opportunities as a payment provider. Every time, new payment features are supported by the regulatory authority, banks tend to use these features ASAP, because it will bring more business for them AND for us as well. But look at the challenges associated with them - the proximity sound-based payments seemed a bit complex to me but its good to see such a new innovation in technology.
And the NPCI did anticipate that theses new payment solutions will not be very smooth without any issue - the biggest challenge being the users who are not very comfortable with technology - that is why they are using a feature phone, isn't it ? So to make the situation better, the NPCI has also released Digisaathi - it has a 24x7 helpline that will help on the entire range of digital payments, apart from serving automated responses for information on digital payment products and services - in two languages - Hindi and English. And they do have chatbots, but I was wondering, if these targeted users will really use them.
Certainly these new initiatives will accelerate the process of digital adoption in India, which I personally feel is a step forward in transparency and good for us. But at the same time, it will bring lot of opportunities for us which is always better. Who knows, I may not be allowed to retire soon.. (Even though HIVE hits the price of 10$) !!!
Let me know how do you see these new innovations help our nation ?
Posted Using LeoFinance Beta