The National Payments Corporate of India (NPCI) is looking for solutions that simplifies authentication AND authorization in UPI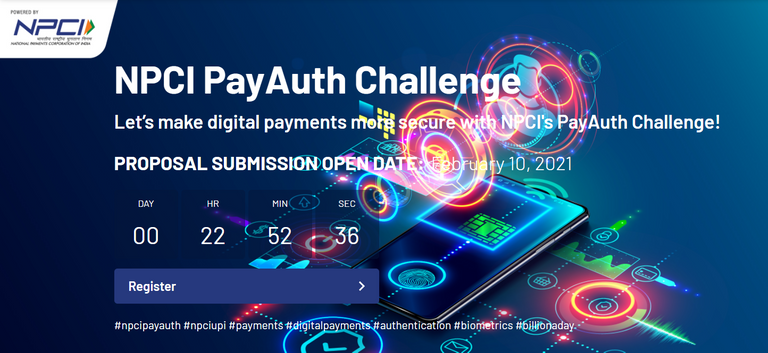 The Unified Payments Interface (UPI) platform built by NPCI has been very success in India and very helpful to people in the Corona pandemic. A year ago, people were scared of using digital payments using cards or any other mechanism. Majority of the people used to go to ATMs and withdraw cash and use that entire month. However, the Corona Pandemic has fueled the exponential growth to digital payments and UPI transactions have increased beyond anticipation - 2.23 billion transactions in December alone worth Rs 4.16 lakh crore. And people are so accustomed to contact less payments , this is going to grow up in 2021.
So what are they looking for : a minimum viable product (MVP) or a product available on the market or ready to be rolled out in the market.
If you have a product or solution that simplifies authentication/authorization through innovative technologies like biometric verification, device fingerprinting or facial recognition, this is your chance to shine!
And anyone can participate - This is a global challenge open for individuals and enterprises offering technology solutions in payments. So if someone has already a viable product, this is a great opportunity to participate, because it opens possibilities to perform a PoC/pilot with NPCI and get engaged with them. The potential is huge given the population of India and market.

You can find out all the details at : https://hackolosseum.apixplatform.com/hackathon/npcipayauth
And if you may also find other challenges in the APIX Platform
interesting : https://apixplatform.com/
Posted Using LeoFinance Beta