65000 caste certificates issued on Polygon network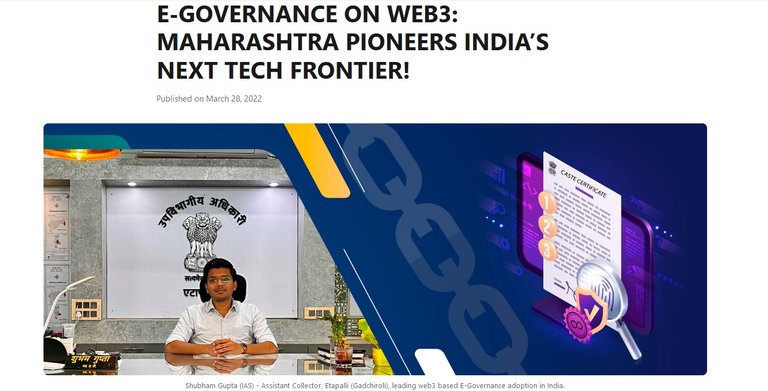 This morning a tweet has been trending on Twitter - there is a lot of debate going on this tweet from Sushil Kumar Modi, a sitting MP (Member of Parliament) in India.
See the video from 13.30 minutes. If you do not understand this is the brief about what he says : What is Crypto ? It's neither a commodity, it's neither an asset, not a goods, not a service - it does not have intrinsic value - it does not have any backup from a Company. So please consider increasing the crypto tax - its a gambling or a type of lottery or horse racing. We know there is a company like Tata behind shares, but who is behind crypto ? Various Countries have imposed higher taxes - so we should impose more than 30% tax because the people who earn from crypto would not get affected.
Many accounts having lot of followers are showing their de-satisfaction over this video from the MP, by quoting the tweet. Even CZ Binance gave a relevant comment : Not a tax expert, but as far as I know, most countries have 0 tax for crypto transactions (transfers) today.
The cryptonewshindi account even went one step further - they asked the Prime Minister to stop pension of all Ministers - because their income is increasing and this won't affect those ministers - a statement similar to what the MP said.
Surprisingly no one replied to the MP's tweet, which was my de-satisfaction - so I did, but that was just to let him know what is Crypto. It reminds me the great quote from Stephen Hawking : "The greatest enemy of knowledge is not ignorance, it is the illusion of knowledge." Ignorance is fine, but illusion is dangerous. In this same India, a young dynamic IAS (Indian Administrative Officer) decided to use a permission-less blockchain to distribute caste certificates to its citizens. Maharashtra government has used LegitDoc – a blockchain platform built on Polygon to issue caste certificates to its 65K citizens. This was shared by Shubham Gupta, the young dynamic IAS Officer on linkedin, you can see the post here :
https://www.linkedin.com/posts/shubham-gupta-a033b620a_blockchain-web3-egovernment-activity-6914213377137405952-mhwE
And the full post can be seen here :
https://www.linkedin.com/pulse/e-governance-web3-maharashtra-pioneers-indias-next-tech-shubham-gupta/
Neil Martis, Co-founder at LegitDoc quoted this as -
"Source of truth for citizen records will no longer be the dusty files racked in Government offices or the administrator governed data on cloud repositories. Instead, it'll be the undeniable, cryptographically verifiable data proofs stored on-chain"
Isn't that a nice definition of Decentralization - protecting citizens from deplatformation from the Government ? And they discuss heavily about Public blockchains - Can #HIVE be the best fit for that ? I have expressed several times in my post that, the best use case of blockchain is to provide transparency as publicly verifiable immutable data. Time has come to build such Dapps on #HIVE. I am sure, we have very knowledgeable people here who can build that. So let's pick just one use case and develop a dapp for that - If it can be done on Polygon, then why not #HIVE ? I have some ideas, but I am sure, collectively there can be many.
"The 21st century doesn't belong to China, the United States, or Silicon Valley. It belongs to the internet!" - Balaji Srinivasan,Ex. CTO-Coinbase. And do you know, he also funds start ups ? May be we can pitch in the idea to him as well.
Posted Using LeoFinance Beta