I wish India make its own Telsa (Tata Elisa) which would be affordable for Indians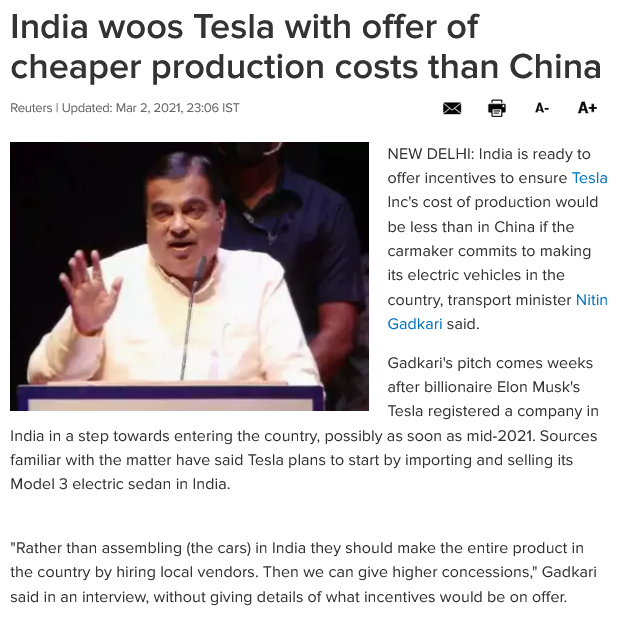 src
How about having a Tata Elisa ( Telsa) that would be made in India ?
Transport minister Nitin Gadkari offered incentives to Elon Musk's Tesla Inc to make sure that the cost of production of their cars would be less than what in China, and even there can be higher concessions if the entire Tesla product is built in the country by hiring local vendors. Well, definitely this will benefit the local vendors and provide employment and opportunity to locals. But who are the target consumers ?
Gadkari said that as well as being a big market, India could be an export hub, especially with about 80% of components for lithium-ion batteries being made locally now.
"I think it's a win-win situation for Tesla," Gadkari said, adding he also wanted to engage with Tesla about building an ultra high-speed hyperloop between Delhi and Mumbai.
Does India not need a comprehensive EV policy (it does not have one currently) to curb the pollution ? Should we not worry more about a win-win situation for India ? With more than 300 days of sunshine, India is a very ideal country for solar energy. However, we lack in building the right products that the people of this country can use every day. With the current price of oil shooting to new highs, who will not go for electric vehicle, if its affordable ?
If you do not know, then Tesla has registered it's offices in India (Bangalore) earlier this year, and plans to sell three of it's model. The Model 3 will cost around Rs. 60.00 Lakh (lowest) , which is beyond the capacity of any middle class person. Even many cannot think of buying a house in this amount. And the government itself declares a tax exemption of Rs 1.5 lakh under Section 80EEA for a home under affordable housing scheme capping the price of the house at Rs 45 lakh. So how much the govt expects one to spend on a car ?
I would think, 10 Lakh would be the maximum amount the middle class can think of spending on a Electric Vehicle with the expectation of it saving their fuel cost. So can't we build such a product in India, in the #MakeInIndia spirit. We have the Tatas - the most respected and trustful brand - can the government invite them and discuss and build something that can benefit the country ?
Instead of giving the benefit to the richest man, can we not invite all the brains to build something in #MakeInIndia campaign ? If more than 35% of scientists at NASA are from India, I am sure, we have the talent - but may be they are not utilized for the country. Is it not high time, we think about the country's pollution rate and build something that can use the solar power which is abundantly available ? And used by the common man ?
Please share your opinion.
Posted Using LeoFinance Beta