We are the first and only provider to make cash transactions possible for taxpayers through new digital barcode feature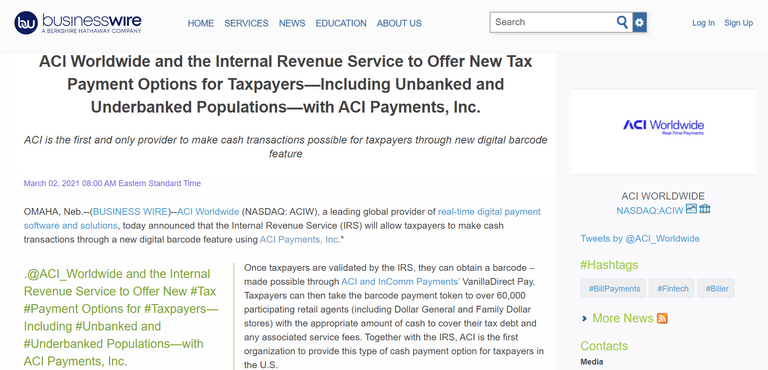 You can read the full details here : https://www.businesswire.com/news/home/20210302005073/en/
Here is the version in our site.
And yes, We are also longest-tenured service provider for the IRS and has processed more than $25 billion in IRS tax payments securely for more than 20 consecutive years.
Once taxpayers are validated by the IRS, they can obtain a barcode – made possible through ACI and InComm Payments' VanillaDirect Pay. Taxpayers can then take the barcode payment token to over 60,000 participating retail agents (including Dollar General and Family Dollar stores) with the appropriate amount of cash to cover their tax debt and any associated service fees. Together with the IRS, ACI is the first organization to provide this type of cash payment option for taxpayers in the U.S.
Sounds simple ? It's definitely a lot behind the screen..
Want to know more about us -> https://www.aciworldwide.com
Want to pay Federal Tax Payments (*not State Tax Payments) -> https://fed.acipayonline.com/
Want to invest -> https://investor.aciworldwide.com/
Posted Using LeoFinance Beta