Binance Labs, the venture capital and incubation arm of Binance, the world's largest crypto asset trading platform, has closed a new $500 million fund to support WEB 3 projects. This fund is also the company's first external fund. In addition, this fund is supported by leading global institutional investors. Giant companies, who know that WEB 3 will mark the future, are already making their plans and studies.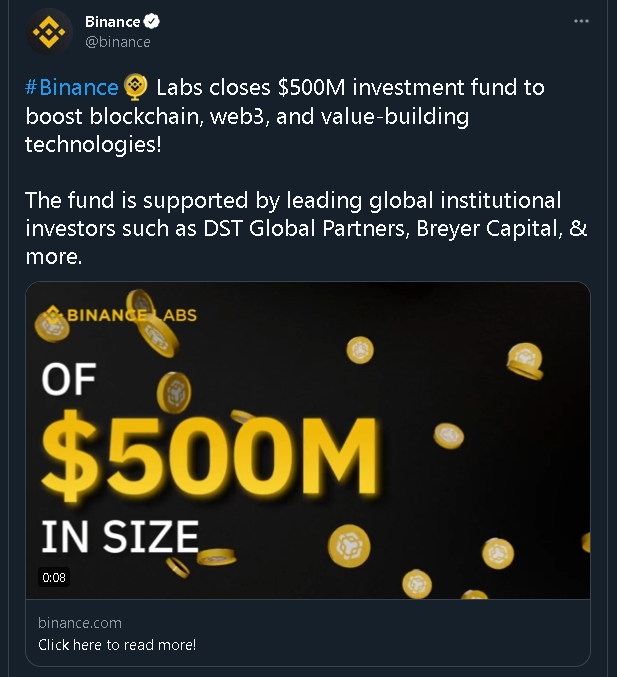 Source
Supporters of the fund include leading global institutional investors such as DST Global Partners and Breyer Capital, as well as major private equity funds. The purpose of this fund is to invest in projects that enable the adoption of Web3 and blockchain technologies.
This investment fund plans to invest across three different stages. These;
With incubation, Binance Labs aims to connect projects with Binance's network of resources, experts, and mentors to help them drive successful product development and growth. Binance Labs runs its Incubation Program regularly and is currently supporting its fourth cohort.
Early-stage venture investments include token and equity investments across all sectors of cryptocurrency and Web3, including infrastructure, DeFi, NFTs, gaming, Metaverse, social, and crypto adoption platforms.
Late-stage growth investments target more mature companies looking to scale or bridge into the Web3 ecosystem with the Binance ecosystem as a solid strategic partner.
Changpeng Zhao, founder and CEO of Binance, made the following statement about the fund.
In a Web3 environment, the connection between values, people, and economies is essential, and if these three elements come together to build an ecosystem, that will accelerate the mass adoption of the blockchain technology and crypto. The goal of the newly closed investment fund is to discover and support projects and founders with the potential to build and to lead Web3 across DeFi, NFTs, gaming, Metaverse, social, and more.
To learn more about the fund, see here.
Frankly, the launch of this and similar funds is not surprising. WEB 3 is a technology that will mark the future. That's why giant companies want to prepare themselves for the future already. Fortunately, as the Hive community, we are already preparing ourselves for the future. At the same time, LeoFinance's WEB 3 focused vision guides us. Indeed, as a community, we are among the few people who are ready for the future.
I think if giant companies want to prepare themselves for the future and want to follow developments closely, I think HIVE and LeoFinance can guide them about WEB 3.0.
Additionally, it amazes me that giant companies interested in the crypto market and WEB 3.0 are not actively involved in HIVE.
What do you think about this?
WEB 3.0 Fast Coming!
Posted Using LeoFinance Beta