It's been more than a year since I connected my Metamask wallet to join the revolutionary world of DeFi. I was introduced to it by Leofinance when they created the WLEO-ETH pool on Uniswap. Thanks to this platform, I learned the basics of wallet, fees, liquidity, fees and other technical terms that are required to navigate the world of DeFi.
I pooled out of the LP because I was fool :P But, that gave me the technical strength to venture out to other new platforms outside of the Ethereum world like pancakeswap and countless other platforms. I made some gains but also witnessed scams and rug pulls. At one point, there were more than 10 defi platforms being launched in the binance smart chain. And, I was buying half of those coins chasing the pump and dump. That was also my effort to be the early adopter. After some time, I stopped chasing the profit and stabilized my investment with the top platforms.
On the other hand, I followed the posts on Leofinance (again, great knowledge source) and bought very few RUNE. At that point, I was not investment savvy and dipped my toes to experiment with my few hundred dollars. If I was with the mindset that I have right now, I would be aping into the project. Well, gone is gone and I cannot do much about it other than buying some more when price dumps.
Although mentioned many times by many authors here, I never pooled my RUNE. It was not about saving my coins and protecting them from the IL. It was more about me not knowing how to navigate BEP 20 and BEP 2 chains. When you don't know and when you do not have right wallets, it is extremely tedious and complex to transfer coins across multiple chains. RUNE offers LP'ing native tokens. That's great but it is also confusing to hold coins in multiple chains and addresses while dealing with the same wallet.
Well, I had to wait for more than a year until @dalz decided to write a post for noobs like me on how to pool RUNE. And, thanks to @leoalpha posts and @khal new posts surfaced on Leofinance to help us guide RUNE pooling.
RUNE-BTC
I am now proud owner of the RUNE-BTC LP. With the recent RUNE price action, I have lost the total value but gained BTC which is holding. Unlike other LPs, I would not be too much worried about IL because I don't mind whichever coin I receive more when it comes to RUNE and BTC. Let me earn fees and not worry about the coin value and numbers.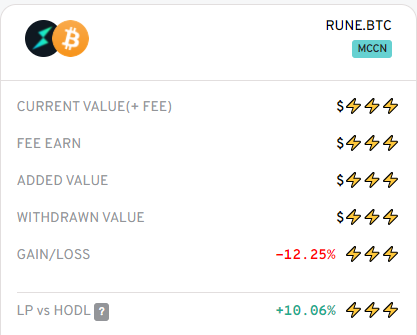 LEO Alpha
I believe that @Leoalpha is a great initiative and it has to be marketed widely. It will not only benefit the platform but has the potential to serve platform users fundamentally. Yes, it is easy to have conversation in Discord but what if we bring that conversational knowledge to this platform and create content that could help others for a longer period of time.
My only suggestion is a proper use of the #leoalpha tag. It is not easy to search for articles on Leofinance. Writers use tags randomly and sometimes to entice curation. It's not helping. We have been saying this for more than a year but posts are not categorized well. It is wild wild west out there when trying to find an article that you need. #Leoalpha tag or tab can help that. We can create a permanent tab on Leofinance home page to categorize posts that were shared through Leoalpha handle and sort using the topics covered.
Posted Using LeoFinance Beta