Technology has come this far, I still don't believe the title I wrote is true.
I use Brave browser and Brave ads are parts and parcel of my daily life. I enjoy Brave Ads as they allow me to peek into the new and brave world of cryptos. Typically, I don't dwell on ads as most of them are about new platform and/or project on crypto. But, this one caught my eye.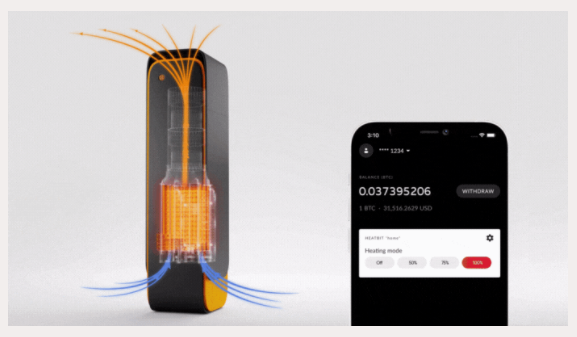 Mine BTC using a heater at home. This sounds like a great business idea with a log of potential. Whoever came with this idea is a genius mind. How can you otherwise motivate masses to join the crypto mining? It not only tries to solve the crypto adoption but also provides a partial answer to greenhouse gas emissions from BTC mining.
Let's think about a scenario where all crypto users, at least, own one of these BTC mining heaters. This means we are creating a mining grid that is truly decentralized where no one mining firm is producing and controlling the hash rate. I am aware that there is a company app that controls mining but this is just a start. There will be technologies that may allow users to be part of the crypto network using whatever resources they have in their households. This will create a sink to dump the GHG emissions argument.
The mining product looks sleek, modern and tempting. The price is a bit on the higher side for non-enthusiasts. I applause the idea behind this product but doubt the regular people will buy these heaters to mine, yet.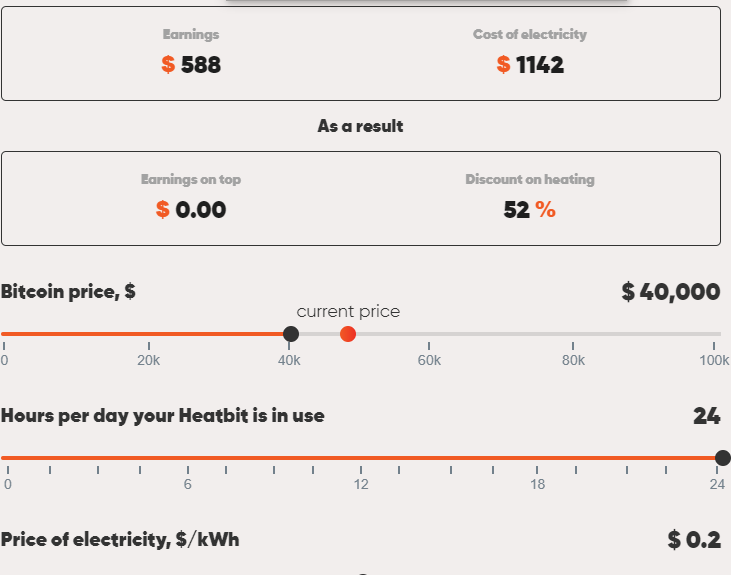 also has a cost-benefit calculator to let users know how much they can make in dollars in multiple mining and use scenario. I quickly selected variables that suit me with the BTC price on $40K. The way I would be using that heater in the winter here in Canada for the next six months, the investment would not be profitable. I will have 50% discount in my heating but the investment is not sustainable.
Nevertheless, this is a great idea if the price goes down or you want to invest $1000 to mine BTC hoping the price will reach $100k this bull run. It is like buying BTC in a very unique way.
Posted Using LeoFinance Beta