I joined crypto not that long ago. That could be the reason why I do not have the concept of Bitcoin maximalism. I heard the term while I got acquainted with crypto twitter and the players within that loud chamber. I wanted to know more about the term and had to do a proper research.
Do not want to bore all crypto OGs of Leofinance and Hive by adding technical definition of maximalism and all 😊 Based on my observation, there are two camps. One that wants to protect BTC at all cost and thinks the network is the safest, purest and the most sacred network ever. The other camp considers BTC as part of the crypto space in general and considers the value of the other chain as well. It's a very coarse generalization as there are many users and individuals who may have ideas across the spectrum of these two end points.
Since I have no idea what happened before 2019 and 2020, I cannot say with certainty the feelings the original bitcoiners held against the BTC fork that happened in 2017. I have read so many articles which suggest that the maximalism in BTC came from the notion that the original network should be saved from the forkers and invaders who are trying to alter the original idea.
I am not a BTC maximalist at all as I do not have enough understanding and first love towards BTC. I started out with so many other coins that help me stabilize in the cryptospace. That way I am thankful to all these other coins like ETH, BNB and all the newer tokens out there like Hive and Leo.
I believe that we should be accommodative of all chains and projects. One chain or projects cannot handle all issues out there that can be solved with blockchain. Projects have specialized expertise. The smart contract Ethereum introduced does not need to happen in every chain out there. Similarly, Ethereum does not need to have all good things that crypto chain should have to survive. For example, Hive has its own qualities that we all hivers are proud of but Hive does not need to be the only chain with all solutions to save the world.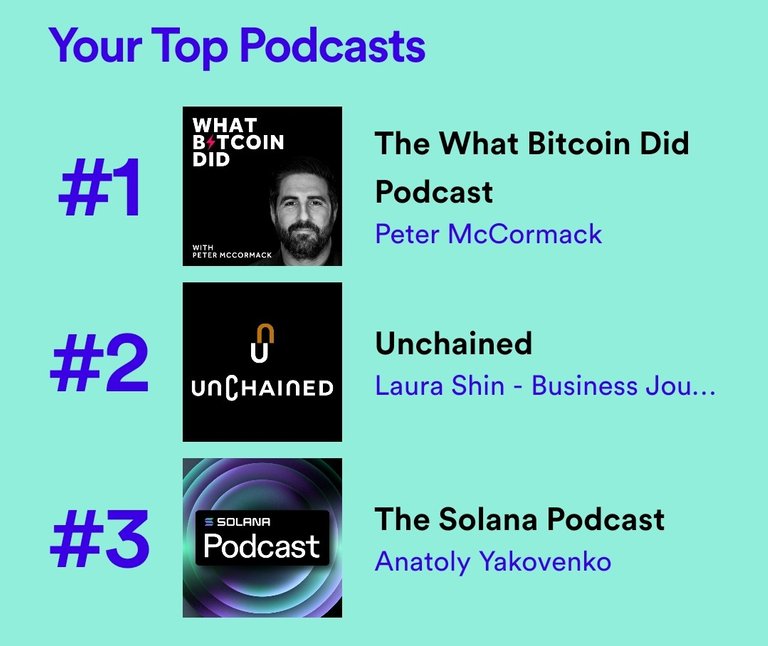 This musing came to my head after I got an email from Spotify. I received an email from Spotify that provided my annual data on the platform. I listen to music and spend my time listening to podcasts. Obviously, I only listen to podcasts that are directly or indirectly related to crypto and macro economy. According to the data, the number one podcast last year for me on Spotify happen to be "The Bitcoin Standard" by Peter McCormack. Peter is known for his BTC maximalism. He openly says that and focuses his podcast interviews on BTC as the name of the show suggest. Nothing wrong with that as he can do whatever he wants.
I listen to his shows to understand the macro perspective and the on-chain analysis the guests provide. It is important to understand the BTC movement if you want to grasp the overall market. I find it easier to listen to podcasts specializing on coins and tokens to gaze what is happening in that ecosystem. It seems I was little to inclined to BTC in 2021. I may have to diversify more to another chains.
I actively listen to Leofinance AMA in lieu of podcast. I also listen to Community Token Talk. Happy podcasting fellow Hive people.
Posted Using LeoFinance Beta