How many times a day you check your crypto worth? I bet it is always more that five times if you are someone like me. I never sell but obliged to check the coin price and total worth.
I have a small pot of $cubs on the cubdefi kingdom vault. If you want high yield on your crypto assets and do not want to risk your investment then cubdefi kingdom is the best place to be at. You will receive asset specific APRs and will also have CUB rewards. I have been with Cubdefi since day 1 and intend to be with the team until they decide to close the shop. Hope that day never comes. I am looking forward to $14 cub one more time.
When the $cubprice was ascending I had many thousands in my cub portfolio. Read a post that I posted on Leofinance where I explained how that $1000 threshold was slipping away every time I farm my cub tokens. I have been harvesting Cub and depositing them on kingdoms regularly. The total value of my cubs never reached $1000 as the price slides from $2.5 and then from $0.75. Now it is kind of stable at around $0.43 (hope this holds). And the recent harvest of approx 300 $cubs pushed the total value of my cub tokens above $1000. I know there are early adopters who harvest more than 300 cubs each day but this is pretty significant for me. I would be happy if the cub price is stable at what it is right now.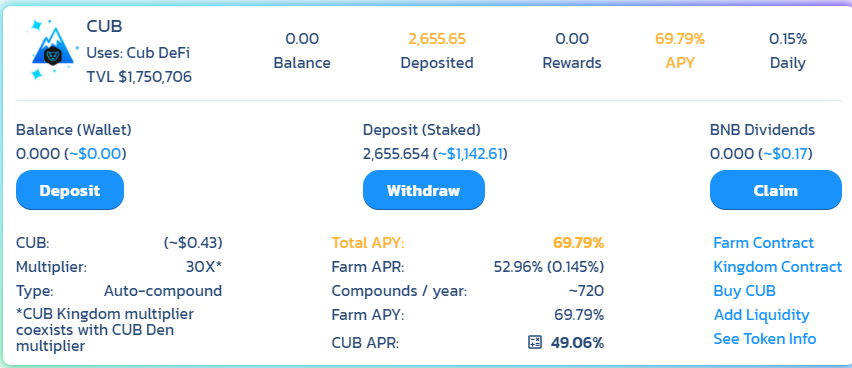 New Investors
I hope all community members share the same sentiment but the project needs more marketing and innovative features to attract new blood. Hive members are diamond hands and I have been one of them. I have been with the project and will be with the project. But, we need more people who see the benefits. I am aware of the AMAs and the twitter marketing that is happening but I wish there was something sparkling. I don't know what that is but something meaningful.
There are so many defi projects out there struggling for attention. It is helpful for Cubdefi to have support of loyal Hive members. Waiting for that next big update - whatever that is. High APRs, cross chain operability or celebrity adoption. Cub, Leo and hive are all connected in a way. Increased Hive adoption will make community stronger and may endorse engagements. Let's wait for that to happen.
In the meantime I will enjoy my >$1000 worth of $cub. Keep hodling.
Posted Using LeoFinance Beta