I have shared multiple times on this forum that I used this amazing, one of its kind BTC faucet in the form of Shakepay exchange in Canada. Here are the links to my previous posts where I talked about Shakepay and its feature.
BTC and a Hair Cut
Shakepay to earn BTC
I have been using this application for more than a year now. A day ago, I achieved a feat of its kind within the app. I successfully collected 100K satoshis just by shaking my phone. My wallet shows that I have shaked the app without any interruptions for 89 days. It's a commitment on its own and I am very proud of it. Not proud of the fact that I used the service but of the dedication and motivation I showed towards keeping the momentum.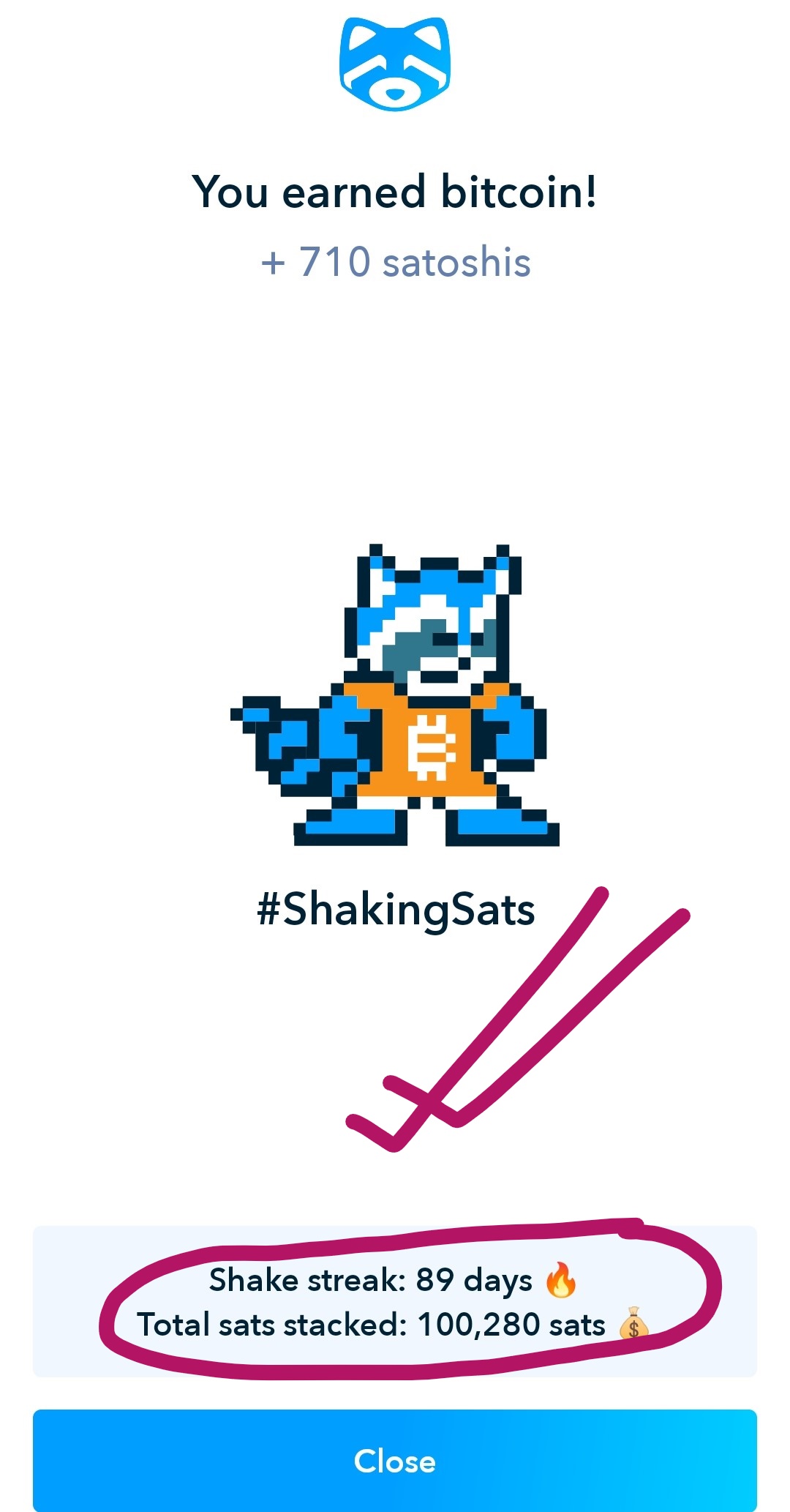 How long did it take?
As displayed by the app, the current streak of using shakepay app was that of 89 days. But I have used the app way before that time frame. The app allows you to keep the streak if you never missed a day to shake. That means, I have used the app continuously for the last three months- every day- but I have been collecting Satoshi even before that.
How much I have?
I am super happy that I have 100K Satoshi. I am well aware that the value of 100K Satoshi is not much in terms of USD. With the current market value, it comes out to be around $43. With the current streak continued for another three months, I can double the amount of Satoshi in my wallet.
The app increases 5 units every day. Today I collected 705 units. I did some math and figured it would take 59 days to be exact for me to start collecting 1000 units. If I average 1000 unit for the next three months (100 days to be exact), I will be able to double the Sats in my wallet.
It's not only about the coin. It's about having fun.
Collecting Satoshi with the app is not only about increasing the amount of coin I have. The value of using the app every day without missing shows my interest in the space. I used that as an indicator for myself on how happy I am engaging with these new projects. My morning starts with a shake 😊 which sets the day right for me. The units give me a target and a mindset to go there and tackle and learn new cool stuff called crypto.
Posted Using LeoFinance Beta