It has not been that long, where governments, some people were referring to BTC/Crypto as bubble or some sort scam. The phenomenon change is taking place. We are witnessing the revolution, happening at crypto. The long awaited "MASS ADOPTION" is finally happening. It was one man who changed the scenario and the rest is following the path.
E.Musk, made the impossible come possible. This guy is something. No matter you like him or not, the lighting which he brought to the ecosystem of blockchain aka crypto is what we needed for a long time. Paypal ignition, was the start and the rest is history so far.
---
There are plenty of things happening around the crypto world. Which is initiating mass adoption of crypto.
---
Power of Influence
---
For starters, I have a friend whose brother works at TESLA! When he got the news of Ellon Musk diving into crypto and bought shit loads of DOGE, he purchased DOGE coin without even giving any thought. He sure is in profit till now. He quoted "He will hold onto those, as long as Musk is in Doge"! The amount of influence of Ellon Musk among people is immense. No doubt he was able to shoot out the price of Doge without even making any sort of publicity.
---
Master Card is going to support crypto!
---
The services provided by Mastercard is finally thinking of adopting crypto on its network. Which is going to make a phenomenon change on the eco system of crypto. Which is more certainly going to bring lots of outer volume to the crypto world. With over $16.88 billion revenue (last report of 2019) it has a huge userbase, which will attract lots of people who were not aware of crypto to get to know this space little more better.
---
https://coincodex.com/article/10576/mastercard-says-it-will-support-cryptocurrency-directly-on-its-network/
---
Even though we want to be decentralized and this centralized way of payment can be a hassle but in order to reach the free world, this is a first step. Once the mass adoption is taken place, people will start to enjoy the freedom and likewise adopt crypto like it is the last resort of happiness.
---
Like it is said, if you do not update yourself with the technology of that period, you will certainly be left behind.
---
---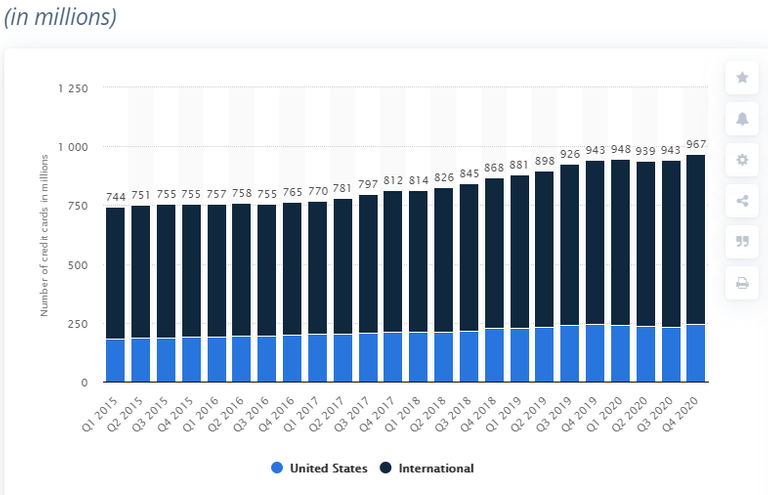 Number of MasterCard credit cards in the United States and worldwide from the 1st quarter of 2015 to 4th quarter of 2020.
Source
---
UBER considering Crypto as payments
---
Ride sharing giant Uber is thinking to add crypto as a payment method for its customers and users. CEO Dara Khosrowshahi quoted
"Just like we accept all kinds of local currency, we are going to look at cryptocurrency and/or Bitcoin in terms of currency to transact,"
---
Recent Interview of Uber
---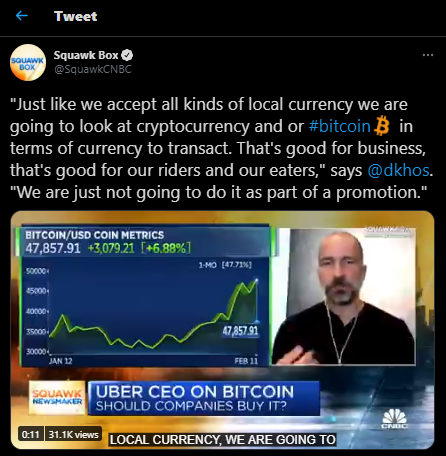 ---
If it helps for the business, it will be on the thoughts for the company. Uber is one of the biggest ride sharing platform on many countries. If it adopts crypto it will not only affect the people at top level but shall also affect the people who have a pretty normal life. which is getting adopted on every level of society will be possible if this gets into affect. Which will make a huge impact on the crypto world even for mass adoption.
---
There are plenty of good news lurking for crypto hodlers. It is probably going to be the season which we all have been waiting for. The year of turning point for crypto. Collect as much as you can, as this could be the year which will take you to the next level of richness ;)
---
---
---
Best regards
Rehan
---

Posted Using LeoFinance Beta