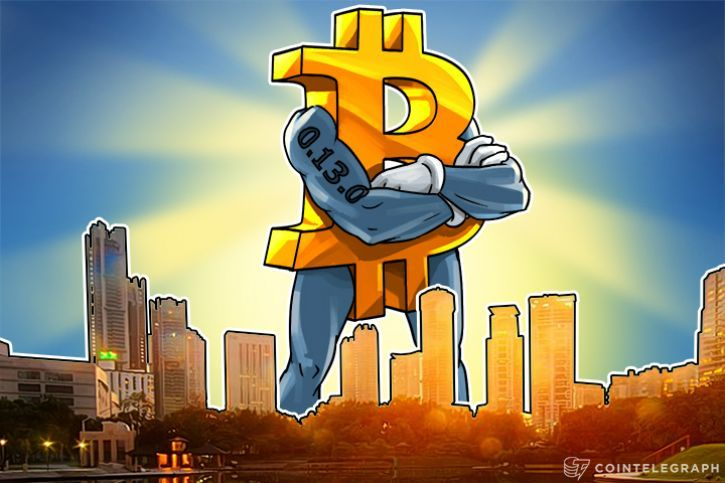 ---
Suriname, one of the greenest countries on earth in terms of forest. A multi-ethnic nation with natural resources that push it towards the top of the potential power list. Unfortunately, another global top spot we are also competing for momentarily is that of the country with the most inflation. as you can see in the list below, the inflation rate in the past few months brings Suriname close to the top 5 countries worldwide.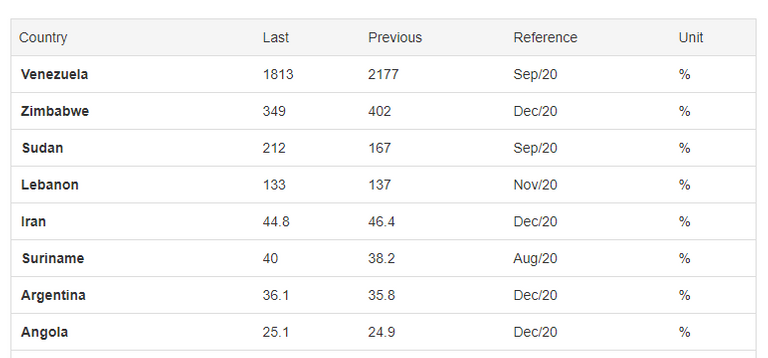 This is, of course, the country I live in. And because of this I have been dealing with inflation my whole life. Mostly its due to corruption and bad political management. Sometimes that's also influenced by external factors such as the current pandemic. The country is not affected by heavy natural disasters, which is an ideal situation for an economy, making the current inflation rate even more absurd.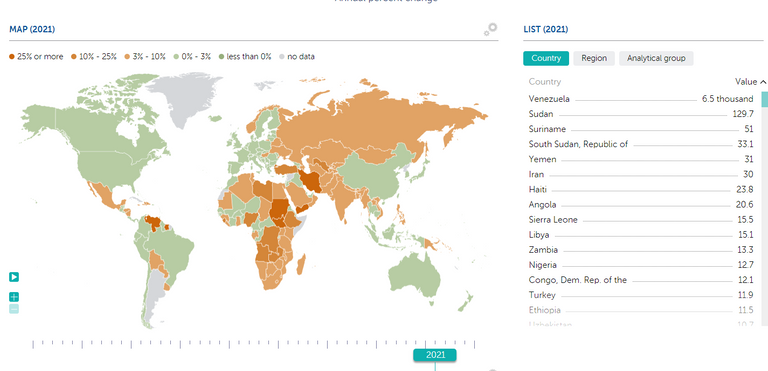 As I have become more and more financially independent for the past 10 years now, I have become more aware of the financial obstacles that an inflation heavy country pose and the preventive measures one has to to take, along with possible solutions. One of the most important preventive measures to take when your local currency is constantly devaluating is saving in foreign currency. In my case that would be USD and also EUROs, because of the relationship between Netherland and Suriname.
So that is exactly what I started to do when I sensed that hyper inflation was lurking around the corner. I converted as much as I could to foreign currency, while buying things I needed as quickly as possible with my remaining local currency. But that's not all, because even the global fiat economy has it pitfalls and dangers, and as everyone says: diversification is key.
So after coming into contact with blockchain technology and cryptocurrencies, I moved some of the US dollars I had around and decided to invest some into the upcoming decentralized world. Starting small, trading a bit, making the common mistakes and growing my financial skills and knowledge in the process.
A few years down the line, and the benefits of crypto are very clear, especially for those living in developing countries that would otherwise have a difficult time earning financially from anything outside of the borders of their country. But not only in developing countries, but also in the developed countries where people have to deal with extreme forms of poverty and our bound by their social class or living in a rural area. Once you have the necessary starting funds, some type of computer and an internet connection, you can get started. No government permission needed, for the most part, and no other border-related restrictions.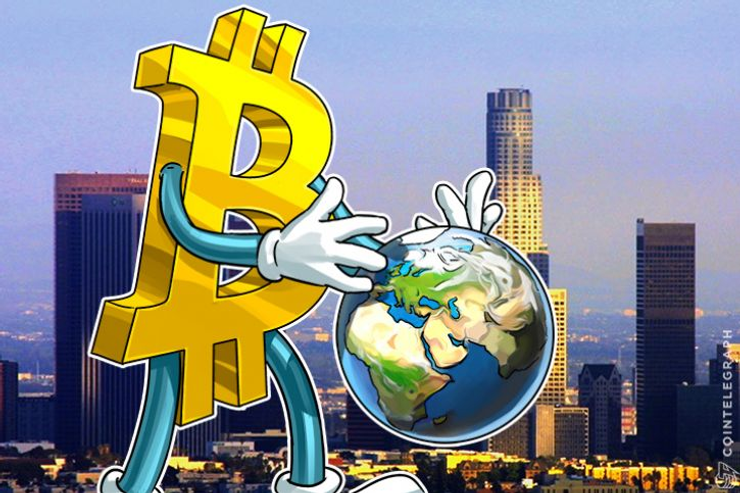 It's not a coincidence that the whole world is participating in crypto, developing and developed countries alike. Hive is a clear reflection of this concept. There is no divide. Nobody cares where you're from. Content is what matters. And the only thing that is really different is that centralization has been removed to make place for distributed and decentralized systems. Global powers are aware of that, this is why opposition to cryptocurrencies is ever increasing. But as the "common" folk realize more and more that decentralization is where it's at, this trust-gap revolution cannot be stopped.
Because of blockchain technology third world countries and first world countries have the opportunity to form a global unity that is unbreakable, while making a good life for themselves in the process.
What do you think? Will we be stronger united as a global decentralized power?
---
[ Uniquely Clever Sign Out Message Goes Here ]
Posted Using LeoFinance Beta