If you haven't heard, we released an update that shows Market History for the last 24 hours of Hive Punks.
Now that all the Punks are sold out, I want to share some data about the distribution.
The first thing I want to talk about is the type distribution. This is basically what you would normally consider races.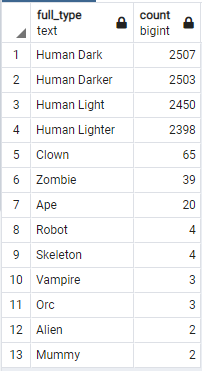 As you can see, the majority of types are Human. Clowns were predictably the next common type coming in with 65 out of 10,000 followed by Zombies with 39 out of 10,000. Apes were setup to come in some where around 20 and did exactly that.
The rest of the types were designed to be super rare and show up 0-5 times and they all did that. In fact, one type never showed up, demon.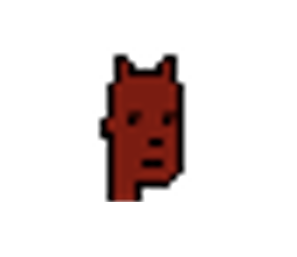 All the other types showed up pretty much as expected. The fact that every Punk was generated on the fly when a mint was requested, there was no way to control "minimums" so every type and accessory would how up. THis showed itself with the head/hair accessory category where one of my favorite accessories the Rasta hat didn't roll for anyone.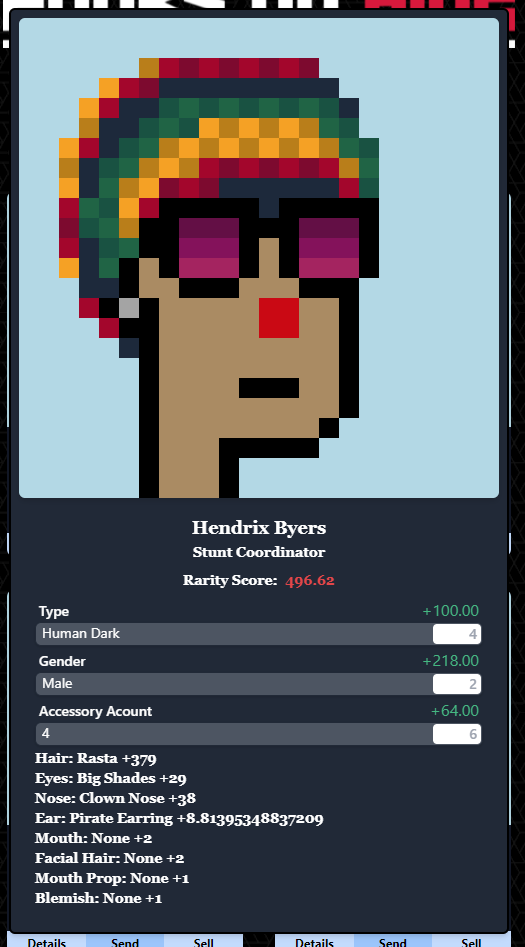 One of the earlier images from the beta shows what the Rasta hat would look like.
I released some initial distribution data prior to the launch of Hive Punks showing some potential outcomes based on the weights.
After race, the most interesting data is how many accessories showed up. When generating a Punk the first thing that is decided is the type, then gender. Then we have to figure out how many accessories the Punk will potentially have.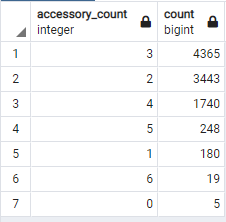 The majority of Punks have 3 accessories, while this seems to be better than 0, 1, or even 2 accessories, by setting the common accessory count to be higher allows for more variety in the final Punks and prevents most of the duplication that would happen. It also makes most Punks a lot more interesting.
One of the less desirable outcomes (0 attributes) actually ends up being a more unique and rare Punk in the end as there was only 5. The most desirable is 6 atttributes with only 19 Punks having that many. Interestingly there are 9 unique attribute/accessory slots, only 8 were possible but 7 & 8 was so rare there was a good chance they wouldn't show up. I was hoping for 1-2 7 accessory Punks but the odds didn't allow it to happen. During my dry runs, there was a 50% chance for a 7 accessory Punk to show up, but 8 never did.
One of the easter eggs in the distribution was females with facial hair. These were designed to be super rare, but due to the lack of cross rarities doesn't technically affect the rarity score. To do so would have been far more computationally difficult.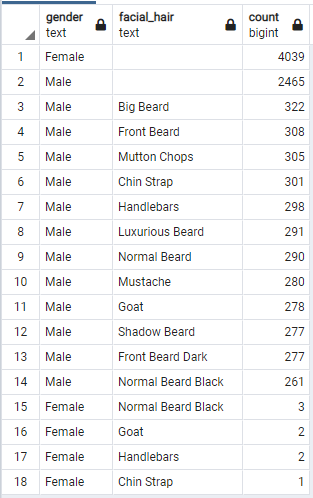 Here you can see there are a total of 8 female Punks with facial hair. If you want to check them out, their ids are 1030, 1130, 789, 863, 3378, 6396, 6934, and 7004.
One oversight in the distribution is how Blemishes were generated. The final Punks had to be generated in a specific order to prevent visual artifacts with certain accessories improperly overlapping others. One oversight in this was certain combination of Blemishes.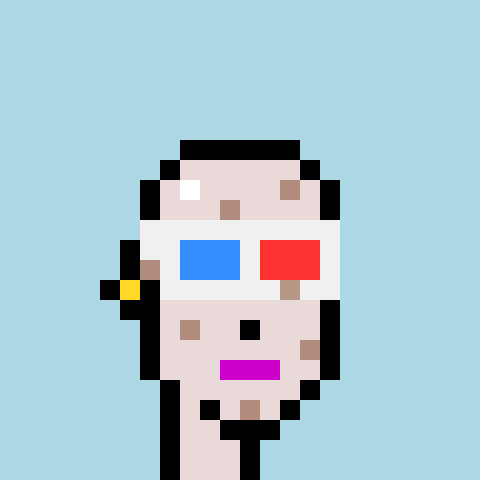 Spots for example with 3D glasses end up with a pixel sitting on top of the 3D glasses making it look more like mud spattered on their face than spots. Typically when these unexpected errors happen, it increases the demand for these pieces.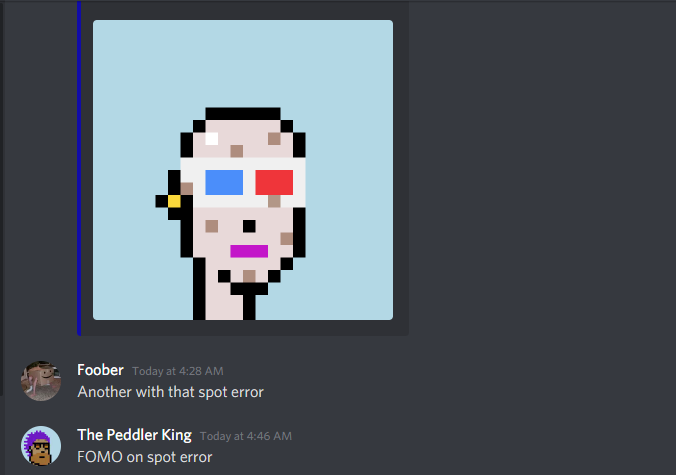 It is clear this has already started. Once the sorting/filtering update is launched, it will be easier to find these outcasts and collect them if that is your desire.
With only one type of nose (Clown) this attribute was greatly reduced with only 206 out of 10,000 Punks having a Clown Nose making them relatively rare.
Necks also had very few options, 3 on male and 4 on female resulting in the majority of Punks (9,728) not having neck accessories.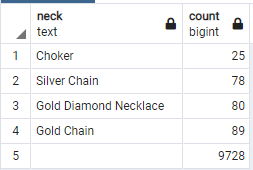 There was a slight bias to male Punks with 5,953 Punks out of 10,000 being male.
One of the more interesting pieces of data is the rarity distribution, this is best represented with buckets.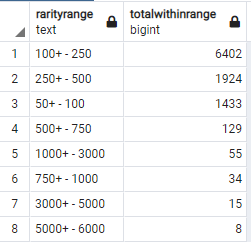 As you can see only 8 Punks had more than 5,000 Rarity score, making them the most desirable of the bunch. There are 15 3000-5000 Rarity Punks, and a bulk of the Punks are under 250 Rarity. Only 9 Punks were under 70 rarity, something that @pfunk picked up on and has started to try to collect.
Overall I am very happy with the distribution, I would have loved to have seen a 7 attribute Punk and at least one or two Rasta hats. My favorite accessory (Bubble Gum) ended up showing up 17 times, the higher side of it's predicted outcome.
Posted Using LeoFinance Beta