A few weeks back we had @aggroed present on the topic of NFT's at the Global Blockchain, Cryptocurrency, and trading community meetup. This presentation went down really well with the meetup group. So much so, one of the members suggested we have a little challenge to mint our own NFTs. How cool is this, we have our first meetup challenge and we all are new to this, so are starting on the same footing.
If you missed the NFT presentation by @aggroed you can check it out here
The Global Blockchain, Cryptocurrency and trading community will be sponsoring some prizes for effort on this challenge.
The outline is as follows.
You can mint just for fun.
You can mint to make money.
You can mint art, photography, music, video, or whatever you want in your NFT
Your NFT must be minted by Sat 3rd April 12 Noon GMT.
You must attend the meetup on Friday 2nd April.
You must complete the spreadsheet with your entry details by Sat 3rd April 12 Noon GMT
The challenge ends on Friday 10th April at the meetup. Prizes will be awarded, and we will see who managed to make a sale.
Some things to consider when choosing where to mint. If you are looking to make some profit on your NFT, you might want to mint somewhere with high liquidity. If you are minting just for the fun and profit is not important, then liquidity is not an issue.
What do I mean by liquidity – Well some places you can mint NFT's have a lot of buyers and traffic. These would be considered highly liquid, and you are more likely to achieve a sale here. If there are not a lot of buyers and traffic, liquidity will be low, and it will be harder to make a sale.
Opensea
I did a bit of research into Opensea.io as I have seen it advertised that creating collections is free and I wanted to explore this more. Opensea.io would be considered a rather liquid marketplace. Free sounds too good to be true.
Uploading images to a collection on Opensea is free, however:
There is a cost to allow you to interact with Opensea. From what I understand, this is two transactions, one costing around $10 and the other around $60. Once the collection is set up you are free to set up as many NFTs as you want and there are no further costs until you make a sale.
On Opensea the NFT is not actually minted until the sale happens and this is where another gas fee hit happens. As the seller, if you accept an offer, you must take the charges. However, if a buyer wins a bid, then they pay the fee. At the moment you are looking at around $60 for this too.
So the total Gas fees cost on Opensea is around $130. I'm sure Opensea also takes a commission on sales???
#Tribaldex
Personally, I decided to mint on Tribaldex on the Hive blockchain. Yep, it's low liquidity but I am familiar with the Hive blockchain and have some Hive and I wouldn't mind check out what they have been building. There are a few steps involved to set up a hive wallet and fund it with some HIVE. Setting up get getting the tokens is the most time-consuming part. Minting the NFT only took me a second.
You need a Hive wallet. You can sign up here https://hiveonboard.com?ref=paulag

You will need some Hive Power in your wallet to make transactions on the hive blockchain. Transactions are free once you hold Hive Power. The good news is, I can help you get started with this. Once you have your hive wallet, contact me and I will add some power to your account to get you started.

You need Keychain. Keychain is like Metamask. Where Metamask will allow you to log into Eth applications, Keychain will allow you to log into Hive applications and sign transactions. https://chrome.google.com/webstore/detail/hive-keychain/jcacnejopjdphbnjgfaaobbfafkihpep?hl=en

You will need to purchase some Hive. https://www.coingecko.com/en/coins/hive.
For the first NFT it will cost you 10 Hive, then 2 HIVE for every copy. You also need to pay a registration fee with Tribaldex of 100 BEE.
BEE is the native token of Hive Engine, a second lay app built upon Hive. Tribaldex is part of Hive Engine. Last night when I minted my NFT, 100 BEE cost me almost 100 HIVE, but I see HIVE has gone up in price now so it might cost you less for the 100 BEE.
150 Hive should do the trick and allow you to mint multiple copies of your NFT.
At current costs that around $120
https://www.binance.com/en/trade/HIVE_USDT
Send your purchased HIVE from the exchange to your Hive wallet.
Log into tribaldex
Go to the wallet on Tribaldex and select deposit.
Select Hive, enter the amount, and press deposit amount.
Go to the tribaldex exchange and use some hive to purchase 100 BEE https://tribaldex.com/trade/BEE
Minting was easy on Tribaldex
You are now ready to mint your NFT. The steps are very simple.
Go to https://tribaldex.com/openhive
Select Create.
You will need to authorize the 1-time fee of 100 BEE.
Upload a thumbnail. This can be a PNG, JPG or GIF of 1MG
Upload a file This can be a PNG, JPG or GIF of 30MG
Fill in the details, Name, Description, and so forth.
Press Create.
How to view your NFT
To view your NFT, https://tribaldex.com/openhive
Select Manage.
Select Tribaldex
How to sell your NFT
To put your NFT up for sale, while viewing your NFT select the +
This will add the NFT to the queue, you will see a notification, click the notification, and then click sell. You can then add your price to the NFT.
Conclusion and observations
I had wanted to attach an unlockable. My NFT was not meant to be a photo but a MP4 file. I couldn't find an option on Tribaldex to add the unlockable or even a url which was disappointing.
For non-Hive users, I also think there are a lot of steps involved to just get set up and funded. Whereas with Opensea, most crypto holders will already have Metamask and some Eth.
In terms of the costs and considering how low the liquidity is on Tribaldex I didn't really save much. In fact, knowing my NFT most likely won't sell, it would have been more cost-efficient for me to mint on Opensea.
Although I would still encourage all of you to get a Hive wallet as it will allow you to do many other things as well as mint NFTs. Such as making blog posts like this one on Leofinance, or adding comments or votes to posts. But that's a different discussion I would love to have with you all at some time.
#Support my NFT
So you are all going to buy a copy of my NFT right hehehehehheheheheheheh? Go check it out here
https://tribaldex.com/openhive/TDEX/paulag_red-squirrel-dublin-mountains-ireland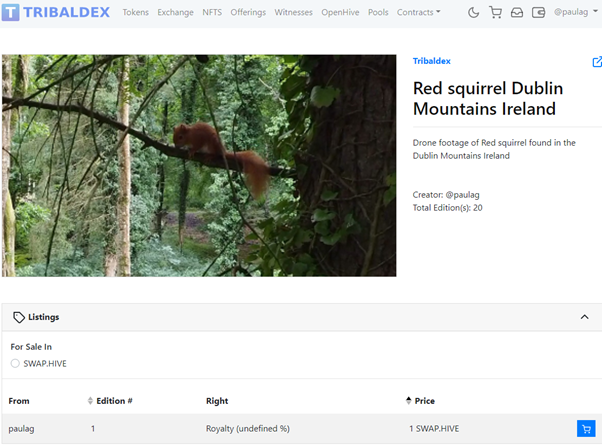 Global Blockchain Cryptocurrency and Trading Meetup group
This meetup group is free to join. We host regular events, from casual chats to informative presentations and fun challenges like this one.
https://www.meetup.com/global-blockchain-cryptocurrency-and-trading-group/
Posted Using LeoFinance Beta