When: Friday 23Rd April
Time: 8pm (GMT+1)
Where: Please RSVP on Meetups.com
https://www.meetup.com/global-blockchain-cryptocurrency-and-trading-group/events/277694017/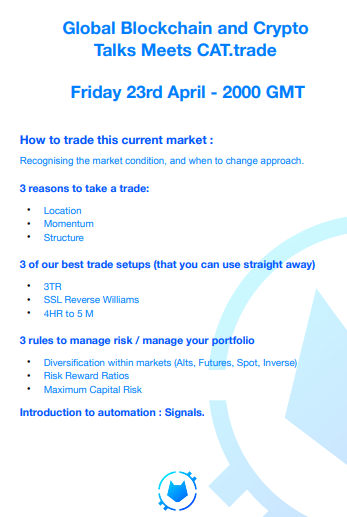 Details
Would you like to improve your trading skills or get trading tips from the experts? Do you want to improve your trading win-lose ratio? Do you want to increase profits in the cryptocurrency market? Then this free online meetup is for you. If you are an experienced trader or if you are new to the game we promise this meetup will give you an edge in the game.
The Global Blockchain, Cryptocurrency, and trading community is hosting Crypt Talk meets Cat.Trade Presented by Experts Traders from the Cat.Trade team.
At this meetup, you will learn:
How to trade this current market :
Recognizing the market condition, and when to change approach.
3 reasons to take a trade:
• Location
• Momentum
• Structure
3 of our best trade setups (that you can use straight away)
• 3TR
• SSL Reverse Williams
• 4HR to 5 M
3 rules to manage risk / manage your portfolio
• Diversification within markets (Alts, Futures, Spot, Inverse)
• Risk-Reward Ratios
• Maximum Capital Risk
Introduction to automation: Signals
You can find out more about Cat.trade here https://cat.trade/
This is an online event and everyone is welcome. Please RSVP, once you RSVP the link will become available to you, there is no need for a code to access the meet-up.
Posted Using LeoFinance Beta