One last round before ETH mining goes kaput...
So essentially I've had all of my mining rigs piled in the closet since the beginning of 2018. I made a killing in 2017 with these bad boys, but when shit hit the fan it became completely unprofitable to mine.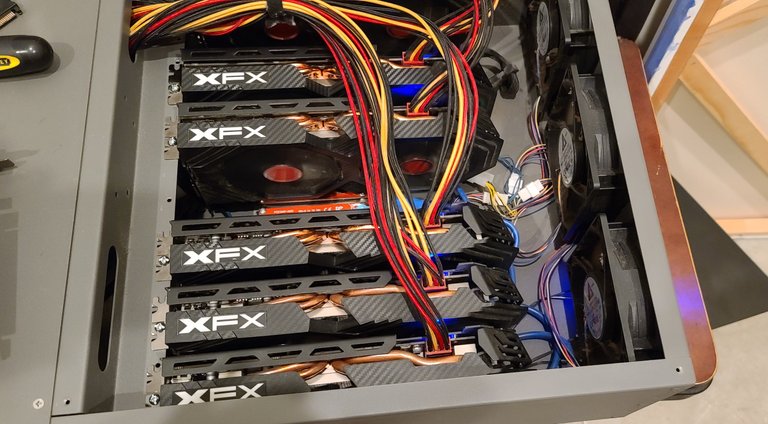 The last time I had these guys out, I was in such a rush to get them up and going that I didn't take the time to get the best hash rates and undervolt settings going.
I have heard that it's possible to get 32MH/s out of these RX580s, but I've not found a way to do it where they are stable. I am pretty happy with where there are at now: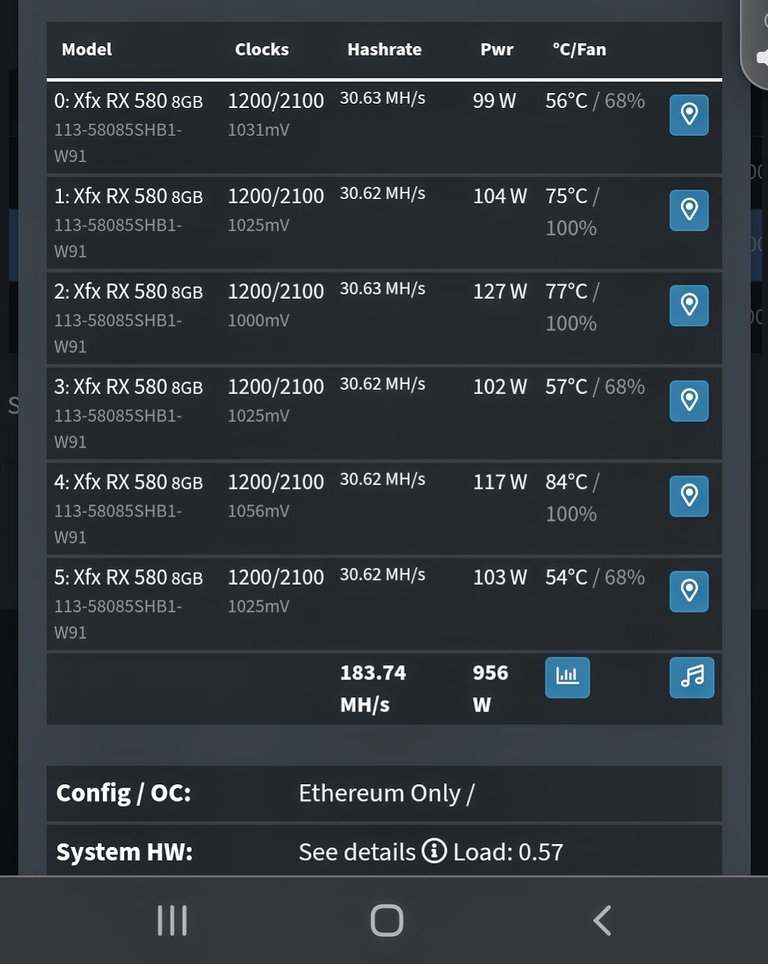 I have 12 cards running with this exact configuration. It is extremely stable! My only complaint is that one card that keeps getting a bit warmer than I am comfortable with. I need to pull it apart and put some new pads and grease on it. I just haven't wanted the downtime.
These machines have run without a single hiccup for 4 weeks, so I hate to touch them!
Then there's the 4gb cards...
So long story short, I ended up with 12 extra RX580s as well. But sadly, they are 4GB cards. Back in 2017, I convinced two different friends to build themselves (I built them for them) 6 card rigs. They both bought 6 cards each, but got the 4gb cards instead of 8GB. This is after I told them which ones to get, but they didn't listen.
Well, after about a month, they both said 'fuck this' and gave me their rigs.. Well, they said 'pay me back in ether', which took me a couple of months to do. So long story short, I ended up with 12 extra cards which can no longer mine ether.
I currently have 8 of them in a rig mining RVN, which has been a nightmare getting stable. I don't know why, but I have trouble optimizing rigs to mine algorithms other than ETHash. Every algorithm has its own quirks.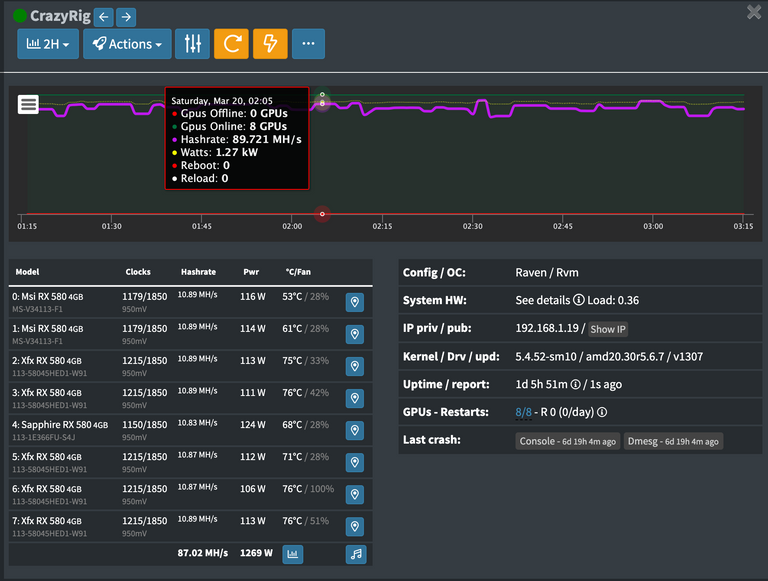 I am still tweaking this one, but it is mostly stable at the moment. It seems to freeze up every few days or so with no error messages or explanation. I have a feeling it's an issue with power distribution. I am waiting for some 8pin power splitter cables in the mail that I ordered like a month ago. these stupid cables cost like $3-$6 apiece on amazon, but if I order them from out of the country, they are just a few cents each. I know that you get what you pay for, but I couldn't justify the cost for 24 of them.
I guess we'll find out if I made a wise choice if they end up being garbage!
I must say, it is a hard pill to swallow watching these RVN miners gobble electricity and make only a fraction of what the ETH miners are making. Especially on Los Angeles electric costs. It is insane!
I keep going back and forth about continuing mining, or selling the rigs while the mania is high. Just a few months ago, you could barely get 120 bucks each for these cards. Now a 6 card RX580 rig runs for $6000 or more on ebay.
I think for now I'll just keep mining. At least it gives me something to do while I am stuck at home looking after the little one!
Posted Using LeoFinance Beta