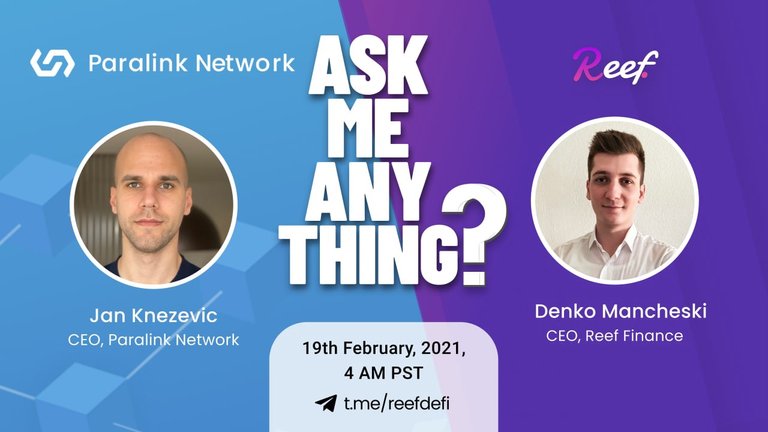 On the 19th of February, 2021, Jan Knežević, CEO of Paralink Network, was live on Reef Community Telegram group, to provide the community with insights on Paralink Network, details on their recent partnership with Reef & upcoming developments, and also attend to their questions and queries. The session was moderated by Nova Rane.
In order to ensure clarity to my readers, this article has been divided into two segments; the first segment, gives full account of the questions asked by the moderator (Nova Rane) of this session, while the second segment gives account of the questions asked by Telegram community members.
SEGMENT 1
Darshan — AMA is starting now. The channel will be muted at the beginning for questions and we will open the floor for community questions later. Hey Jan knezevic.
Jan Knežević —
Hi everyone! Great to be here!
Darshan — It is great to have you here for today's AMA! Pretty excited for it. Nova Rane can start the AMA!
Jan Knežević —
Sounds good!
Nova — Great to have you here Jan Knežević. As our first question is an introduction one, let's go for it! Tell us about yourself and how you got into Crypto. How did you come up with the idea of Paralink Network?
Jan Knežević —
I am Jan Knezevic and im the CEO of Paralink Network. My background is in business and economics- more specifically i worked as an auditor for KPMG , i was an actuary in a life insurance company and later on i transitioned into consulting blockchain projects with accounting and business development as well as conducting internal audits. Last year i was part of a team that acted like a data vendor for blockchain data, we collected pricing, on chain and sentiment data and created qualitative indicators for traders. I was also an active day and swing trader on the stock market trading stocks and stock options and later on transitioned into trading cryptocurrencies.
We decided to build Paralink Network in q2 of 2020 after looking at other oracle solutions and seeing that the technology stack they are built on isn't sufficient for providing a stable and resilient service. That is why we decided to build on Polkadot to achieve higher throughput and add sufficiently expressive ETL systems and an advanced querying language which we felt were lacking in the current solutions.
Nova — Great background, you know your stuff! Paralink looks interesting, let's dive a bit more on it for our community to understand. Paralink provides Multi-chain oracle platform for DeFi applications. How would you best describe Paralink to the Reef Community?
Jan Knežević —
Paralink is a cross chain data ingress engine. First of all, the real-world data ingress is done by Paralink Nodes through our own Paralink Query Langauge-PQL. This allows one to query SQL databases, access web APIs, scrape websites as well as access state from other blockchains. Its a robust solution which is easily extendible to support custom data sources (actually right there is an issue with the existing solutions since the technical barrier to create a custom data source is high and takes forever). Besides the data, we have support for post-processing in a permissionless way via on-chain relayer quorums as well as reliable channeling of the computation results via PQL callbacks.
The next aspect of the project is the Paralink node and its query language. WIth it, you will be able to query APIs. databases but also parse JSON, XML and HTML, support multiple data sources, apply math functions, do type casting, aggregations and much more.
The last point which is extremely important to us is the On-chain security as well as the integrity of this data. This is a huge challenge and we think that so far it hasn't been solved properly. So in Paralink, we have something called Relayer quorums which are self-organizing data repositories with reward token mechanics (as well as slashing offcourse) which aggregate and validate real world information. Our infrastructure is built with Substrate which means we get high throughput and economically feasible computing costs. Due to this technology stack, we can also relay computation results from Polkadot to other chains as well, but also monitor reliability via public reputation systems.
Nova — Thanks for the quick overview! Would you like to share your thoughts on the recent integration with Reef Finance to the community? In what ways do you think will Reef users benefit from it?
Jan Knežević —
Paralink Network aims to synergize with Reef Finance by providing reliable and secure multi-chain oracle solutions leveraging the Polkadot Network.
Data serves as an indispensable part of the decentralized network. Paralink Network employs a on-chain consensys mechanism to collect, validate, aggregate and interpolate real-word data into the smart contracts in a safe and secured way. Paralink Network eases fetching real-world data for smart contracts in the most accurate and seamless fashion, thus supporting diverse applications in the DeFi sphere. It empowers decentralized applications with real-time market data reinforcing reliability and accuracy in a dynamic landscape.
Paralink Network will ensure that Reef's ecosystem will be updated with accurate data relating to DeFi tokens and latest cryptocurrency feeds for users in the Reef ecosystem. The Reef's ecosystem will also have access to Paralink's native token Para to allow users to participate in liquidity mining and staking mechanisms, thus facilitating users to maximize their returns and earn additional yields. Certainly, with the Paralink-Reef partnership, the data fragmentation issue prevailing in the dynamic DeFi sphere will be addressed, reinforcing the extensive value of meaningful partnerships.
Nova — Great to hear about our collaboration and how REEF can benefit from this partnership. Why do you think should people choose Paralink? What are the milestones Paralink has achieved so far?
Jan Knežević —
I'd like to show you a comparison table so you can have a clear picture about the advantages that we have over the current competitors. One of the biggest additions is the advanced queries and ETLs. We believe this will change the way people build dapps and think about data ingress into smart contracts.
Also, having cross-chain capabilities while maintaining on-chain validation and aggregation gives us the flexibility to do the kind of processing never possible before.
Nova — Huge! Having cross-chain capabilities in indeed awesome. Moving on to the next one. Let's talk about Paralink's current and upcoming developments. Tell us more about your plans for the future with Reef.
Jan Knežević —
As for milestones. We have open sourced our node and launched testnet. Anyone interested in contributing is welcome as we have already onboarded some devs in this way and will continue to do so. We launched blockexplorer and are working on the documentation to help developers use the testnet.
Documentation 1
Documentation 2
We are working hard on the product side as well as on integrations with other projects. An oracle needs to work with as many projects as possible to serve its purpose. We want to provide data to anyone in need from Polkadot to Ethereum ecosystem as well as all other major blockchains.
We have partnered with Plasm, Edgeware, Darwinia, Konomi, Bondly, and Reef of course.
We are working on other integrations and will announce them in the following weeks. Our plans for the future with reef are explained in the previous answer but to summarize- we will provide stable and reliable data to Reef products while Reef will include PARA in its baskets.
Nova — Big market to capture/provide reliable data to. Awesome indeed! Take note devs! Much more to come from Paralink. Now moving on to our last question:
For both parties, what changes and developments do you expect in decentralized finance ecosystem in the next few years?
Jan Knežević —
We are still early in the Polkadot ecosystem and are the most advanced oracle solution powered by Polkadot as well as furthest ahead in development.
We believe Polkadot will allow decentralized finance to finally become what is was intended to be. The difference in throughput compared to ethereum is one of the main reasons as it will allow real time pricing which is much needed in many derivatives. This is unfeasible now because of the gas fees making such solutions to expensive. Another aspect is interoperability through the XCMP protocol which will allow seamless integration between parachains and increase synergies in the ecosystem.
Until Ethereum 2.0 launches Polkadot will be the clear winner in my opinion. We will also focus on Ethereum 2.0 after its live and compare the technology stack to Polkadots capabilities in order to gauge if it makes sense to focus on both then. But this is still pretty far away as we believe Ethereum 2.0 is still at least 1–2 years away.
Nova — Good to hear that you are ready for everything, and to have a good future together on Polkadot!
SEGMENT 2
Community Question 1 —What is the utility of your native token Paralink ? Also what special features do you have or plan to implement that keeps you ahead of your competitors?
Jan Knežević —
First of all, its used to pay the transaction costs of the callbacks as well as for services provided by the relayer quorums.
Besides this, its also serves an important role for incentives -so it can be staked into the relayer quorums — and those get rewarded for providing useful work — also the other way around — slashed for misbehavior.
Its also a governance token, so you can vote for collators on the parachain as well as calibrating other parameters through the ecosystem.
And lastly, you can use it to provide liquidity in PARA AMMs and earn more of them.
Community Question 2— What problems is Paralink to solve to make it easier for Crypto users? Please let us know how evolving the roadmap is right now. What will happen this year and in the fParalink re?
Jan Knežević — Paralink is the easiest to use and most functional oracle solution. So far we have achieved all of our goals pre shecule and hope to continue to do so. Here is our roadmap.
Community Question 3— As a community driven project and me a developer am interested in contributing to the project, do you have such programs
Jan Knežević —
Anyone is welcome to contribute to the project. If the code is good we will onboard you on a trial period. We have already onboarded developers for part and full time through this process.
Community Question 4— Many investors hit and run in the sell and sell session after listing on the first exchange, How did Your project prevent early investors from selling their tokens and what benefits you would give them?
Jan Knežević —
Private sale investors have lockup periods so they get 25% on average unlocked at TGE and the remaining spread out over 1 year. Here are our tokenomics for more detail regarding this subject.
Community Question 5— Many new projects initially developed well but were suddenly abandoned. How will you manage your project to get your position on the market and become the best project in the blockchain world?
Jan Knežević —
First we need to finish mainnet. The progress is good but it is still a lot of work. At the same time we are building integrations with other projects. As an oracle we provide data to other projects so we need to secure a big enough market share to survive on the long run. We are doing well on that front but the integrations take a lot of our developer resources so it very hard to expedite the process. As said earlier we want to partner with all projects in the Ethereum and Polkadot ecosystem as well as all other major blockchains.
Community Question 6— How does Paralink evaluate the importance of the user community? In the near future, does Paralink have any special plans to attract and expand the community ?
Jan Knežević —
We are preparing an ambassador program for our most enthusiastic users. They will be able to receive rewards in PARA token and educate others about Paralink and its benefits compared to other solutions.
Community Question 7— How do educate and raise awareness and adoption among the community to make more others understand about Paralink?
Jan Knežević —
Besides the Ambassador we have weekly community activities such as quiz, meme competitions, and we are working on new innovative approaches every week so keep tuned in our TG group if you are interested in participating.
Community Question 8 — Could you give me 3 key points to convince me and other angel investors invest in Paralink in long-term?
Jan Knežević —
Most generic and easy to use oracle platform
PQL is the most functional and easy to use querying language: Learn more.
On chain consensus is the most secure oracle solution at the moment: Learn more.
Community Question 9— What is the number #1 priority for Paralink in the next 6 months?
Jan Knežević —
Partnering with as many projects as possible as projects are our costumers so we need to capture a big market share early on.
Community Question 10— Who is your typical partner? What is the benefit of cooperation for both?
Jan Knežević —
Anyone who need a data feed of any kind.
Community Question 11 — Government regulations has wrenched many of these crypto projects , how will Paralink project its users from getting affected while investigating in Paralink?
Jan Knežević —
PARA is an utility token and it is used for utility purposes only. It is not treated as a security under any legislation so there are no issues regarding securities regulations with it.
Community Question 12 — Successful projects are the result of an experienced team ,the project will not develop without being managed by an experienced team,whatever it is good. So, how about Paralink ? does your team have good experience in the cryptocurrency world?
Jan Knežević —
Our developers have worked and contributed in multiple ecosystems including Steem and EOS, while we have people who have been in operational roles at Parity, Consensys, Tendermint and Bitfury. We are mostly based in Europe, but we have a marketing division in the US as well as Asia. We are onboarding 2 more people who have been working in Cisco and Web3 Foundation.
Community Question 13 — Which countries/regions are the main markets that Paralink is focusing now? How do you think about Vietnam in Paralink market development plan?
Jan Knežević —
We are focusing on all major countries around the world. In Vietnam we have our own TG group where our announcements get translated.
Community Question 14 — As "Education" for crypto currency is necessary nowadays. What's your plan to to attract those people who don't know about in cryptocurrency?
Jan Knežević —
We have prepared detailed documentation and we will start a series of educational posts to educate our users even more.
Documentation 1
Documentation 2
Documentation 3
Documentation 4
---
For more information and resources about Reef Finance, visit:
Reef Website
Reef Telegram
Reef Twitter
Reef Whitepaper
Early demo showcase
Reef LinkedIn
Reef Medium