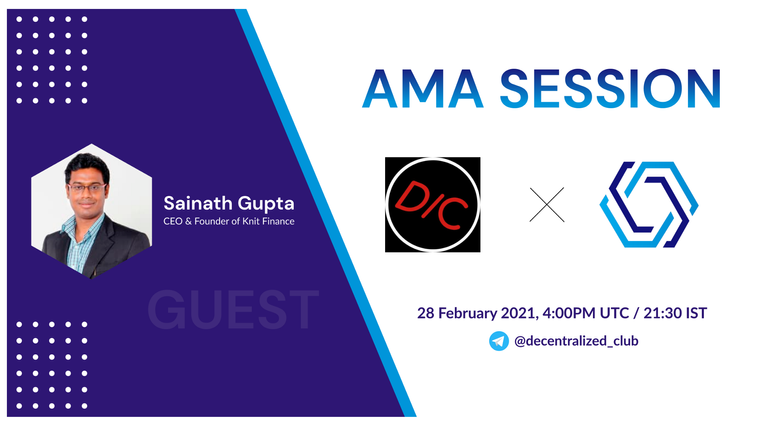 ---
On the 28th of February, 2021, Sainath Gupta, CEO & Founder of Knit Finance, was live on the Decentralized Club Crypto Community Telegram group to provide the community with insights on Knit Finance, details on upcoming developments, and also attend to their questions and queries. The session was moderated by Billy, who kicked off the session by launching an interactive session with the CEO. Afterwards, Community members were then given ample opportunity to ask questions.
In order to ensure clarity to my readers, this article has been divided into four segments; the first segment, gives full account of the questions asked by the moderator (Billy) of this AMA session,the second segment gives account of the questions asked by Twitter Community members, the third segment gives account of the questions asked by Community members via the community website, while the last segment gives account of the questions asked by Telegram Community members.
---
SEGMENT 1
Billy — Can you provide a brief introduction to the core team behind Knit Finance?
Sainath —
I am Sainath G, founder Aasaanpay India's first Mobile POS in 2011, have a decade plus rich experience in Financial Technologies. Tech team cumulative experience is 20 years and so is business team is 15 years.
Billy — Can you talk a bit about what innovations has Knit Finance brought to the table?
Sainath —
We are building on hottest chains like Polka, Binance Smart chain , Polygon and Ethereum, very less are doing the same
In addition to it we will also support multiple asset classes : Crypto, Capital ( tesla shares..et al ) and bullion (Gold, silver bonds..et al ) at later stage
Billy — Cool. What is that one significant milestone Knit Finance has achieved which you are proud to share?
Sainath — Many, great team is one,
On product side:
Alpha launch: Dec 2020 success
Beta launch: Jan 2021 success
Main net launch (Mar 30): On time
You can keep updated about our updates at our Announcement Channel.
Billy — March is bullish for sure. What is Knit Finance gunning for further in 2021?
Sainath —
We are working hard for Great product launch, good liquidity on multiple chains and great adaptation
Billy — Can you please elaborate a bit for our community how will Knit Finance benefit them?
Sainath —
Our solution brings different assets to the Dexes, hence kick starting whole ecosystems around each chain, making it win win for all.
Billy — Great. Now let me share the best Twitter Questions so you can answer. Twitter Questions coming!
---
SEGMENT 2
Twitter Question 1 — KNIT Finance delivers the power of non ethereum tokens with the flexibility of an ERC20 token. Can you explain more about this statement? Since you are ethereum tokens and it is congested with high gas fee, do you plan to transit to another blockchain like BSC?
###Sainath —
Our focus is support any fungible asset onto any chain, do watch our Telegram Community for more updates.
Twitter Question 2— Do you have any Coin Burn / BuyBack systems or any Token Burn plans to increase the value of Token & attract Investors to invest?
Sainath —
We are working on providing a win win mechanism for the same.
Twitter Question 3— I read that in your Alpha phase, you are able to have support for Tesla and Apple, when it comes to bringing real world assets to DeFi. Could you tell us how is this possible and what other other real world assets are we going to see soon?
Sainath —
Our focus is support any fungible asset, do watch our Telegram Community for more updates. We have figured a mechanism by which this things can be supported.
Billy — Okay thanks for the answers. Now let me share the website best questions. Website questions coming!
SEGMENT 3
Website Question 1 — There are five common core issues in technology today: scalability, security, interoperability, speed and privacy. How will Knit Finance tackle these problems?
Sainath —
Its delicate balance between all, we have a great experienced team at knit.finance so should be able to pull it off with right portions of everything.
Website Question 2— Most DeFi projects especially those ones offering yield farming are driven up by hype and scarcity, so when the hype dies the project dies. What's the key to sustaining Your Project yield farming?
Sainath —
We have a real need use case based apy, hence should work well is our view in long term to provide liquidity for dexes which are important for the ecosystem
Website Question 3— KNIT aims to bridge multiple non-Ethereum blockchains with ERC20 in Phase 1. What will be the first chains that will be part of this protocol? How will they make the interoperability between these chains the best on the market without risk of slippage?
Sainath —
We are going to support 10 crypto assets in stage 1 launch on Erc20 chain, stay tuned in our Telegram Community for more updates.
Billy — Now we move on to our last round which is telegram live round!
---
SEGMENT 4
###Telegram Question 1 — Do users demands and feedbacks considered in the development of Knit Finance ecosystem? If yes, In which ways do you provide this?
Sainath —
Our idea is to develop a Grass root level community whose feedback we continuously take to develop new products and services hence demands and feedbacks are considered very deeply in the knit.finance team's culture.
Telegram Question 2— Presently as at today, can I possibly use your token in real life for payment?
Sainath —
Not currently but we will work with some partners who can support real life payments using power tokens it's part of our road map.
Telegram Question 3— We all know partnership is very important to strengthen a project, does Knit Finance plans to add partnerships? If so can we know who or what projects that you've been looking forward to work with?
Sainath —
We believe in growing together there are nearly 22 projects in pipeline for partnerships we will announce soon please be part of our Telegram groups for updates.
Telegram Question 4— KNIT Finance works under the synthetization model, where any Erc20 can be converted to a synthetic, but there exists any guide or tutorial that explains How mint your synthetics?
Sainath —
There are even video guides that are being made we will soon share with all.
---
For more information and resources about Knit Finance, visit: