Intro
This has been the most dramatic week of the portfolio so far. If you are into crypto, you probably already saw what happened to LUNA after their stable coin UST lost its peg. LUNA went from the best performing asset of the experimental portfolio to being the first to leave the top10. We lost a lot of value this week. And today we are adding a new slice to our pie charts. With a new coin entering the top10. The coin is Wrapped Bitcoin.
Check out the previous update here!
About the experiment
Follow along my journey of investing 100$ every week split equally into the Top 10 cryptocurrencies at the time. I will post updates about the overall growth of my experimental portfolio as well as some insights about the biggest winners and losers of the portfolio.I am not including stablecoins in my experiment, and will not be staking or earning interest on any cryptocurrency in this experimental portfolio. The purpose of this experiment is to see if investing weekly in Top 10 cryptocurrencies is a feasible long-term investment strategy and to measure it against other common strategies. For the purposes of this experiment, I will also not take into account trading fees, so I can invest an equal amount of dollar value into each of the cryptocurrencies.
Week # 20 - DOWN 44.6%
Pre-purchases
Total value: 1,052.68$
Total invested: 1900$
Profit/Loss: -847.42$
Portfolio vs BTC:
Overall:
Portfolio: -44.6%
BTC(same period): -26.02%
Thanks to LUNA crashing we are far behind the not to well performance of -26.02%.
Portfolio vs the S&P500 YTD:
Overall:
Portfolio: -44.6%
S&P500 YTD: -15.6%
Biggest winners of the week:
No winners, just losers.
1.BTC - -12.6%
2.DOT - -16.3%
3.BNB - -16.8%
Biggest losers of the week:
Obviously, LUNA takes the top loser of the week
1.LUNA - -100%
2.AVAX - -34.1%
3.DOGE - -28.8%
Week #20 - pie chart
Pie chart of holdings before acquisitions.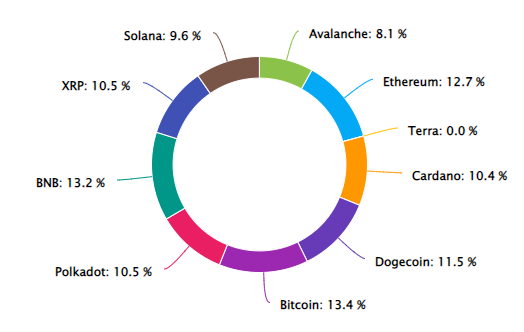 List of Top 10 cryptocurrencies and their prices at the moment.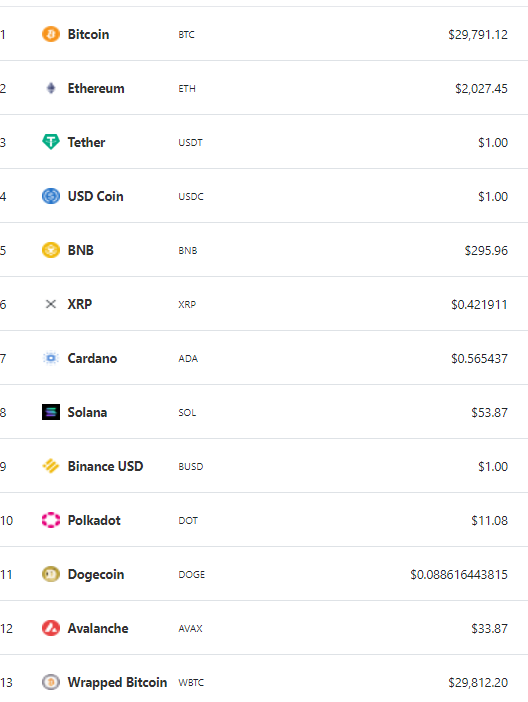 Changes in Top 10:
LUNA OUT
DOT +2 position
WBTC IN
Purchases - 100$
1.BTC +0.0003345 Price $29883.71
2.ETH +0.00492 Price $2033.11
3.BNB +0.03367 Price $296.89
4.XRP +23.67 Price $0.422468
ADA +17.56 Price $0.569519
6.SOL +0.1836 Price $54.46
7.DOT +0.906 Price $11.04
8.DOGE +113 Price $0.088493
9.AVAX +0.2935 Price $34.06
10.WBTC+0.000335 Price $29853.31
Portfolio after purchases:
Total value: 1,155.46$
Total invested: 2000$
Profit/Loss: -844.65$
%Change: -42.23%
Pie chart after purchases: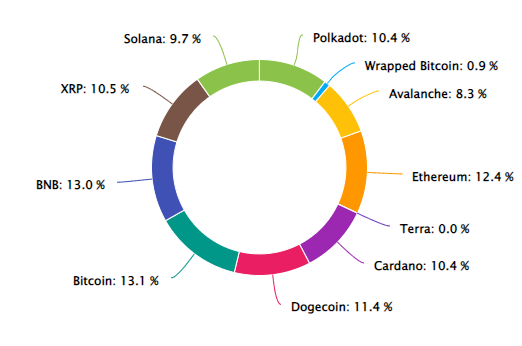 Stay tuned for an update next week!
I will post an update of:
Overall value change of portfolio
My weekly purchase
Changes in Top 10 cryptocurrency list
Biggest gainers and losers of portfolio
Thank you for reading!
Feel free to comment and leave some feedback.
Good luck with your investments! Let the money do the work!
Posted Using LeoFinance Beta