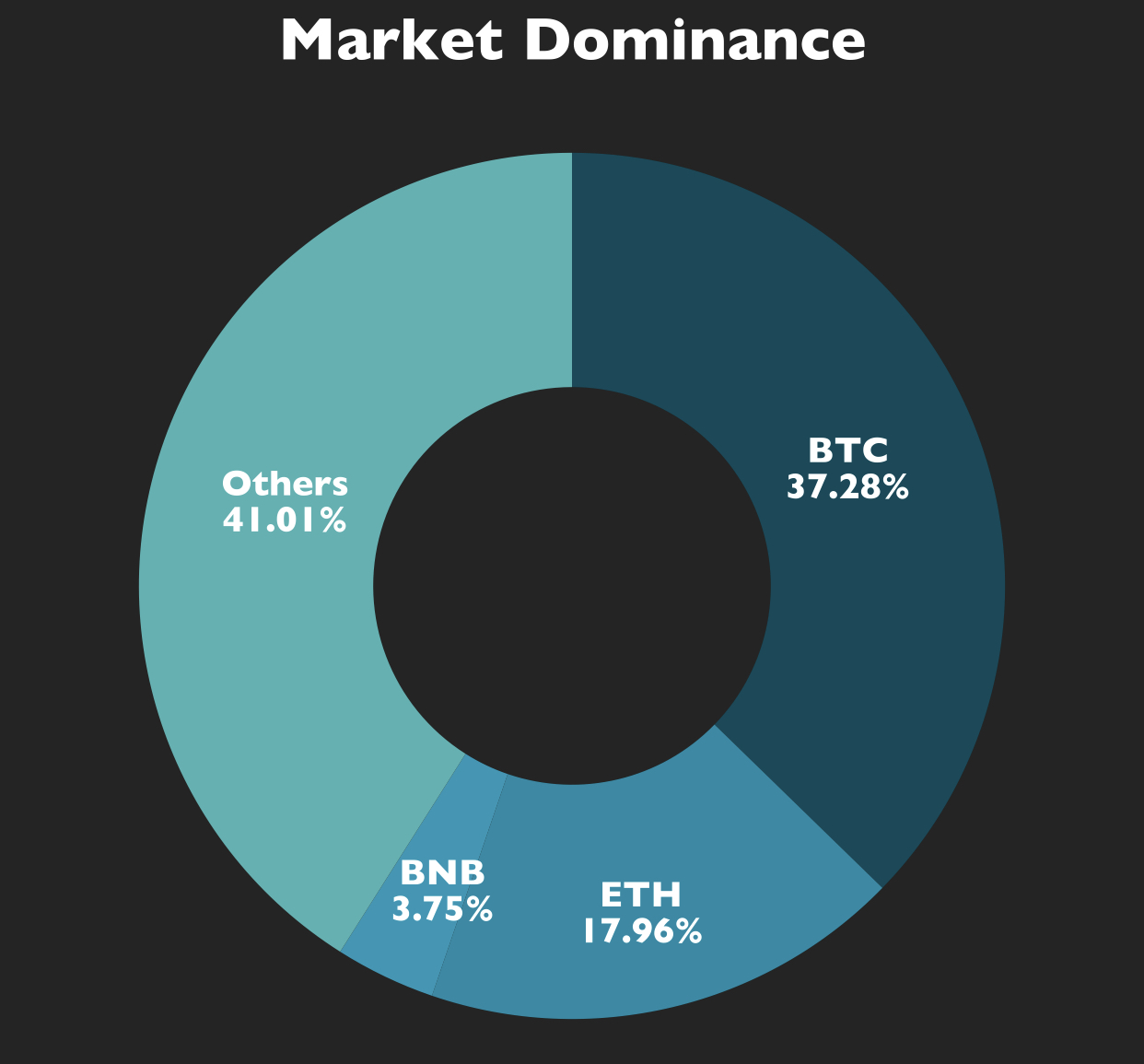 coingecko
I find this diagram interesting. I get that of Bitcoin, why it has such large percentage of the market, I get that of ETH, it's interesting to see that BNB an exchange token is having such amount of market share. What's even more interesting is how every other alt out there is termed as others.
As the markets become saturated with more participants in the nearest future, I'm of the opinion that Bitcoins dominance in market share might continue to reduce because of its technological limitations.
But it'll be highly dependent on what the world wants. While majority want security, many also want applicability, the ability to make innovative transactions, exactly why we can see BTC at 37.28% and others at 41%. I'm of the opinion that the new wave of crypto users will be people who want more than what Bitcoin offers. Because technology continuously evolves and offers more.
The only situation where I see Bitcoins market share dominance going up massively is if governments around the world declare some rule to accept Bitcoin as legal tender and as such some begin to use Bitcoin as their national reserve.
Things might change rapidly for ETH if it moves to POS and fixes the gas fees "issues". People apparently love Ethereum, remove gas fees from Ethereums current state, add speed, and people will flock to it like flies. But no one knows the future of Ethereum.
No doubt that people want security and applicability, however what they want even more is to make money and make more money and apparently, "others" are known notoriously for this. Hence we have more people clamoring for more than Bitcoin.
Ultimately in the wider scope of things, the entire crypto market is still hanging around 2 trillion dollars, there is still so much space for growth. And whether or not people own Bitcoin, Ethereum, BNB, or other cryptos, everyone is contributing to the growth of the entire market.
In future though, I wonder which section will take the larger percentage of the chart. What do you think? Bitcoin? Ethereum? Bnb? Others?
Posted Using LeoFinance Beta