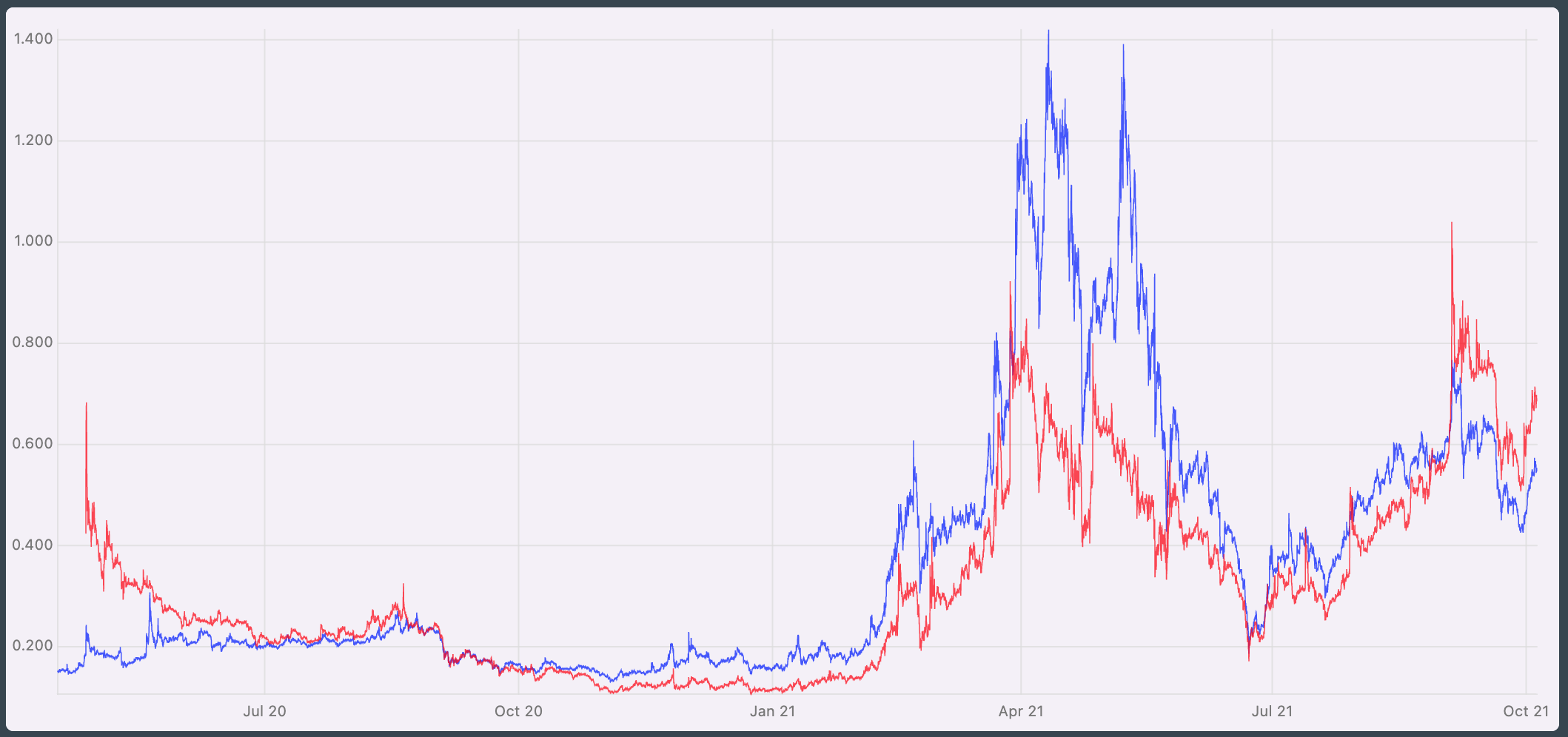 Prices in USD. Since Hive launch. Hive red. Steem blue. Prices sourced from coingecko
Hive and Steem - A story
Since the launch of Hive back in March 2020 the price action of Hive and Steem have moved in step. For most of this period the Steem price has been the dominant performer; pumping higher than Hive when prices rose, staying marginly ahead when prices fell.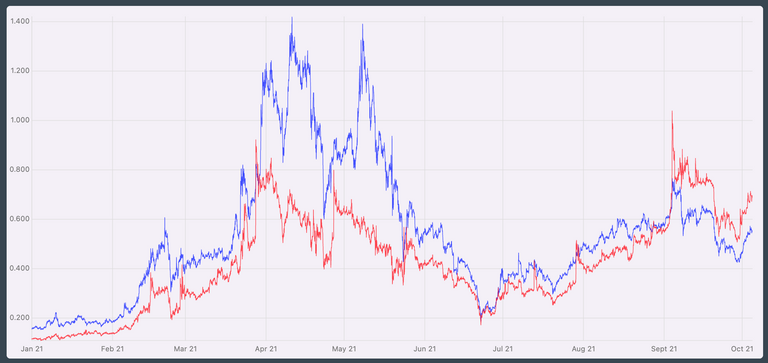 Prices in USD. Focus on 2021. Hive red. Steem blue. Prices sourced from coingecko
From the start of September 2021 this position has changed. For the last month the market has valued Hive at a 20-30% permium over Steem. The market cap of Hive is currently $246m compared to $217m for Steem (despite the discrepancy in circulating supply). And the latest 24 hour trade volume for Hive was $10.7m compared to $3.7m for Steem.
All figures sourced from coingecko
What has changed?
Devs and projects on Hive have been busy building. And those projects are coming to fruition. Splinterlands is now big news in blockchain gaming, one of the biggest growth areas for crypto. That success bring eyes onto Hive, demand for Hive itself, and potentially interest from other projects that may be intrigued by Hive's free and fast infrastructure. Add in a ready-made rewardable forum as a home for your players and that's a strong offering.
LeoFinance also has a growing prescence outside of Hive. By expanding out onto Binance Smart Chain and (soon) Polygon, and collaborating with communities on those blockchains, LeoFinance is bringing more crypto enthusiasts and investors onto Hive. The newly proposed AMM Dex aggregator could be another huge draw.
And of course the Hive blockchain itself has been continually improved in its core offerings. Although much of this is "under the hood" to the casual observer, there are some more obvious indicators such as the stabilising of the HBD price around $1 over the last 3 months:
HBD: Not perfect but a great improvement as a stablecoin!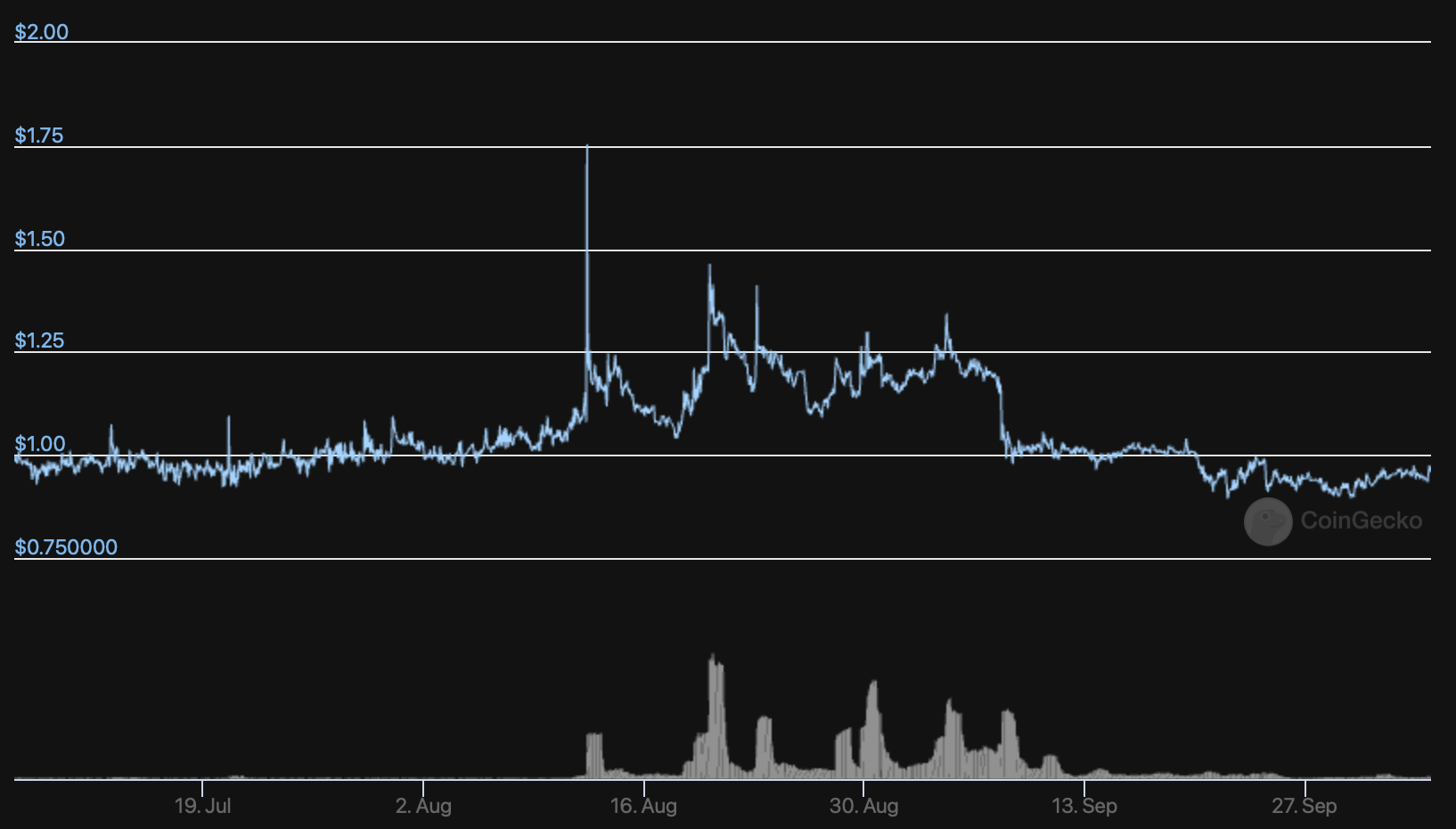 Chart from coingecko
SBD: Doing what it has always done.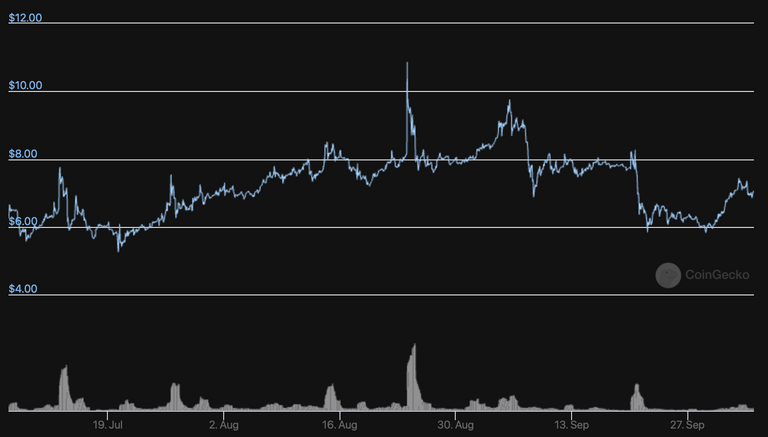 Chart from coingecko
The growth in crypto is exciting!
And Hive feels like it's a part of that! New tribes and projects are springing up and growing. Existing projects are really starting to come into their own and be recognised outside of Hive.
People on Hive have known this would be the case since the start. Now it appears the market is in agreement.
Posted Using LeoFinance Beta