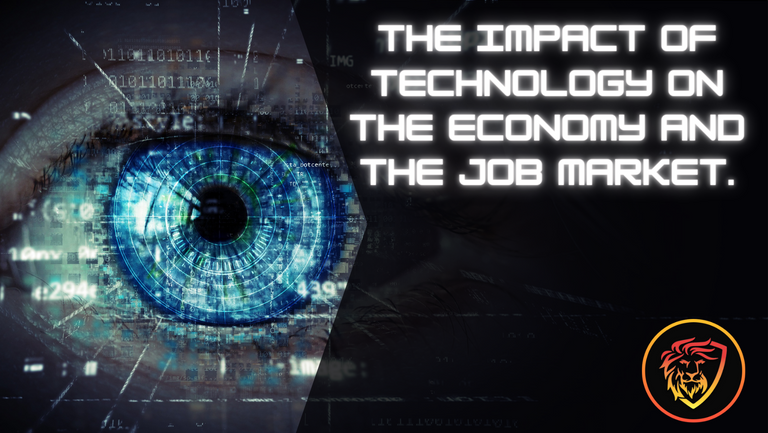 [EN]
The evolution of technology has changed the way we do business worldwide, and this evolution is becoming faster and more advanced. This technology allows smaller and faster companies to compete with larger corporations, creating new business opportunities. However, this constant and increasingly rapid evolution also raises concerns about the job market and economic prospects.
With the emergence of artificial intelligence and process automation, many professions are at risk of being replaced, just as many others have been in the past, and this trend will never end. Companies are always seeking efficiency at a low cost, and technology delivers exactly what these companies need. Repetitive and routine tasks, such as mass production, have been performed by machines in many industries for some time now. In addition, artificial intelligence is being used in other functions, adding production capacity for industries and even for other areas, such as office functions, data analysis, customer service, programming, and more.
Although this evolution has a very positive impact on people's lives, by making everyday things easier, on the other hand, it will also have a major impact on the job market, and many people will lose, are losing, or have already lost their jobs. This can lead to greater social inequality, as only a small percentage hold technology and can access the job market, while a larger percentage will be left behind. We know that usually, a significant portion of the poorest and low-income people lack education and skilled labor, with the advancement of technology, where will these people find work if machines are already doing it?
Imagine how much the evolution of technology could impact a country's economy. Of course, companies can thrive, create better products at a lower cost, and pass this on to consumers, but if the job market is not hot and the population has fewer jobs, who will consume these products? If many professions are replaced by machines, there will be fewer jobs available and, consequently, less income available. This can lead to a reduction in the population's purchasing power and a decrease in demand for products and services.
Of course, the evolution of technology can also bring economic opportunities, and companies will adapt and take advantage of technology to be more competitive and profitable, possibly creating new jobs in technology-related areas. This will be a great opportunity for professions in this area, but how to leave a good portion of the population qualified for this work? It is certain that people will need to migrate to other areas, seek technological education to work in this area, even with the decrease in jobs in certain functions, many others may arise in areas focused on technology.
To deal with these challenges, it is important that public policies adapt to the evolution of technology and create an environment conducive to technological development. It will be essential for the government to invest in education, accessibility, and incentive programs for the population to seek qualifications for technology areas, after all, the growing adoption of technologies such as artificial intelligence and automation has the potential to significantly impact the job market. What is needed is an adaptation to this new era that is emerging, in fact, that is already happening.
See how urban mobility apps, such as Uber for example, have affected this area. For many years, taxis were responsible for providing transportation in urban areas, there was no competition and only a regulatory agency of associates to validate and organize how values were charged, areas where a taxi should operate, etc. The population that consumed this service was at the mercy of how it was done. When the Uber app became more popular among people and its use became more frequent, taxi drivers felt threatened and threatened back with protests and everything else you already know. However, over time, they adapted and improved the way they provide their services, with more competitive prices and better conditions for the user. It only took adaptation for their jobs to be maintained. In this case, they didn't have to change professions, just work hard to offer a better service.
The evolution of technology can have a significant impact on the job market, but this does not mean that we should surrender to fear or resistance to change. What we need to do is adapt and create better conditions for change. Countries that cannot do this will fall behind and suffer losses in the economy. There is no other way than to move towards the evolution of education in the technological area that is just beginning, although it is already increasingly present. And as I said before, it is very important that the government invests in education, accessibility, and incentive programs, so that the population is prepared for the ongoing technological changes and can take advantage of the opportunities generated by them.
If there is no preparation for what is to come, the economy may bleed, and governments need to do their part in preparing the population to work in the technology area, but each individual also needs to recognize their skills and assess if they are suitable for the job market. Those who do not do their part will be left behind.
---
[PT]
A evolução da tecnologia tem mudado a forma que fazemos negócios em todo o mundo, essa evolução esta cada vez mais rápida e continuará acelerando ainda mais e se tornando cada vez mais evoluída. Essa tecnologia permite que empresas menores e mais rápidas consigam competir com corporações maiores,criando novas oportunidades de negócios. Porém, essa evolução constante e cada vez mais rápida também gera preocupações em relação ao mercado de trabalho e perspectivas econômicas.
Com o surgimento da inteligência artificial e da automação de processos, muitas profissões correm riscos de serem substituídas, assim como muitas outras já foram sendo no passado e essa constância é algo que nunca irá terminar. As empresas estão sempre em busca de eficiência a pouco custo e a tecnologia entrega exatamente o que essas empresas precisam. Tarefas repetitivas e rotineiras, como a produção em massa, já estão sendo executadas por máquinas em muitas industrias a algum tempo. Além disso, a inteligência artificial está sendo usada em outras funções somando capacidade de produção para as industrias e até mesmo para outras áreas, como funções de escritório, analise de dados, atendimento ao cliente, programação e etc.
Apesar dessa evolução ter um impacto muito positivo na vida das pessoas, por facilitar coisas do dia a dia, por outro lado ela também terá um grande impacto no mercado de trabalho e muitas pessoas vão perder, estão perdendo ou já perderam seus empregos. Isso pode levar a uma maior desigualdade social, enquanto apenas uma pequena parcela detêm a tecnologia e conseguem ter acesso ao mercado de trabalho enquanto a oura parcela maior será deixada para trás. Sabemos que normalmente boa parte das pessoas mais humildes e de baixa renda são carentes de educação e qualificação de mão de obra, com o avanço da tecnologia, onde essas pessoas conseguirão trabalho se as máquinas já estão fazendo isso?
Imagine o quanto a evolução da tecnologia poderá ter impacto na economia de um país. Claro que as empresas podem prosperar, criar produtos cada vez melhores a um custo mais baixo repassando isso para os consumidores, mas se o mercado de trabalho não está quente e a população tem menos empregos, quem irá consumir esse produto? Se muitas profissões forem substituídas por máquinas, haverá menos empregos disponíveis e, consequentemente, menos renda disponível. Isso pode levar a uma redução no poder de compra da população e a uma diminuição da demanda por produtos e serviços.
Claro que a evolução da tecnologia também pode trazer oportunidades econômicas, as empresas vão se adaptar e aproveitar a tecnologia para serem mais competitivas e lucrativas e possivelmente vão criar novos empregos em áreas relacionadas a tecnologia. Esse será um grande momento de oportunidade para profissões dessa área mas como deixar uma boa parcela da população aptos a essa área de trabalho? é certo que as pessoas vão precisar migrar para outras áreas, buscar educação tecnológica para atuar nessa área, mesmo com a diminuição de empregos em determinadas funções, poderá surgir muitas outras em áreas voltadas para tecnologia.
Para lidar com esses desafios, é importante que as políticas públicas se adaptem à evolução da tecnologia e criem um ambiente propício para o desenvolvimento tecnológico. Vai ser de suma importância que o governo invista em educação, acessibilidade e programas de incentivo para a população buscar qualificação para áreas tecnológicas, afinal, a crescente adoção de tecnologias como a inteligência artificial e a automação têm o potencial de afetar significativamente o mercado de trabalho. O que deve haver é uma adaptação sobre essa nova era que está surgindo, na verdade, que já está acontecendo.
Veja como os aplicativos de mobilidade urbana, como o Uber por exemplo, afetou essa área. Por muitos anos, os taxis eram os responsáveis por fazer essa função de transporte nas áreas urbanas, não existia competitividade e apenas um órgão regulador de associados para validar e organizar como eram cobrados os valores, áreas que um taxi deveria atuar e etc. A população que consumia esse serviço ficava a mercê de como aquilo era feito. Quando o aplicativo da Uber ficou mias popular entre as pessoas e seu uso cada vez mais frequente, os taxistas se sentiram ameaçados e ameaçavam de volta com protestos e tudo mais que você já deve saber. Porém com o tempo eles foram se adaptando e melhorando a forma como fazem seus serviços, com preços mais competitivos e melhores condições ao usuário. Precisou apenas de uma adaptação para que seus empregos se mantivessem. Nesse caso, não precisou que eles mudassem de profissão apenas que se empenhassem em oferecer um serviço melhor.
A evolução da tecnologia pode ter um grande impacto no mercado de trabalho, mas isso não significa que devemos nos render ao medo ou resistência à mudança. O que precisamos é nos adaptar e criar melhores condições de mudança, os países que não conseguirem fazer isso ficarão para trás e sofrerá com perdas na economia, não tem para onde correr se não em direção na evolução da educação das pessoas para área tecnológica que esta apenas começando, apesar de já estar cada vez mais presente. E é como disse antes, é muito importante que o governo invista em educação, acessibilidade e programas de incentivo, para que a população esteja preparada para as mudanças tecnológicas em curso e possa aproveitar as oportunidades geradas por elas.
Se não houver uma preparação para o que está por vir, a economia poderá sangrar, os governos precisam fazer sua parte em preparar a população para atuar na área de tecnologia mas também cada individuo precisa se reconhecer e fazer uma leitura de suas competências e avaliar se está apto para atuar no mercado de trabalho. Aqueles que não fizerem sua parte vão ficar para trás.
Posted Using LeoFinance Alpha