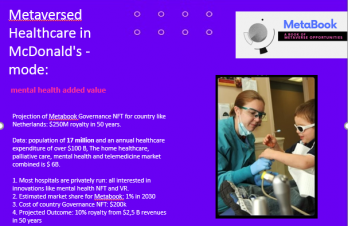 source
According to The Californer MetaAlliance Corp. has licensed the exclusive rights for Metaverse convergent DTC service platform, to Metabook Sharing Economy, the first Metabusiness decentralized organization, aimed at democratization of the access to digital health in XR form. The INO mechanism is to maintain this fast-growing platform's leadership.
All steps were taken to develop a global network of partners and an INO for 200 MetaBusiness offices interested in innovative technologies- XR health - Metaverse and Telewelness.
The vision is ''Technosocialist'' with the aim to advance the benefits of innovations with a particular interest in Health. That means fair sharing of revenues (90%) with those who work.
Investors already consider Metabook for the initiation of the first decentralized NFT book of game-changing innovations. Among major partners are Aimedis and Arcona, which are specialised in Health and XR technology.
Join syndicate building a monopoly MetaMarkering DAO!
More information on this topic you can find right here