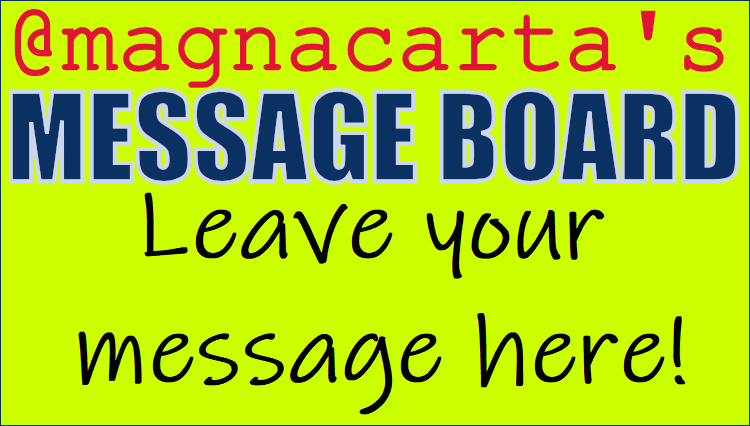 Have a message for me but it seems out of place in a post? Just leave a note at
@magnacarta
's Message Board at the blog!
---
Cover image made using SVG with light edits made using MS Paint.
---
Has this ever happened to you?
You ever wanted to leave someone a message but it seemed out of place in a post (or even a comment in that post)?

You tried leaving a message using a microblogging platform, only to see the message fall behind hundreds of threads or buzzes?

You wanted to leave a message without needing to use Discord or send a transfer of 0.001 HIVE (or Ecency Points)?

You wanted to send a fellow Hiver e-mail, only you don't know that Hiver's e-mail address?
At least for me, @magnacarta, just leave a message at my message board!
Some people use chalkboards, others use whiteboards, and a small number even use refrigerator magnets.
The best I can offer is a pinned blog post where people can leave their message in the Comments section.
It's easy to use, it's cheap, and it's always there.
Which messages are OK To Leave?
Genuine messages
Links pointing inside the Hive & Hive Engine ecosystem
Status updates
Memes
Images
Engagement tokens
Don't Use If the Message has...
Spam
Malicious insults
Fighting words
Libelous content
Proof of Concept
Think of this as a Poor Man's Messaging System.
Originally I wanted to use the Transfer functionality and its Memo field to send a message. All front ends allow for the sending of 0.001 HIVE, and the various Layer 2 front ends work similarly with their tokens.
I publicized my experiment, but no one else volunteered to participate. That was it for the experiment.
-- Until Now!
My own Message Board is just a pinned post. This is a post I'll check repeatedly. The only limitations are those dictated by the blockchain and the hardware used to keep it online.
A 2nd Use Case for My Own Message
As individual Hivers, we can only have 1 pinned post at a time.
What about those blogs which have multiple pinned posts? Those happen to be community blogs, so they work differently from individual blogs.
If we can only have 1 pinned post, but we want to have easy access to multiple posts? Just include links to those posts as the initial "messages" on the message board.
How Long Will Messages Remain on My Message Board?
Since my own Message Board is just a pinned post written to Hive blockchain, it will always be available (with some effort).
However, I may want to have a clean message board. In that case, the message board will get renamed before it gets unpinned. Then a new post becomes the clean message board ready for new messages.
Give My Message Board a Try!
Feel free to leave a message as described earlier. Let's see how well this message board concept works.
If you like the idea of having your own message board on Hive, feel free to make your own. Just give me a mention so I can drop by and check it out.
Posted Using LeoFinance Beta