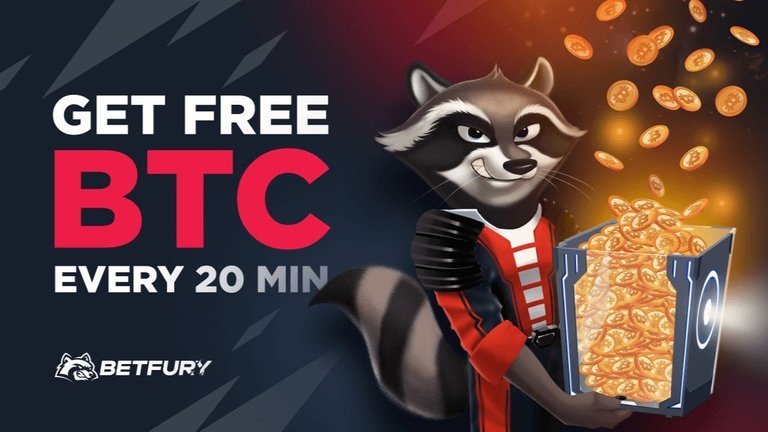 ---
More ways to earn crypto
It's been a week since I joined Betfury and I'm already addicted to the platform. For those of you who didn't know, the website offers a wide range of games and slots you can play using BTC, ETH, TRX, USDT, SUN and BTT, and also gives you the chance to claim free BTC every 20 minutes.
They have a VIP system, jackpots, and cashback services up to 25%. Moreover, they offer the chance to receive a part of the platform's profit in daily crypto divindends in all of the aforementioned cryptocurrencies by staking BFG tokens.
Betfury offers two native tokens (BFG-BTC & BFG-TRX) which you can mine by playing slots and games, and holding more than 10 BFG tokens allows you to earn daily crypto dividends. And the best part is you don't have to invest in order to mine BFG tokens. You can just use the free BTC available every 20 minutes.

---
Smash the free box
Now, I do realize that it's not that much, as you only receive 5 sats per claim, but you can claim every 20 minutes. Furthermore, if you stick around for the first few days it really adds up, so a few hours later you will have enough fuel to mine some BFG with no effort.
Given the situation with the ongoing lockdowns I have been visiting the website on a regular basis, so now I'm holding 16.29 BFG and receiving free peanuts every day with zero effort. So what are you waiting for? Join Betfury today and start earning free crypto dividends.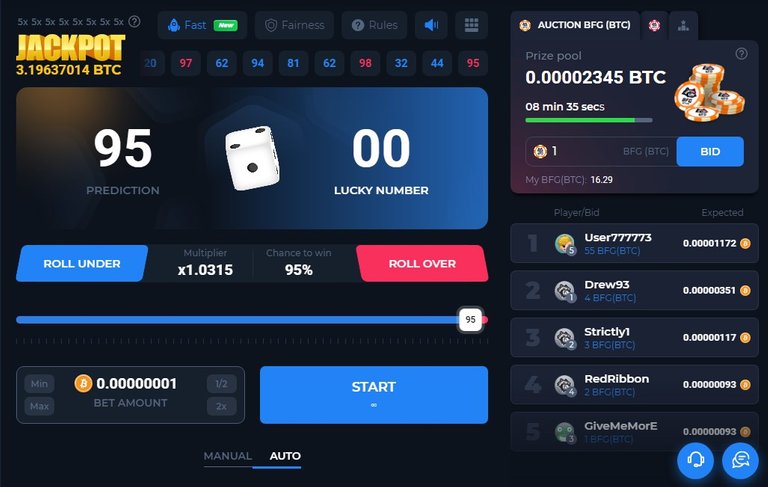 ---
Mine BFG
The best way to mine BFG is by playing the dice game on autopilot and going for a 95% chance of winning, as this will allow you to place the maximum number of bets for your free sats, earning you BFG tokens which translate into daily crypto dividends. This technique saves time and maximizes the amount of BFG mined.
The best part is you can place your bets in any of the aforementioned cryptocurrencies, which means you can use your dividends to earn more BFG. This basically means you can earn free passive income and then use it to increase your passive income. Sweet.
Staking
As you can see in the screenshots below, the platform pays out around 70 BTC and 330 ETH in dividends daily, based on the current levels of activity. My 16.29 BFG is not that much, but I'm getting bigger and bigger as the days go by. And I never invested a dime.
My daily payout looks small, but I've only been around for a week. My stake was mined using the free BTC offered by the platform, so even though it's literally nothing, it feels good and keeps growing day after day.
I see it as a video game I enjoy on a daily basis without having to spend more than a few minutes on it. And one that gives me free crypto for my time. Try it now!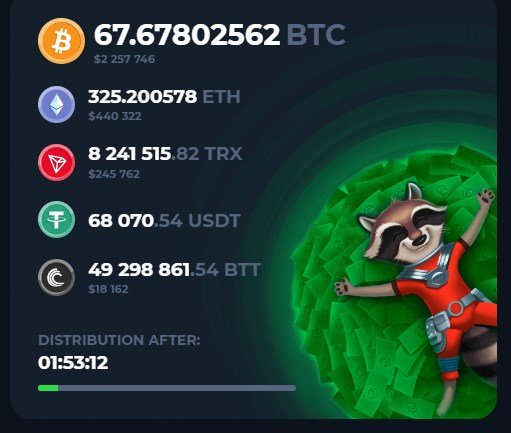 ---
Cashback
You can get back up to 25% of your bets in cashback based on a ranking system where players earn points and climb up the ladders by playing their favourites among a variety of more than 1000 games and slots.
My cashback is poor for now, but hopefully by grabbing a few refs in the process I will manage to increase it with zero effort. I also plan to stick around given that the government wants us locked up at home for another year or so, so grabbing free bits of crypto is my favourite psychoanalysis technique for now.
And also one that may change my life for the better ten years down the road. I also have a thing for dividends, so you know, I'm after those BFG tokens for now.
Hit my referral link and sign up to start mining BFG and earning crypto dividends today!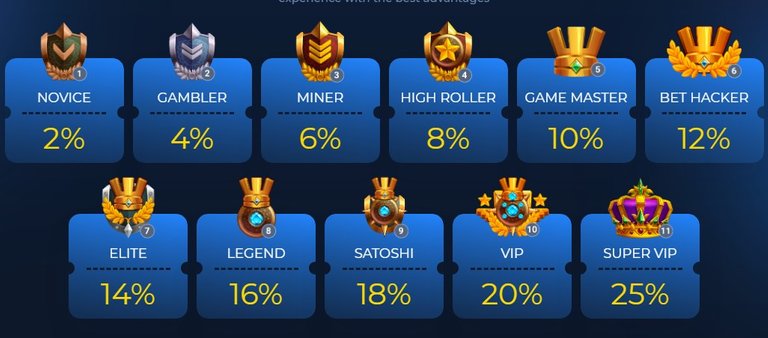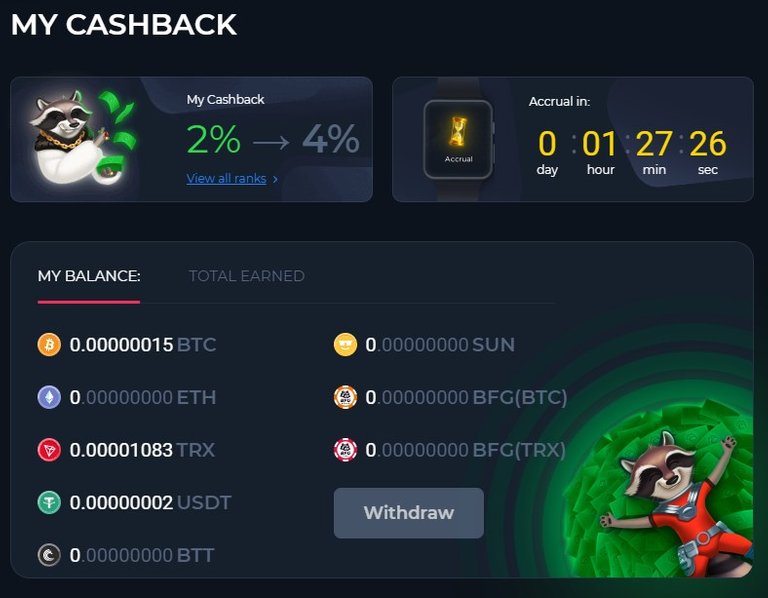 ---
---
Thank you for your attention
Alright guys, that's it for now. I sincerely hope you learned something new today. Thank you for taking the time to read those lines.
Just my two cents. This is by no means financial advice. Just sharing my personal views and experiences. Please do not take my word for your investment choices, and always do your own research.
Stay safe and have a good one,
@lordneroo
---
Image Sources: 1, 2, 3, 4, 5, 6, 7
---
---
Best Faucets to Earn Crypto with Zero Risk (Affiliate Links):
Best Exchanges to Trade Crypto (Affiliate Links):
Best Platforms to Earn Crypto for your Content (Affiliate Links):
Connect with me Here:
Posted Using LeoFinance Beta