LPUD is here! Power up and Get a delegation as big as your power up!

Leo Power Up Day
The year is over Lions, and if you thought that 2022 was the best year for staking $leo and being an active part of the biggest blogging community on Hive, then you have no idea what 2023 has in store for us.
All I can say is, I am staking hard this time preparing for next year.
This is the last LPUD of 2022
And even though we don't have an event this month - I guess the hordes around us want the winter to begin to unleash their attack - we are still in for what will probably be the biggest LPUD so far...
Whatever amount you power up this time, the LEO Team will double that amount!
You heard it right.
If you power up 500 Leo, the team will delegate 500 Leo to your account; if you power up 10k, the team will delegate 10k $leo tokens to your account.
Simple as.
This is your chance to close the year with huge curation rewards! All you need to do is power up as much as you can and you will get double the curation rewards from that power up for almost a month.
EVERYONE who powers up at least 150 Leo will get that amount doubled as delegation, it doesn't matter if you win or not one of the normal LPUD prizes!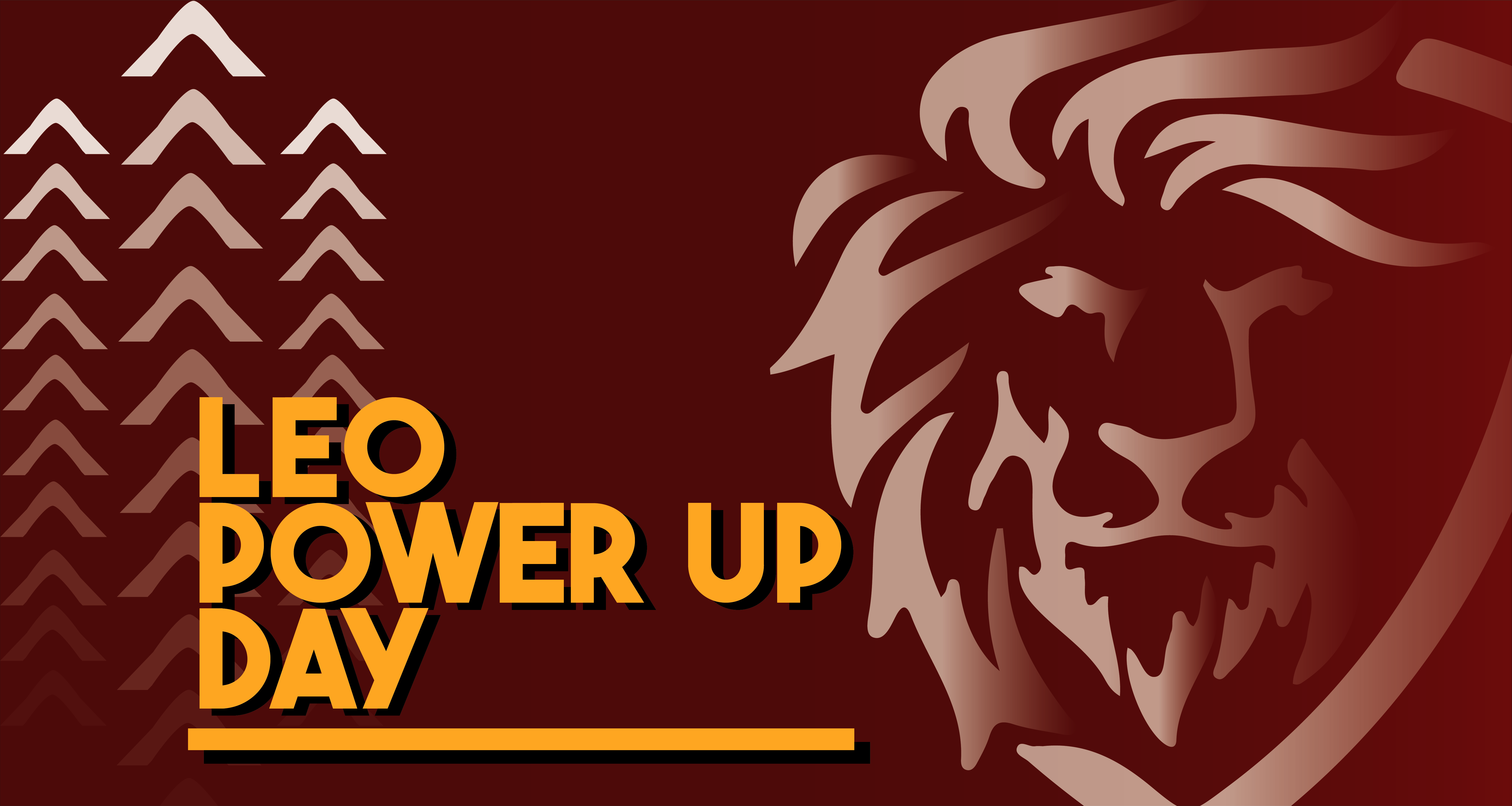 Power up at least 150 Leo on December 15 (UTC), and you will be eligible to win one of the main prizes: a 20k delegation.
Here's a thorough guide to Powering up LEO using Hive-engine or Leodex
Some ground rules to participate in LeoPowerUpDay:
Your total Leo Power (on the 15th) must be less than 20k - this doesn't apply for the doubling team delegation. If you have 50k LP and you power up 50k, the team will delegate that amount to you.
You must power up at least 150 Leo on November 15.
You must not have powered down Leo since August 15.
Make a post or a #thread on Leo Finance about LPUD, perhaps you'll get a visit from @leo.voter!
ProTip: If you make a post, it doesn't have to be only about LPUD, it can be about anything else and you can just include an #LPUD section at the end of your post (just make sure to mention it on the title so we don't miss the post while picking the winners):
---
Bonus Prizes
The Leo community is one of the strongest and tightest in the Hive ecosystem, and many of the users with a big Leo stack have chipped in to the prize pool to encourage you to power up Leo!
Ten random users who participate in LPUD will get one of the next Leo Power delegations for 3 weeks:
10k from @edicted
5k from @leomarkettalk & @taskmaster4450
5k from @anomadsoul
5k from @bitcoinflood
4k from @alexvan
3k from @lbi-token
3k from @jongolson
2k from @steemstreems
2k from @whatsup & @scaredycatguide (1k each)
2k from @mcoinz79
2k from @forexbrokr
This means there will be ten (10) bonus winners, one winner for each prize.
Thanks to all the Lions who are contributing to the prize pool, you should go follow their blog!
---
The winners of this contest will be chosen randomly using a provably fair random picker from a pool of users who fulfill all four requirements.
Remember we now have LPUD badges!
Everyone who joins LPUD by powering up 150 $leo on the 15th (UTC) will receive a @hivebuzz badge to commemorate their participation in what's proving to be the @leofinance initiative with the most Lions joining in month after month!
It doesn't matter how much LEO Power you are holding on the 15th, if you power up, you receive the badge.
Only Lions who power up on the 15th UTC will receive this badge, so make sure you do it during that window. Check out the official @hivebuzz announcement here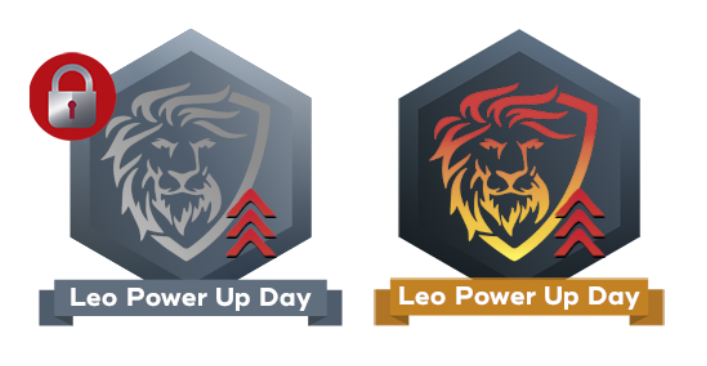 That's it! All you need to do is power up 150 $leo and you will see your LPUD badge on hivebuzz.com/@yourusername as well as on Peakd Badge Tab.
In the image below the future LPUD Badges are greyed out, but if you join in you will start seeing how your badge gets all colored up and look nicer!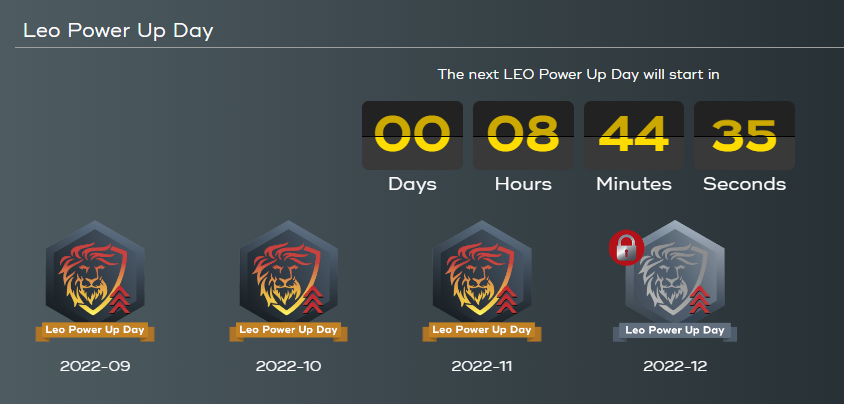 This Badge, apart from showing your support to this monthly LEO initiative and prove your commitment to the growth of Leo, will become an important part of the Leo ecosystem down the line and we have a huge event for 2023 for everyone who powers up Leo month after month (the more months you power up, the better you will do in the event we have planned), so you better plan on stacking those badges or you'll regret it!
So, what are you waiting for? Prepare yourself for the last Leo Power Up Day of the year on December 15th (UTC), and on every 15th of each month of 2022!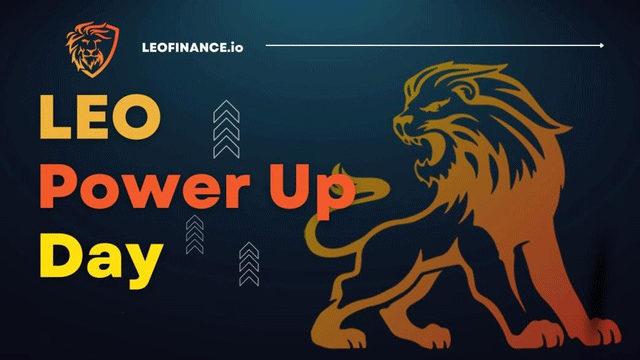 The official time zone of LPUD is UTC.
All the HBD generated from this post will be used to support community driven contests from the community, so spare a vote!
Posted Using LeoFinance Beta
---
---