Get ready to be triggered - this group of serial NFT scammers is on the loose and I doubt they're stopping any time soon.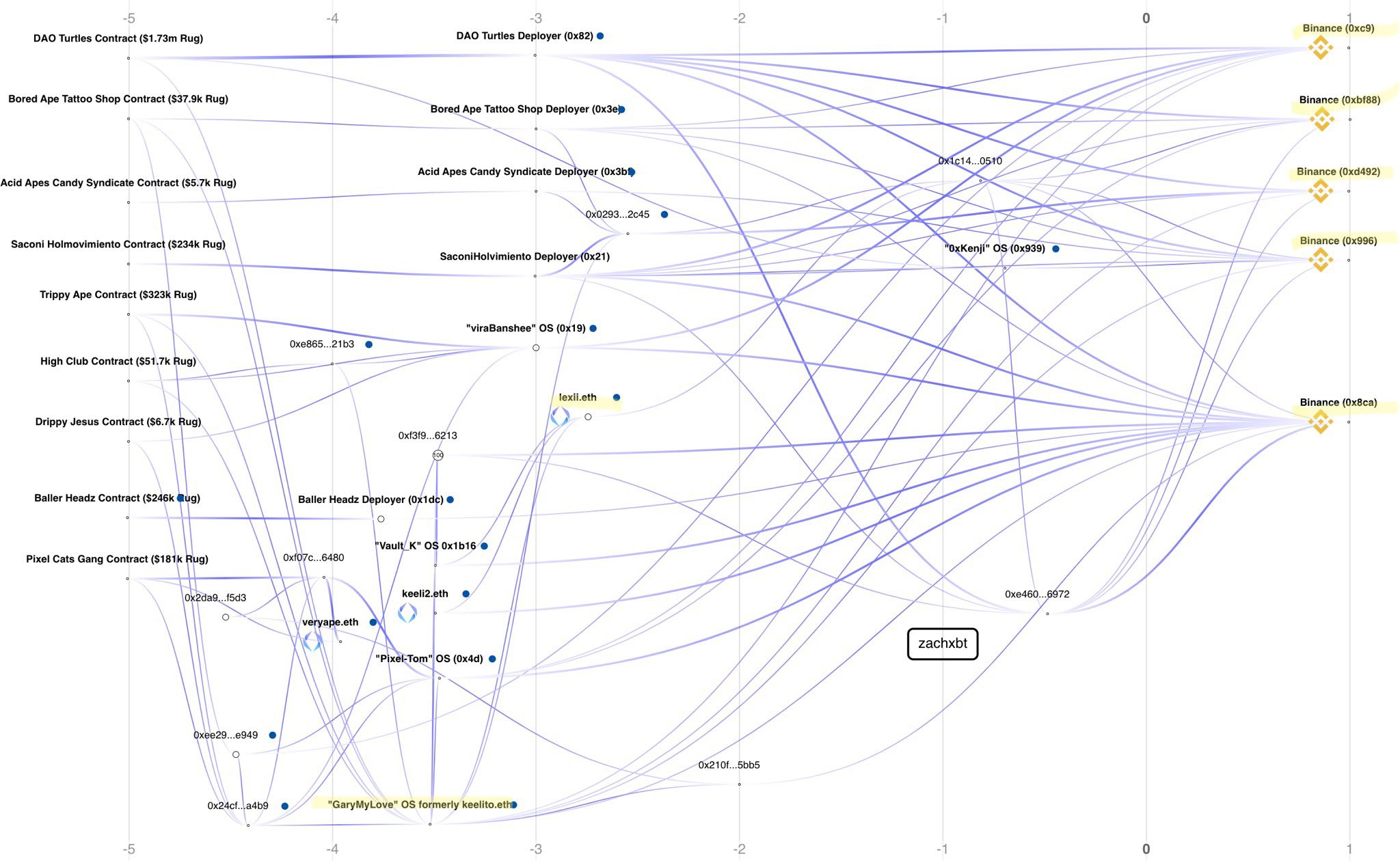 Serial NFT Scammers
So this wonderfully horrible journey comes to us courtesy of zachxbt on Twitter. I encourage all of you to go give him a follow. He's like an undercover internet detective when it comes to crypto and NFT scams so it's always fun to see what he's looking into. Anyway - there's a group of 4 people from Croatia that have been creating and rug pulling NFT projects since September 2021. This may not sound like a very long time to you, but in the crypto world, that's like a decade lol. They've been able to steal around $3 million from investors over the course of 9 months.
I guess when you figure out how to make over $300,000 per month to split between 4 people, why stop? Convert that $3 million to Croatian Kuna and you're talking about 21.6 million in their local currency. Considering the cost of living is like 95% higher in the U.S.... That's enough money for more than a lifetime there. All without doing much work at all. At least I assume it isn't much work to create an NFT project and then rug pull it. I could be totally wrong haha. How did they pull this off?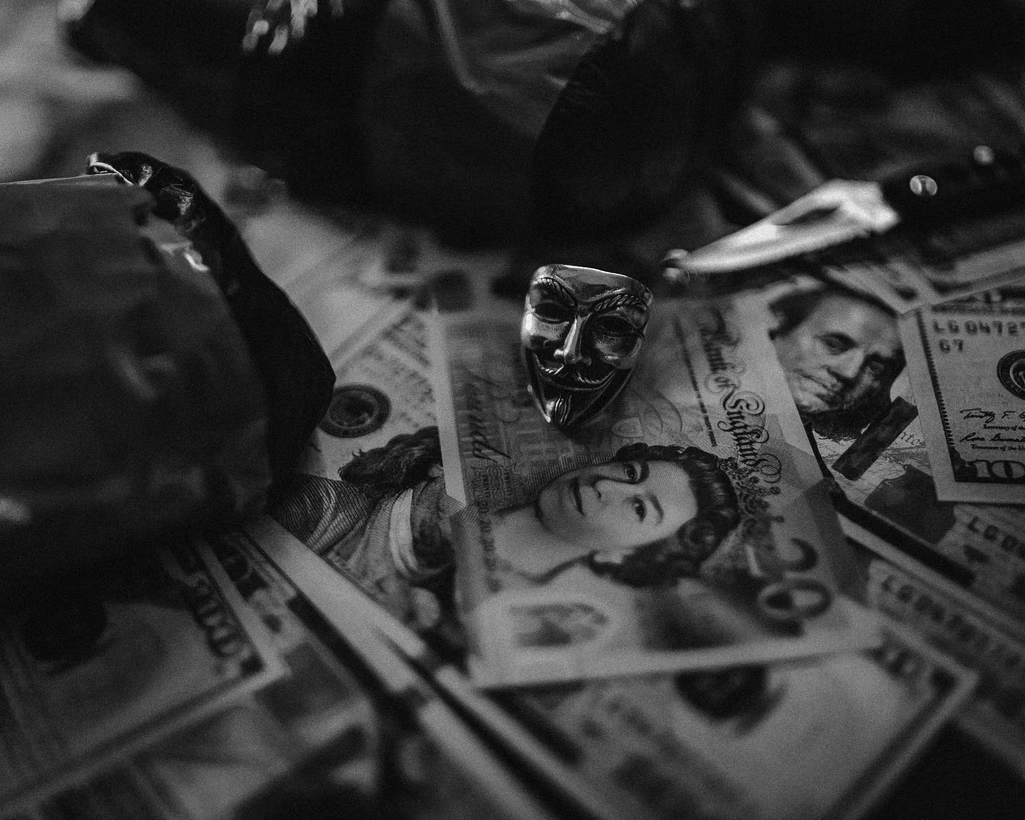 Source
Well, it seems to be a simple copy - paste situation. Considering these are all PFP projects, also known as profile picture projects... Really all you need is someone to create the art. These basically all worked the exact same way - you pay to mint the NFT and you get a random 1 of 10,000 (or whatever arbitrary number) NFT that's completely unique. I doubt if any of these 4 guys are even the ones making the art for the projects. Maybe the first one, but why do any actual work when you make that much money?
I'd be willing to bet... They come up with a name, go to Fiverr (me and @dreemsteem talked about this earlier lolol), and pay an insanely low price for some random person to make these things. It's not like they're doing anything crazy like creating a game, or you know... Anything that would give the projects actual value. They're literally selling JPEGs and people are getting their money stolen.
The 9 projects that they have created and rug pulled over the last 9 months... Literally one per month! They are DAOTurtles, Saconi Holmovimiento, Pixel Cat Gang, Baller Headz, Bored Ape Tattoo Shop, Trippy Ape, Acid Ape Candy, High Club, and Drippy Jesus.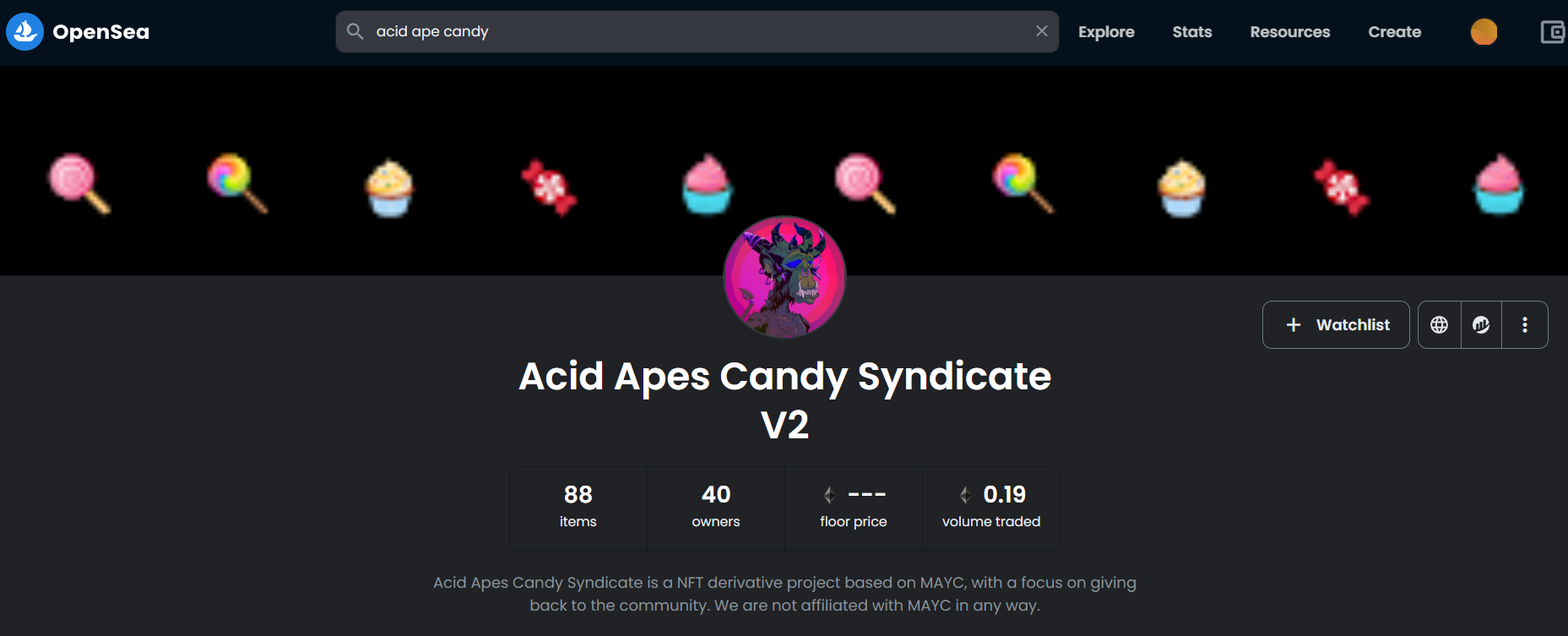 All of the Twitter accounts and websites for the projects have been deleted. As per usual with a scam or rug pull. Social media goes dark and disappears. Any community like Discord goes dark and gets deleted. You know what doesn't go dark or get deleted? The one true thing that cannot lie? The blockchain. The blockchain doesn't lie.
All of these projects can be traced to 5 Binance accounts, which are all KYC verified. This means that all of them had ID and other personal information on record with the exchange... So if regulators want to find them, it really won't be hard. Notice how in the money flow chart listed above there are 3 different ENS domains that interacted with all of the scams at some point. These ENS domain names are keelito.eth, lexii.eth, and mvpnft.eth. These link directly to the wallet addresses which show transactions right on the Ethereum blockchain.
Because the blockchain doesn't lie, and the power of communities on the internet is strong... He was able to figure out the names of all of the scammers! This is some pretty amazing internet detective work right here.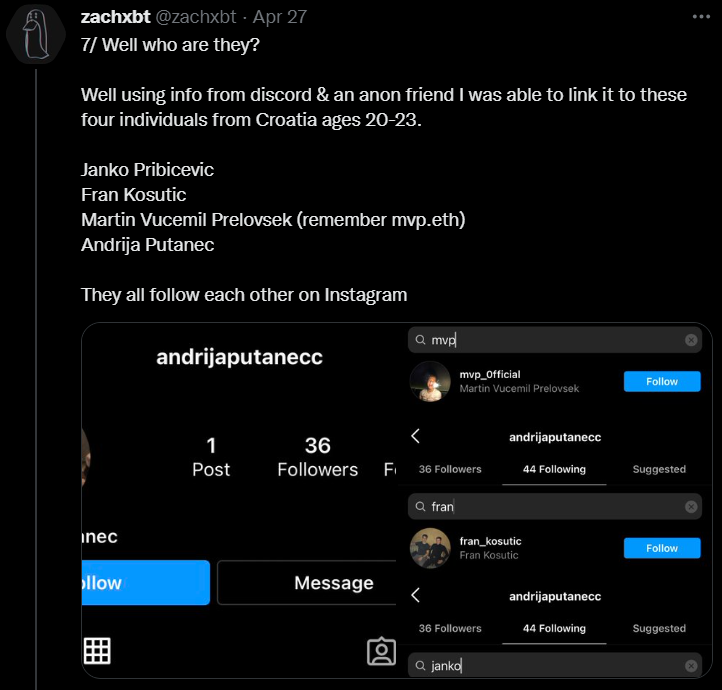 As soon as this information started spreading, they all deleted their Twitter and Instagram accounts. It's so dystopian to me to see all this unfold. This is the world we have created. This is what we have become. This shit even got picked up by a Croatian news website. I think they started to realize how easy it actually was to link all these scams back to them.
If there's one thing I've learned from seeing all these scams take place... You need to at least understand how the blockchain works if you wanna be a serial scammer. You can't just go around using the same wallets that even have ENS domains attached. You can't just use Binance or Coinbase to cash out your stolen funds. Come on guys. I'm not even a scammer and I could have done a better job remaining anonymous...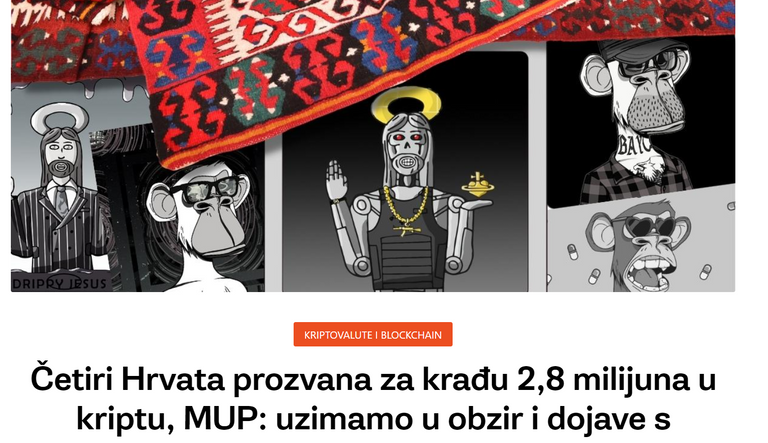 I'll leave it there for now, this post is getting longer than I wanted and probably a bit boring at this point. As it stands, no arrests have been made (who knows if this is even considered a crime in Croatia?) and they have started reactivating some of the social media accounts to look like they didn't rug pull. We saw the same thing with Lana Rhoades' scam after the DOJ took down the Frosties NFT scammers. What a wild world we live in.
The internet is truly magical.

Thanks for reading! Much love.
---
Links 'n Shit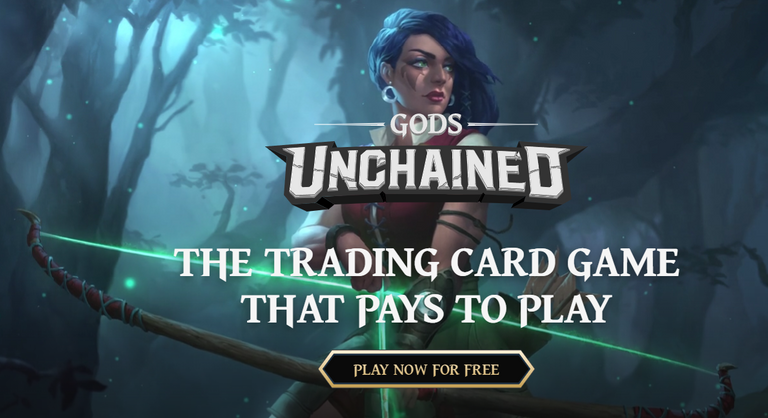 Posted Using LeoFinance Beta