frens, the past 24 hours have been very wild. I wrote a post yesterday about arbitrage trading pLEO and LEO which I had a little bit of fun with. I was able to turn like 600 LEO into 1000 LEO before the prices started to even out across chains.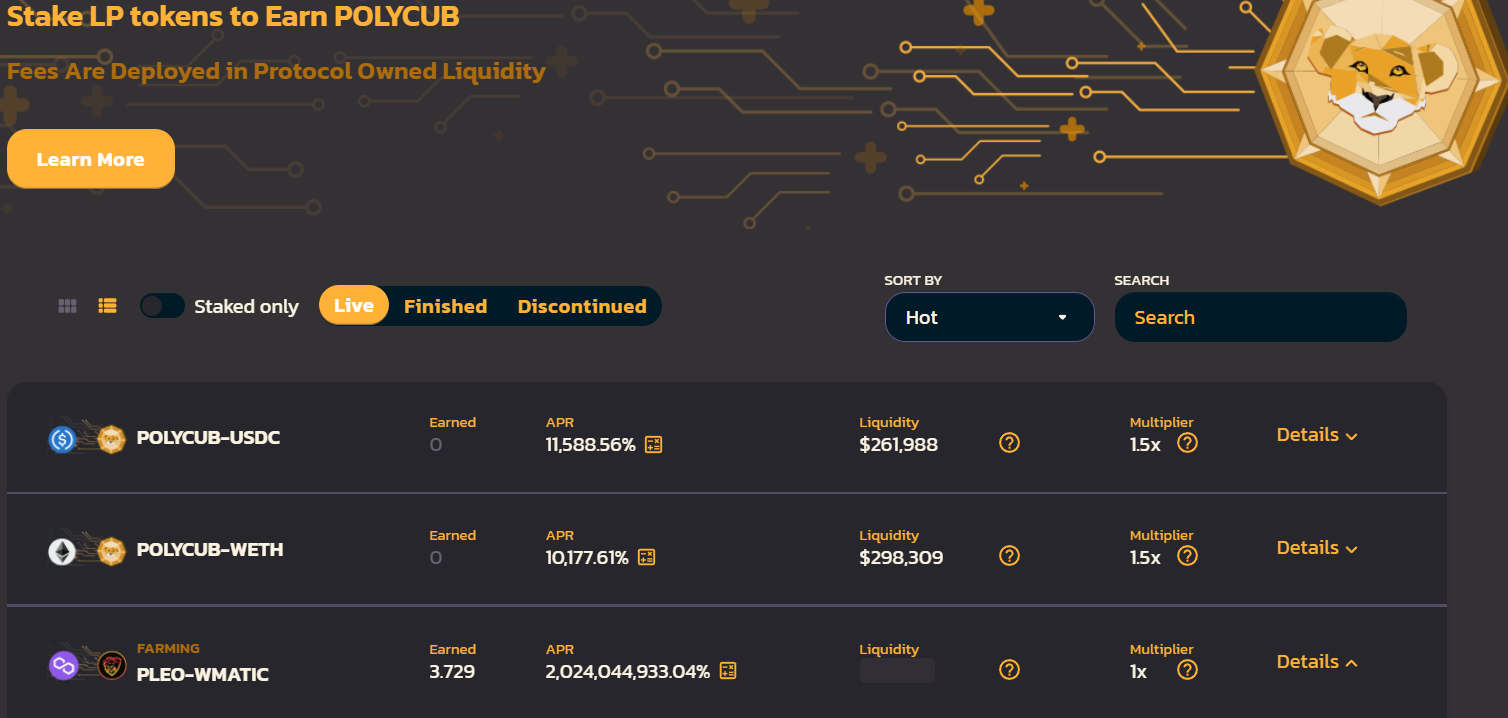 CUB is Yielding over 100% Return in 60 days.
Right now, you can buy CUB tokens on BNB chain for roughly 38 cents each. Then you can stake those CUB tokens in the Cub Finance CUB Kingdom for 63% APY. That alone is pretty incredible because it's insanely high and it auto compounds. What's really mind blowing here is that people are still selling CUB. Why? If you stake you earn over 60% APY but on top of that, you earn POLYCUB airdrop daily. Take a look at this user's CUB staked VS. the amount of POLYCUB airdrop they will get over 60 days. Staking $121,000 in CUB on Cub Finance and earning $118,000 in POLYCUB over 60 days. That's not even factoring in the 60% APY.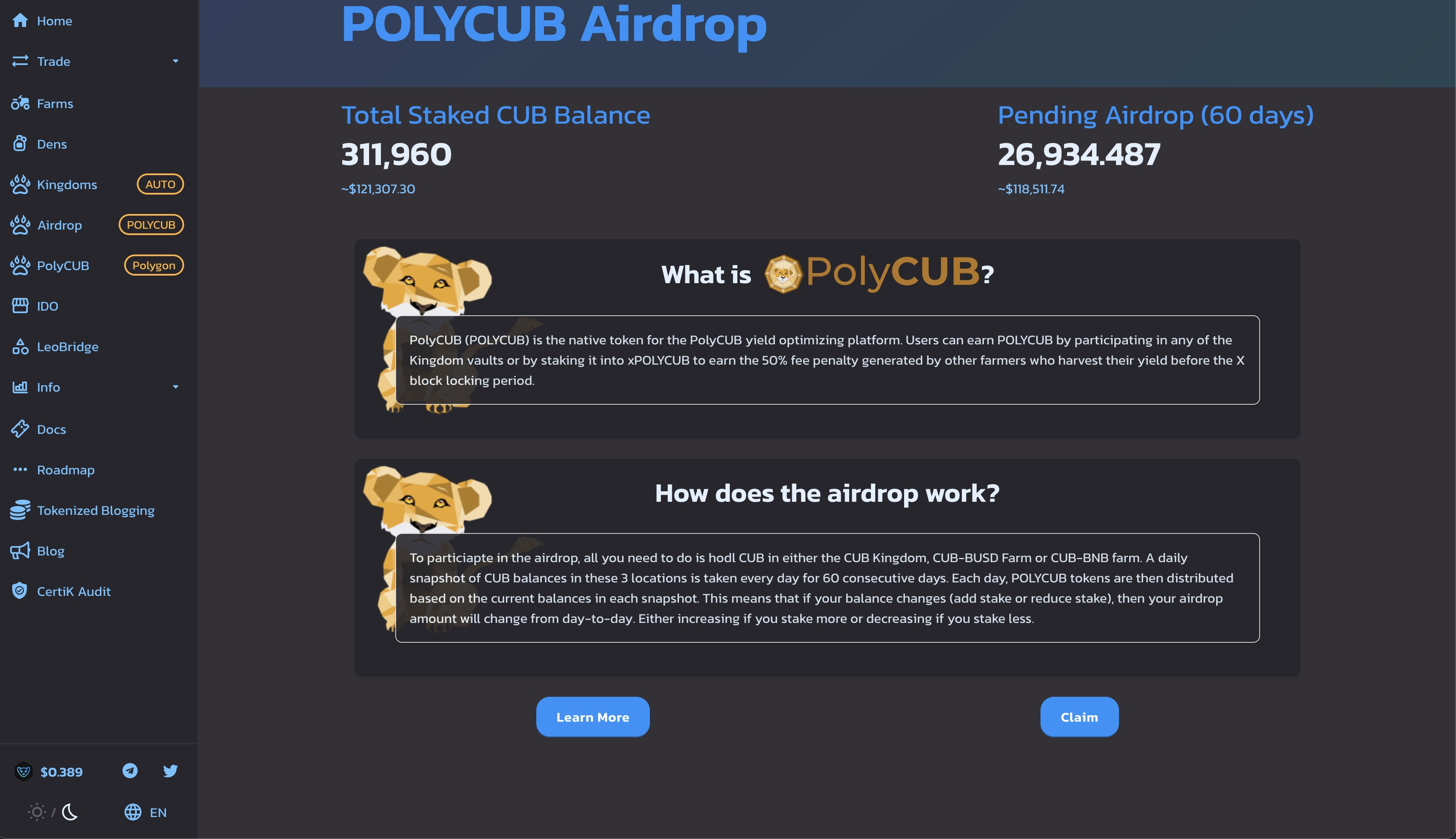 So literally by buying 38 cent CUB tokens and staking them in the Kingdom, you can earn over 100% on your investment in 60 days. Let me know hen you find another platform offering that kind of value for staking a single token. I'll be here waiting while you go look for one. Don't worry - you haven't missed out! The CUB staking snapshot is taken every single day for the next 60 days so there's still opportunity to take advantage as it's only day 2. You can accumulate as much CUB as you want and continue staking over the course of the remaining 59 days to maximize your POLYCUB airdrop. This is literally just the beginning of the opportunities that await on the PolyCUB platform. Farms are still offering over 10,000% on your LP tokens!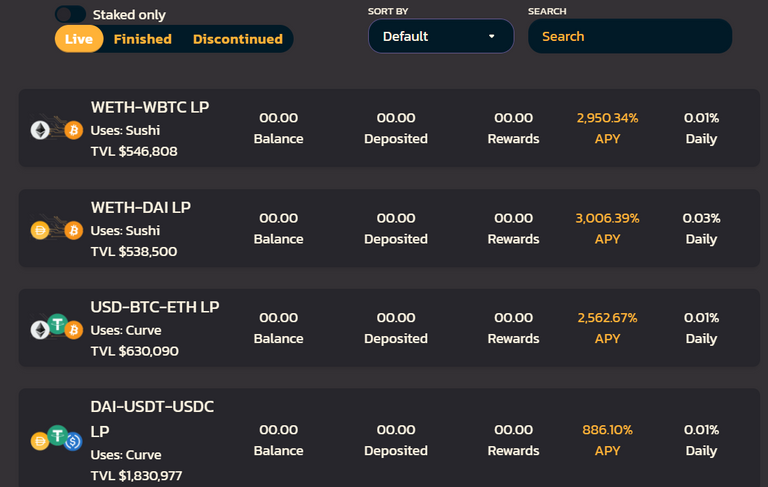 Not a fan of liquidity providing due to the risk of impermanent loss? There's a stablecoin pool in Kingdoms on PolyCUB that's earning 886% APY! Yes, stable coins earning 886% APY. This is something that I would have never imagined being so high. Typically when staking stablecoins, you get lower APY but you don't risk impermanent loss due to price swings. This is an incredible opportunity for anyone that happens to have some crypto parked in stable coins just sitting. Maybe they're using something like NEXO for 12% APY... Why not move those funds into the stable coin kingdom on PolyCUB for 886% APY instead? Wanna get a little riskier? My personal favorite pool is PLEO-WMATIC and it's currently around 3,000% APR. Wen talking in terms of APY though, as Khal said, it could be infinity. With all this being said, I'm just a degenerate having some fun. Don't take this as financial advice. But do yourself a favor and stake more CUB in Kingdoms because there's going to be a ton more airdrops in the future. Roughly every 3 months, Cub is expanding to a new blockchain which will result in another airdrop back to diamond paws stakers. Don't miss out.

Thanks for reading! Much love.
---
Links 'n Shit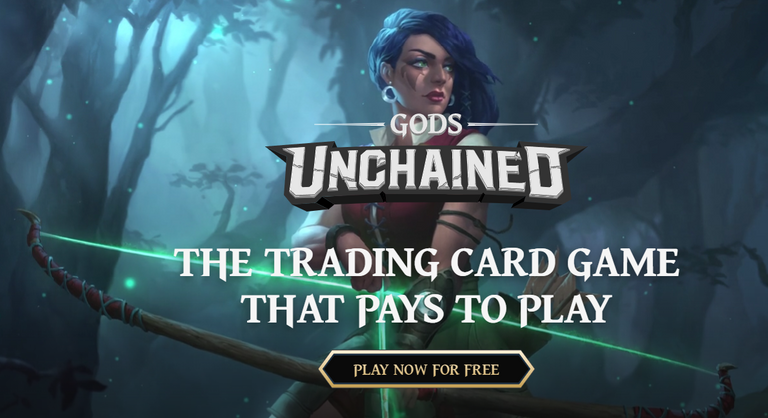 Posted Using LeoFinance Beta