Despite a significant correction in price of 20% to the downside, Bitcoin has bounced back with vigor and is back in the upward sloping broadening wedge pattern. The sell off and subsequent dip was very short lived as bulls bought up any bitcoin available at discount prices over the past 48 hours. Price now hovers around $33000, and is climbing rapidly, currently less than 6% off the ATH on the BTC/USD pair on Bitstamp exchange.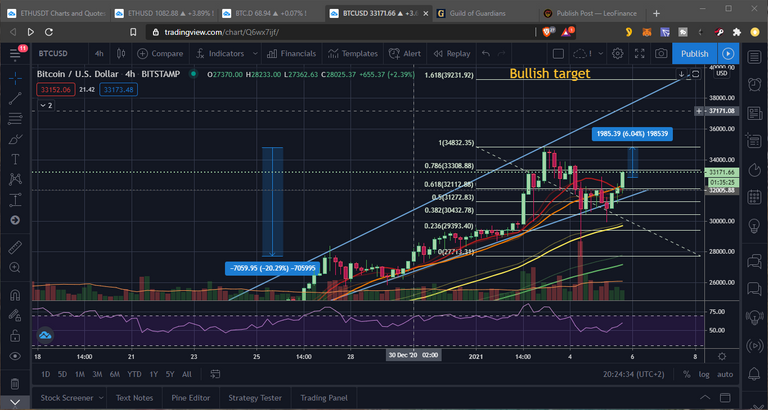 Therefore, it looks like bitcoin is still in a bullish uptrend, even though the 13 MA on the 4 hour has just now crossed below the 21 MA slightly. The RSI on the 4 hour chart has bounced once more off the 47 level and back above 50, which is bullish. After a massive single red volume candle at the big dip yesterday, volume is definitely decreasing overall.
Price is currently back up above the 21 and 13 MA on the 4 hour chart and looking bullish again as a result. Add to that the fact that the bitcoin dominance has stabilized after a drop of around 7%, and now sits at 68.68.
Traders are calling for the altcoin season now, as ETH also climbs substantially, as does LTC, ADA and others like XLM. The ETH/BTC value has climbed significantly in a massive pump, but has also now stabilized at just under 0.033. There are certainly alts pumping at present, though you will need to DYOR to find the right projects, if you want to make a few quick gains against BTC.
Almost any altcoin will make you a profit now, in this window of opportunity. Yet at the same time Bitcoin has not lost much value or even entered a downtrend, other than the brief correction, which lasted no more than a few hours. The overall bullish interest is obviously still particularly strong with this one.
Having said that, if we look at the 1 hour chart, we can see that the RSI has hit previous resistance. Also price might find resistance as it retests and attempts to break back up through $33k. So we need to keep an eye on developments. Going long now is risky at these heights, so near to the ATH.
Traditional TA might work generally, but we need to consider sentiment in such times as these. Naturally the current mood is very bullish overall, so price is biased toward the upside at any potential breakout. Therefore, shorting the bitcoin market now is high risk. For example, we just had that 20% correction recently, but here we are, back up near the ATH once more, after a very short-lived retrace.
If we look at the daily chart for bitcoin, all price did was retrace exactly to the 13 MA, which is actually totally normal, and hardly much of a correction at all. The daily 13 MA has been a strong support throughout this parabolic move, and that last dip was confirmation thereof. Despite that 20% correction, the RSI on the daily chart is still way overbought and showing no signs of any bearish downtrend.
If we draw a Fibonacci retracement from the ATH at $34832 down to the dip yesterday at $27713, we can see that price has broken up beyond the 0.618 level and is continuing upward still further, adding to the bullish indications overall. If price breaks the ATH just below $35k, it could then very easily push up until around $40k, or $39.2k to be precise. This is the 1.618 level, based on the last swing move from high to low and back up again on the Fibonacci tool. That's close to a 20% pump from current levels.
These are just my personal ideas on the price at present and not investment advice. Ideally traders would use just a small portion of their stack to trade any short term swing moves right now, since there is still significant risk, either way.
Posted Using LeoFinance Beta