The recent dip in bitcoin price is seen as a long awaited correction after the parabolic uptrend this past month. I won't say too much as you can all see the chart and may be fully aware of the price action.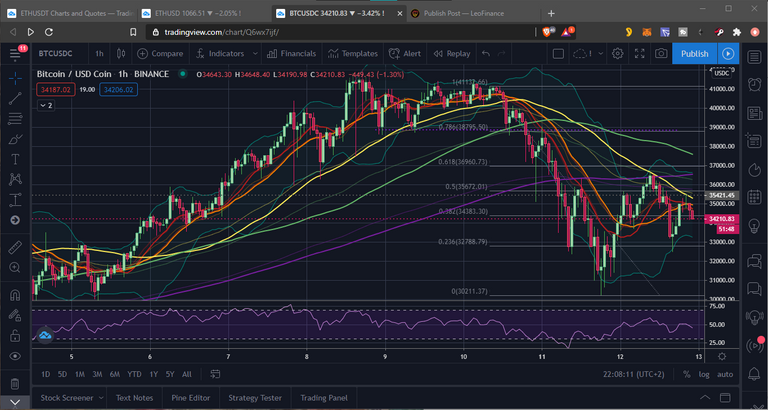 However, I want to point out the current attempt by price to make a comeback. The bounce back up from the support at around $30.2k has been impressive but has repeatedly found resistance at the descending 55 SMA on the 1 hour chart, shown here in yellow.
Twice today price reached the 55 SMA or simple moving average, and both times immediately dropped back to the downside. The bulls obviously have a lot of steam but not enough to push price back up to previous highs around $40k...
It's still uncertain territory right now as price consolidates in a range bound pattern while attempting to discover its true market value again. Bulls and bears are having a whale of a time, if I may use all these animal images. I presume the dolphins are having fun now too. Volatility is the traders' friend, and in such market conditions we can make profit whether price goes up or down. We simply long or short and ride the trend.
The more we spend time in the markets, the better we will get at being able to time the markets, as they say. Traders get better the more they trade. Experience is a great teacher and there is lots to learn, pun intended. The game of trading is much more fun than any other game in town, as you can earn as you learn, if you can handle the burn. Occasionally we get burned and take a loss, but with experience the losses get overtaken by wins and gains, as we buy low and sell high.
It's not for everyone, but those that get into it will sometimes make it a lifestyle. Bitcoin will consolidate now and may have a second leg down following on from this recent correction. However, ultimate support lies no lower than $20k, which is the 21 week MA. This is rising as price rises and is not a fixed target. There is huge support at around $20k and probably a buy wall of traders waiting to enter at this low point.
I recommend having your buy orders waiting there so that if there is a further dip, then you can get your order filled and ride the next wave up to the new ATHs in the coming year. Of course, it may take weeks to play out. Time is another factor in trading that cannot be controlled. Time and price. The two treasures of our lives. We trade the one for the other sometimes, or we enjoy both if we are smart. Always remember that both are just as valuable as anything on earth, and time is perhaps the superior commodity of the two.
Posted Using LeoFinance Beta