Ledger Enterprise TRADELINK, Crypto Trading Technology for Institutions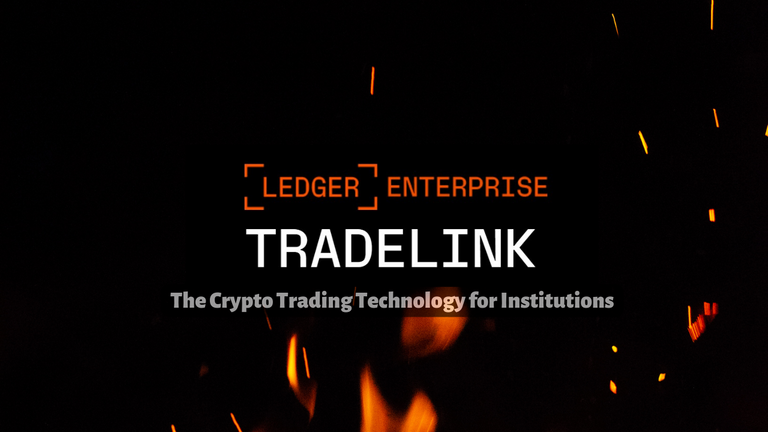 With crypto regulations still uncertain, it looks like institutional crypto trading is going to start growing. Not so long ago, EDX markets backed by Wall Street TradFi giants (Citadel, Schwab etc) launched and started processing institutional trades. Its purpose is to connect institutional traders to buy and sell digital assets through its marketplace.
On 28th June, LEDGER which is known for its cryptocurrency hardware wallets and storage devices announced its entrance to the institutional trading arena through its open network technology, enterprise-grade trading platform to enable custodial trading via exchange and custodial partners.
Like EDXM, Ledger Enterprise TRADELINK is tailored for institutions. It connects custodians, Over-The-Counter (OTC) brokers and exchanges, allowing trading of crypto assets without having funds on the exchange and thus removing third-party risks. It also aims provides transparency, security, compliance with regulations and alternatives to having assets held on vertically integrated crypto exchanges.
It's the first open network to enable custodial trading via exchange. (Source)

Here's what they say about their own technology, and I quote, re:
"Ledger Enterprise TRADELINK is a revolutionary trading and settlement network technology. Fully customizable. It empowers you to build your own trading network for unmatched control over your digital assets."
With Ledger Enterprise TRADELINK, you can:
Trade on multiple exchanges without on-chain liquidity re-balancing.

Retain custodial ownership of their assets with off-exchange trading.

Mitigate trading collateral risks across multiple third-party platforms.

Seamlessly integrate your favorite counter-parties.

Boost your ROI with automation and transaction optimization.
And because it allows you to implement a traditional finance-like model, it prioritizes auditability and regulatory compliance to ensure your long-term success.
(Quoted)


Accordingly, Ledger Enterprise TRADELINK has already signed up several partners, re: cryptocurrency exchange, OTC brokers and asset managers.
Exchange Partners
Their crypto exchange and OTC brokers/providers and platform partners include Crypto.com, Bitstamp, Huobi, Uphold Institutional, CEX.IO, Wintermute, Coinsquare, NDAX, Bitazza, Flowdesk, YouHodler. Early access will be free to all their Ledger Enterprise clients.

Asset Managers & Custodial Partners
Meanwhile, its asset manager partners are Laser Digital and Hodl Group.

Their custodial partners include Komainu (a Nomura-backed group of which Ledger is a member), TetraTrust, Etana, Crypto Garage, Damex and Kryptodian.

How Does Off-Exchange Trading Work?
Here's the flow of off-exchange trading obtained from Ledger Enterprise website.
Step 1: Secure your funds by pledging them to a custodian-held collateral account. You can use multiple custodians.
Step 2: Get instance balance notification through Ledger's API. Create transactions (withdrawal) and view balance in real time.
Step 3: Trade freely on one or multiple exchanges simultaneously while your funds remain safely in collateral until settlement.
Step 4: All parties operate under Ledger Enterprise TRADELINK infrastructure which ensures transparent, auditable and trustless operations via enforced counterparty governance for fund withdrawal.
Step 5: Qualified custodian manages the clearing and settlement, releasing funds only after pre-defined conditions are met.
What can Ledger Enterprise TRADELINK offer?
According to source, Ledger's technology solution offers unmatched benefits to its partners as follows:
For Asset Managers:
Zero transaction charges. Ledger does not charge on transactions so no additional operational costs.

Time-saving because there is no need to transfer assets between multiple exchanges.
For Custodians:
To reach new audiences. Custodians can natively integrate with Ledger Enterprise TRADELINK and offer their services to Ledger Enterprise clients, while maintaining control over user interaction and experience.

Additionally, it offers the best security. End-to-end hardware security with 100% self custody. This means custodians have no exposure to third parties and they can recover all assets in case of emergency.
For Exchanges:
Trustless Governance. They can monitor their client's exposure with real-time access to the Custodian Collateral account. Also, they can get live API notifications for fast execution.

Since the trading model is mirrored in traditional finance, exchanges can stay ahead of regulators as there is a clear segregation of duties between technology provider (Ledger), custodian, exchange/OTC and traders. They can access advanced reporting and transparent auditing at every stage too.
How to pledge assets directly from a preferred custodian
Log in to the Ledger Enterprise TRADELINK platform.
Select your preferred custodian from the list of custodians available on the platform.
Pledge assets directly from your preferred custodian to streamline multiple transactions and reduce fees and processing time.
Personal Conclusion
Ledger joining the institutional trading space is another proof that firms are looking for solutions to work around the crypto regulation uncertainties and continue to provide their clients avenues to trade crypto or digital assets.
I believe this is just the beginning and with Bitcoin ETF Spot trading applications growing, institutional traders will continue to increase as well.
Disclaimer: For infotainment only.
[Info Sources: Tradelink; Ledger; Coindesk; Bitcoin News]

Lead image created on Canva. TradeLink text via Ledger. No copyright infringement intended. 30062023/10:25ph
Posted Using LeoFinance Alpha
---
---